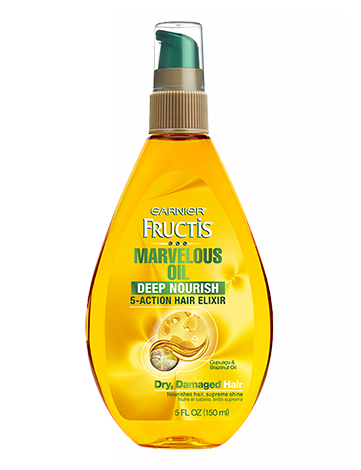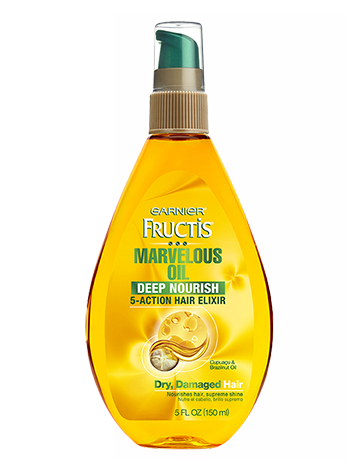 Garnier Fructis
Marvelous Oil Deep Nourish
PRODUCT INFORMATION:
We no longer offer this product, we have something even better to meet your needs. Find it here.
This hair oil treatment for dry, damaged hair, with custom-blended Cupuaçu & Brazilnut oil, nourishes and helps repair.
How to use:
Marvelous Oil can be used in any of 5 ways! Try a different use each day.

1. Pre-Shampoo Treatment: Apply to hair (wet or dry) before shampooing to help prime hair locks for gentle cleaning.
2. Boost Conditioning: Add 1 or 2 drops to your conditioner to help get rid of pesky knots and tangles.
3. Blow-Dry Protector: Apply to damp to help protect when blow drying.
4. Finish With Hi-Watt Shine: Apply to damp or dry ends to help smooth split ends and tame flyaways.
5. Treat Hair Overnight: To restore softness while you sleep, work into wet or dry hair and leave in overnight.
Ingredients:
Cyclopentasiloxane, Dimenthiconol, Parfum / Fragrance, Bertholletia Excelsa / Bertholletia Excelsa Seed Oil, Theobroma Grandiflorum Seed Butter, Linalool, Limonene, Benzyl Alcohol, Benzyl Salicylate, Citronellol, Carrot Oil / Beta-Carotene F.I.L. D162575 / 2
Rated

5

out of

5
by
CleoK
from
Better than Phyto
This was an amazing product. The replacment with olive is not as good. Why was this discontinued? I would have paid twice as much for it if the cost of the ingredients went up. It was light yet kept my hair silky and never oily. I have fine dry naturally wavy hair. The scent was nice but never overpowered other products. I find the new version with olive oil to be heavier and it leftnmy hair smelling like olive oil after a few hours...not pleasant. Returned it. Will not be trying another Garnier product unless they bring back this formula. Buying what can find of the original online. I am used to spending a lot of $$ on hair products. For a short while you had me believing in your products. Very disappointed in GARNIER.
Date published: 2018-03-24
Rated

5

out of

5
by
Angelwingsx2
from
I'm missing you already
I have just almost finished my second bottle of Oil Deep Nourish.My hair was so unmanageable and dry,after trying everything else,this was the only treatment that worked for me.Now you are saying it is dis-continued,I'm lost because I thought I had struck Gold when I found this oil nourish treatment.Now what do I do?Do you any left after the discontinue product that I may have one?I really would like to keep using this a little while longer while it's finally making my Hair feel like Hair.Very soft and smooth with a beautiful shine,that is what this oil treatment does for me,now you are pulling the plug on it,so sad,especially for me.
Date published: 2017-07-01
Rated

5

out of

5
by
maymaybay
from
Better hair quality.
Best PRODUCT I EVER USED. I have been using this oil for a year now and my hair quality just went from 0 to a 100. It's so much softer and healthier now. 5 stars with 100% merit. Work it Garnier, you're all the way up.
Date published: 2017-06-05
Rated

5

out of

5
by
samaganda86
from
Why is this discontinued? I use it everyday
I first bought this product in 2014. It is amazing! I use it everyday. I just found out it was discontinued as I wanted to repurchase. I just ordered three bottles from my local K-Mart. A little bit goes a long way. When I add this oil to my hair, my hair air dries more quickly with nice waves. This gives my hair shine that no other product does. There is a replacement but not sure if it is the same formula or if it will do a good job.
Date published: 2017-03-14
Rated

5

out of

5
by
VAW1
from
WHY DID YOU DISCONTINUE THIS LINE?!?!
I LOVE the Marvelous Oil product! I use it to remove my makeup, put it on my hair before I blow dry it, put it on my hair at night (when I wake up it is absorbed and my hair is soft & shiny), put it on my cuticles and hands in the winter. This oil is perfectly named. PLEASE bring it back!!! I have tried the Moroccan Oil and hate it. When I put it on my hair at night, I wake up with a greasy mess. plus the scent is like bad men's cologne. This my favorite Garnier product. Please reconsider!
Date published: 2017-01-29
Rated

3

out of

5
by
heyannie
from
Marvelous Oil but not so marvelous dispenser
I do love this Marvelous Oil and it is great for my colored hair. My hair has been so dry from the sun and this has helped greatly. The dispenser is awful. More oil drips down the side of the bottle than goes in the palm of my hand. I poured it into a bottle I had of a similar product. Different bottle would get it 5 stars.
Date published: 2016-09-10
Rated

5

out of

5
by
Tnmattox
from
Miracle oil
This stuff is great!!! Love it.my hair was breaking off and I was so depressed that I was ready to buzz my hair off. Then I saw this and I did what the bottle said a few drops in my shampoo and conditioner. Before and after shower my hair is growing back.its miracle oil for sure. Thank u
Date published: 2016-03-05
Rated

5

out of

5
by
Curlyhairproblems
from
Love it...
I love this product! I have curly hair and this really helps my curls look soft. I am bummed out Target no longer carries it!
Date published: 2016-02-02
Rated

5

out of

5
by
Cammie
from
Oh what a happy girl I am! My daughter actually recommend this for my hair. I love love LOVE it!! I will sing praises as to how thankful I am! Finally, a non-greasy formula that smells great & makes my hair look fabulous! Great job Garnier! :)
Date published: 2016-01-16
Rated

5

out of

5
by
ReeRam
from
This is what I have been searching for!
I have curly thick frizzy dry damaged dyed hair. What can I say? I am a mess! I stared using this and it is amazing!!! I even got caught in the rain after straightening my hair and I didn't turn into a poodle! Absolutely no frizz!! My hair is so soft, light feeling, shiny and so healthy looking and healthy feeling! I cant stop running my fingers through it! And its so easy to use! I get out of the shower, towel dry my hair, put the oil in and then head to bed. I wake up in the morning and straighten it. It has even cut back my normal 1 and half straightening time to 30-45 minutes! I have tried so many different products trying to get my hair to look and feel good and nothing can compare to Marvelous Oil! This has been a miracle for me! I have been telling everyone about it! It is amazing stuff! You officially have a customer for life!
Date published: 2016-01-13
Rated

5

out of

5
by
SidCRAZYY
from
GOD'S GIFT
God clearly sent this oil from heaven for all of us messed up dry hair females.
Date published: 2015-12-18
Rated

5

out of

5
by
MrsK
from
SAVED MY HAIR!
my previous stylist bleached my hair 3x then dyed it. my hair was RUINED. every time I brushed it the ends would break off, to the point that it looked like I actually got a haircut. I tried coconut oil, leave ins, and a million other things. after finding and using this product religiously for about a year (with some trims) I'm happy to say that my hair is about 10000x better than ever!! I use about 10 pumps after I shampoo & condition (garnier damage eraser!) and more if I style it, mostly on the ends. my hair is never oily from this, but only shiny and HEALTHY! LOVE LOVE LOVE THIS STUFF!!!! its actually totally amazing and I'm so happy I found it!
Date published: 2015-04-26
Rated

5

out of

5
by
Quine
from
Oil of Excellence
OMG! My Hair is so in Love with this Oil, I happen to what to try something for my hair the other day because lately my hair has been kind of on the dry side, so i picked this up at my local CVS and was so anxious to try it out,since of hearing all the hype about it. You'll never know until you test it out for yourself. I was a bit worried this oil would weigh my hair down,but it didn't it was so light on my hair,gave great moisture to my hair and it smelled AMAZING. I am so happy with this oil, i would recommend this to anyone and everyone.It did everything that it said it would and more. Thankyou Garnier
Date published: 2014-09-13
Rated

5

out of

5
by
Nikky
from
Love this stuff!
I love this stuff! It makes my hair so shiny and smoothe!! I like using it on dry hair before I wash my hair and also just a little on the ends to keep them from frizzing out!
Date published: 2014-09-12
Rated

5

out of

5
by
Kelli325
from
WOW will never buy conditioner again!
I got 2 of these samples from 2 different places, and decided to try it. I have never tried oil before, my natural hair is VERY oily but my dyed hair is very dry. It is also curly and VERY frizzy! I can only brush my hair once a day when it is wet only or it is a big poof ball. Having said that I have to condition my hair when I wash it in order to brush it, as my hair curls into knots and bird nests! I washed my hair as usual and brushed and added the oil, it was soft, but what really surprised me is that i washed it the next day and did NOT use conditioner, and my hair was soft not in tangles and even without brushing it was soft not frizzy! I usually do not use conditioner when I put my hair up and I do not brush it as it will not stay! 3 days after I used it my hair is still soft and is not a tangled mess! I can not wait to buy this and I will never use conditioner again!
Date published: 2014-08-24
Rated

4

out of

5
by
Randah92
from
Love the oil!
I got a sample of this product in the mail and I was a bit skeptical at first. I had never tried hair oils before because I thought with my thick frizzy uncontrollable hair the last thing I would want to add was oil for a greasy uncomfortable feeling. Once I tried this sample I fell in love! After warming the oil in my hands I added it to the ends of my hair was surprised of the results. It smelled nice and actually controled my hair through the heat and humidity of summer and controlled my frizzy texture. Even my hair felt a little softer too! I was so surprised I had to buy a full size! Plus it was affordable as well. I was pleasantly surprised of the results and changed my view of hair oils definitely something try out highly recommend! :)
Date published: 2014-08-15
Rated

5

out of

5
by
sugarmama1960
from
Marvelous Oil Review
I loved this oil. It smelled great and it made my hair beautifully shiny and smooth. I would recommend this product to all.
Date published: 2014-08-13
Rated

4

out of

5
by
Sunall
from
Great product!
I got a sample of the Deep Nourish oil - the sample was enough for two treatments - and it is awesome! Not sticky or too thick like others - I applied it to wet hair - all over - then blow dried with round brush .... I have color treated hair, and at my age it seems to get dry and fuzzy pretty easily - this product was completely absorbed and made my hair super shiny and a bit thicker, so looks like the younger gal's hair - I didn't even need to flat iron it to get a smooth shiny finish - I have tried other expensive products, and this is it for me!
Date published: 2014-08-12
Rated

4

out of

5
by
florl
from
just enjoy it!
i love love the smell of this is so amazingly good and the plus is that a great conditioner booster, it leaves my hair shiny and manageable.
Date published: 2014-08-07
Rated

4

out of

5
by
SouthwestLady
from
Nice Product
I received a sample and used it after washing my hair. A little went a long way, and it left my hair feeling soft, looking shiny, and in control. I didn't style afterwards like I normally would so don't know how it would affect that, but I really like the way my hair felt.
Date published: 2014-07-28
Rated

4

out of

5
by
Lindsbobinds
from
It really helps with split ends!
I received a free sample of this product and really like it! There are several ways to use it, but I use it after I've washed my hair, I rub it on the ends of my hair. I use a dime size squirt of it and it has lasted me a long time.
Date published: 2014-07-24
Rated

5

out of

5
by
RlrcstrChick
from
Worth a try!
I received a sample for the Deep Nourish oil and fell in love with it after 1 use! I have really long hair (at my bottom) so it wasn't as much oil as needed for my hair so I focused on the bottom of my hair which is most effected by coloring....It was so smooth for 2-3 days after use. Something I intend to purchase and implement in my regular routine!
Date published: 2014-07-24
Rated

5

out of

5
by
belle02eleven
from
LOVE IT!!!!!
Absolutely Love Marvelous Oil Deep Nourish! I've applied it when my hair was damp and dry and love both results. Just like the product says...my hair feels NOURISHED!!!!
Date published: 2014-07-24
Rated

5

out of

5
by
AnaQ
from
MIRACLE OIL
I have wavy hair and it tends to get very frizzy. The days I used this oil my hair was very soft and I had almost no frizz even with the high humidity.
Date published: 2014-07-23
Rated

5

out of

5
by
Kwins
from
Awesome sauce
It was great. Easy on my ombre hair and gave it a nice shine without it being too oily looking.
Date published: 2014-07-22
Rated

5

out of

5
by
Tonikay
from
Say Yes to marvelous oil!
I received my sample of the oil. Later that night I took my shower and added the marvelous oil with my conditioner. I noticed my hair was softer, and smelled amazing! I went To the store the very next day to buy the bottle of the oil. I would recommend this to everyone!
Date published: 2014-07-21
Rated

5

out of

5
by
tlecombs
from
Deep Nourishing Oil for Repair of dry and damaged Hair by Garnier
If your hair is anything like mine: thin, flat, straight, dry, damaged, split ends - then this Marvelous Oil Deep Nourish Conditioner from Garnier is for you. It leaves your hair feeling soft, light and clean.
Date published: 2014-07-21
Rated

4

out of

5
by
zrrzrr
from
love this product
Leave my hair so soft and shine like. Everybody have to tell me something about how beatiful is my hair now...
Date published: 2014-07-21
Rated

5

out of

5
by
rosebud1969
from
Love the way it make my hair shine and easy to manage
Well buy the full size. It is great when you get to try the product before you decide it right for your hair type. Yes I recommend.
Date published: 2014-07-21
Rated

5

out of

5
by
tlc356
from
Amazing :)
I would definitely recommend giving Garnier's marveolous oil a try! The ends of my hair are super dry and because of this they split and become damaged. I usually use some form of leave in conditioner, but I have to be careful because too much can make my hair oily. I have tried argan oil and other types of oils and all of them have in one way or another made my hair oily. This doesn't. It makes my hair silky soft and smooth. It's manageable and believe me when I say I will definitely be buying this product from now on. If you try this say goodbye to leave in conditioners and unruly hair, and say hello to soft manageable hair!!
Date published: 2014-07-20