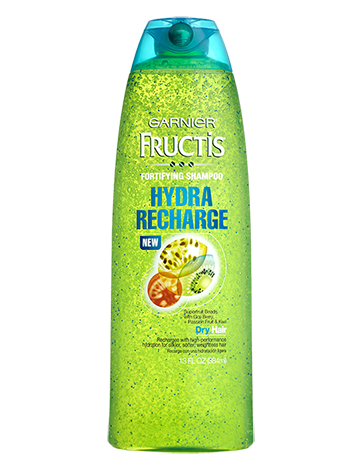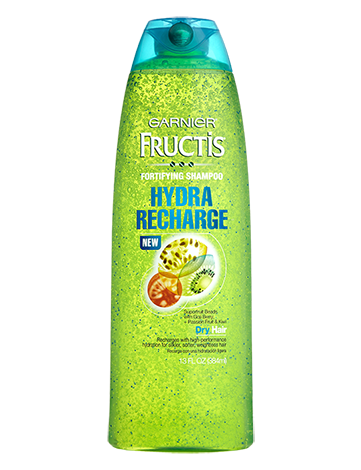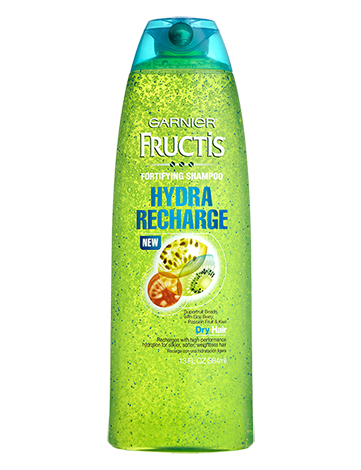 Garnier Fructis
Hydra Recharge Conditioner
PRODUCT INFORMATION:
We no longer offer this product but have something even better to meet your needs. Find it here.
Hydra Recharge is the 1st conditioner with encapsulated beds of superfruit goji berry, plus passion fruit and kiwi fruit water*. Hair is ultra-hydrated, weightlessly silkier and softer.
**
From Garnier Fructis
How to use:
After shampooing, apply conditioner to hair from root to tip, making sure to cover the ends. Rinse. For best results, use with the Garnier Fructis Hydra Recharge Shampoo and Treatments.
Ingredients:
Aqua/Water/Eau, Cetearyl Alcohol, Behentrimonium Chloride, Glycerin, Cetyl Esters, Isopropyl Myristate, Isopropyl Alcohol, Phenoxyethanol, Parfum/ Fr Agr Ance, Pyrus Malus Extract/Apple Fruit Extract, Lauryl Peg/Ppg-18/18 Methicone, Actinidia Chinensis Water/Kiwi Fruit Water, Citric Acid, Niacinamide, Pyridoxine Hcl, Chlorhexidine Digluconate, Dodecene, Hexyl Cinnamal, Poloxamer 407, Saccharum Officinarum Extract/Sugar Cane Extract/Extrait De Canne A Sucre, Lycium Barbarum Fruit Extract, Benzyl Alcohol, Passiflora Edulis Fruit Juice, Bisabolol, Citrus Medica Limonum Peel Extract/Lemon Peel Extract, Camellia Sinensis Leaf Extract, Ci 42090/Blue 1, Ci 19140/Yellow 5, Ci 42053/Green 3. F.I.L. D55033/1
Rated

5

out of

5
by
ByGraceBeauty
from
INCREDIBLE!!!!!!!!!
Only one word.......INCREDIBLE!!!!!! Please do not stop making this conditioner.....I cowash with this conditioner. I bought it on a whim with the Full and Plush conditioner (which is pretty good too) However, the Hydra Recharge exceeds them all for moisture, detangling, conditioning, less shedding, moisture retention, body, etc. I've already repurchased. INCREDIBLE CONDITIONER!!!!!
Date published: 2015-07-19
Rated

5

out of

5
by
nickisix
from
love garnier
I've tried several different types of garnier hair care and this is by far my favorite. It seems like my hair is dry but also lacks volume and has split ends. This has been a miracle for me! My hair detangles SO much more easily and my hair feels soft but not oily or weighed down.
Date published: 2014-07-18
Rated

5

out of

5
by
EternalNight06
from
Works like Magic on the First Try
All the females in my family who were older then me would always complain and tell me that my hair was dry and tell me to do something about. I got tired of the nagging so I finally decided to do some research and find out what would help me with my hair. Then I found this and after just one use, my hair was actually hydrated and didn't look or feel dry anymore, but instead, soft and bouncy. Since then, I swear by this product and I use everything from this line of products from Garnier.
Date published: 2014-04-06
Rated

5

out of

5
by
Alota
from
Im in love
Its like heaven in a bottle, first the fragrant aroma and then the soft, silky, and healthy looking hair that you just cant get enough.
Date published: 2014-01-08
Rated

5

out of

5
by
Krisiduh1
from
Saved my hair!!
I moved to the desert and my hair completely changed. It was soft all but at the roots where it was dry and hard and almost greasy looking even when I got out of the shower! I had tried a few other moisture renewal products but nothing worked. I eventually started getting a really dry scalp and dandruff. So I bought this shampoo thinking well at least my hair will smell good. I have only used it once and just the conditioner and already my roots are back to normal just as soft as the rest of my hair. Actually it's softer than normal. I love this product it saved my hair. Now if only they made a shampoo for dandruff.
Date published: 2014-01-07
Rated

5

out of

5
by
Colleelee
from
Surprisingly good!
So I bought this for my 7 yr old. I had a coupon, her hair is so bleached out and dry from the Florida sun and pool that washing and combing it was beastly. Like, if you don't take care of your hair we're cutting it. I bought sleek and shine for me- and accidentally used this one instead. My hair is color treated, fried by same sunny weather this summer, and starting to thin, yet coarse. This hydra recharge is creamy, not alot of 'cones but glycerin in it, and perfectly lightweight afterwards! My hair is bouncy, dried quickly and smelled lovely. Good for all ages!
Date published: 2013-09-10
Rated

5

out of

5
by
shortie1122
from
Amazing.
This is the best conditioner for my hair that I've ever used. My hair is really curly, frizzy, and dry, but also fine textured and thin. My main problem is my hair always being really dry and rough, and this definitely takes care of that. It moisturizes better than heavy conditioners, but doesn't leave the residue on my hair or weigh my hair down like heavy ones do, which is perfect for my hair being fine. My curls are even curlier and are so soft, and have so much bounce and body. The only downside is that my cowlicks are curlier too. :) When I straighten my hair, it straightens much easier, and it literally feels like silk and shines like glass. It also leaves my hair smelling delicious, which is just the icing on the cake.
Date published: 2013-05-08
Rated

5

out of

5
by
SmexyLexi
from
Perfection.
This product is everything I need to take on the day. My hair is full, silky and hydrated. It's the perfect product.
Date published: 2013-05-06
Rated

5

out of

5
by
CozG
from
Works and smells great
It does what it says and it smells fantastic. Kiwi and other fruit. And I love the waymy hair smells everyday. But really even if it had no scent, or a scent I wasn't crazy about, I'd still use it because I love what it does to my hair. It has these little beads in it - similar to a facial scrub - and whatever they hold is nothing short of magic. My hair is so soft and silky. I noticed a change after only a days. The best compliment was when my hairdresser of years commented how soft and healthy my hair was. Dry, brittle, split ends - all my fears since I have my hair colored every three weeks, I blow dry it, I flat iron it regularly - it takes a lot of abuse and Hydra Recharge is great!
Date published: 2013-04-15
Rated

5

out of

5
by
Lalalaleah123
from
Conditioner Sparks Charm!
I am a huge fan of the Garnier Fructis Hydra Recharge System! I have never tried a three step system for hydration, but I loved the results it gave me. The system allowed me to have my slick straight hair without blowdrying! This excites me a lot because my hair can be less damaged and become more healthy over time. I loved the smell of the product- shampoo, minute treatment, conditioner, they all compliment each other very well. I had many compliment me on the smell of my hair! While using the shampoo, the lather was great! I didn't have to use much to smell and feel the product working and getting rid of grease and instead being soft... FROM SHAMPOO. Then using the minute treatment was my miracle. My hair was so supple from it, like velvet. I let it soak in for a minute before I washed it out, and it felt like I already had put conditioner in. Finally after putting in the conditioner,my hair felt completely revitalized and healthy. The aspect of my hair that I care the most about is it's health and moisturization. I was very pleased that after I got out of the shower, combing through my hair was simple, no after shower knots! I lost little to no hair in my brush while brushing it out. That impressed me immensely as I usually lose 10-30 strands painfully. It made the post-shower hair brush ENJOYABLE!! Overall the product is a great investment, and my hair feels healthier and more replenished, and soft.
Date published: 2013-04-11
Rated

5

out of

5
by
sharyn
from
Conditioner that is true to the word
I love Garnier Recharge conditioner. It definitely helped my hair with the dryness. My hair is silky smooth, always smells delicious and it cost less than a salon to take care of. I get so many compliments on how gorgeous my hair is, thanks to Garnier!
Date published: 2013-04-09
Rated

5

out of

5
by
Estelle134
from
Intense moisture that doesn't weigh me down!
The first thing I noticed about this product is that it comes out of the bottle more like a thick hair treatment than your average drugstore conditioner. I love it! The smell is also really fun and tropical. After blow drying my hair is nice and smooth with out having to use very much additional product. No heavy greasy hair for me. Just weightless moisture with a really great shine.
Date published: 2013-04-05
Rated

4

out of

5
by
rshelly22
from
AWESOME!!!
This conditioner works great!! When I first put it on my hair I thought it didn't spread well but once I let it sit for a minute and then washed it out it felt so smooth, soft and light. After letting my hair dry my hair felt soft and lighter then normal it was wonderful!
Date published: 2013-03-28
Rated

4

out of

5
by
aecharlebois
from
It's so lightweight -- definitely a keeper!
I hate conditioners! I use them because I have to due to the type of hair I have, which gets dry at the ends and greasy at the roots, as well as it's wavy and usually unruly. So being able to put a brush through it without using conditioner is like dragging your nails across a chalkboard. Not a pretty sound or sight! Anyways, once I tried this conditioner, I fell in love. Not only does it moisturize my hair, but it doesn't leave any gunky residue on my scalp. I felt like my hair was light weight, which is not something it usually is. Most other conditioners have a really heavy feel to them, even just sitting in your hand, so I was pleasantly surprised when this one wasn't like that at all. It was on the thinner side, but worked perfectly for my hair. The smell is absolutely wonderful. I loved how my hair smelled fruity after showering. It wasn't overpowering, which I was thrilled with. This is a conditioner that I would recommend for a bit of a thicker hair type. I don't think it'd work so well for those that have super thin hair.
Date published: 2013-03-25
Rated

5

out of

5
by
sweeneywithanedge
from
Positively In Love
I have been using these groups of products for a little over a month now and I am absolutely in love. My hair always feels fresh and smooth but not too stripped. It dries to a nice silky, smooth finish with lots of life and bounce. The smell of the Kiwi and Goji Berry is TO DIE FOR. I am constantly touching my hair, as is my boyfriend. He always compliments me when I get out of the shower!
Date published: 2013-03-24
Rated

4

out of

5
by
EricaNC91
from
Smooth Creamy Goodness that locks it all in!
The Garnier Fructis Conditioner is Great because it locks the wonderful fruity smell in and really makes my hair shiny and smooth with absolutely no tangles at all. Thank You!! The only thing I disliked about it is that I have to use alot at once because my hair is so long. But it is very creamy and smooth, overall I am happy with this product. #GotItFree through Buzz Agent
Date published: 2013-03-21
Rated

5

out of

5
by
iPanderr
from
yes yes yes a million times yes
This conditioner is amazing for a store brand. Most store brand conditioners are kind of thin, but this one is nice and thick. I let mine sit for a minute so it leaves my hair weightless and silky. Really impressed with this conditioner.
Date published: 2013-03-21
Rated

5

out of

5
by
xtina11
from
Leaves Hair Silky and Smoothe
This is a wonderful conditioner! I don't have to leave it on for more than a minute and it makes my hair smoothe and silky to the touch! Yet it's still light, unlike other heavy feeling conditioners. With Hydra Recharge, I can even condition my roots (which I usually avoid with other conditioners) and it doesn't weigh my hair down or make my hair greasy!
Date published: 2013-03-21
Rated

5

out of

5
by
Naomi
from
I love this set!!!!!
In combination with the shampoo and the 1- minute serum these products have really done something incredible for my hair and I'm so happy to have found this product.
Date published: 2013-03-20
Rated

5

out of

5
by
Peachymomof3
from
Super Soft and Smooth
I love Garnier Hydra Recharge Conditioner from Garnier Fructis. It covers and conditions well with the recommended amount of product and rinses clean while smelling fabulous. Using the conditioner in combination with the Hydra Recharge Shampoo and 1 Minute Treatment keep my hair moisturized and help tame my flyaways and frizz. I love it!
Date published: 2013-03-14
Rated

5

out of

5
by
Julie1217
from
My search is over!
My hair felt noticeably smoother and silkier when I blow-dried it after using this conditioner. The results last, but I found my hair returned to its natural texture if I discontinued use of the product. My hair is long and thick and is somewhat damaged from colouring. Consistent use definitely helped to smooth out the coarseness. And if, like me, you love fragrant fruity aromas, you'll love the scent – it smells so good, you may be tempted to take a taste
Date published: 2013-03-13
Rated

3

out of

5
by
IAMM3Z
from
Too much hydration
I have used this trio three times now. I will tell you my initial thoughts on each one. I'd like to keep using this to see if my hair feels better over a few weeks of use. Hydra Recharge Shampoo: This shampoo feels like a hair gel. It's kind of sticky but it eventually works in to a nice rich lather. The aroma is soothing and relaxing. Hydra Recharge Conditioner: This conditioner is THICK! The first thing I look for when testing a new conditioner is how thick it is. I like thicker conditioners as they aren't diluted with water. Hydra Recharge 1-Minute Moisture-Plenish Treatment: This treatment is the exact opposite of what I expect from a hair treatment. Normally hair treatments are thicker than conditioner. I thought this treatment was more diluted than the Hydra Recharge Conditioner. They recommend that you apply this on your scalp. This worried me because my ends are where I have the dryness is and scalp is oily, but I followed the directions. GARNIER FRUCTIS HYDRA RECHARGE On my first use I used all three as directed. My hair was weighed down too much for my liking. On my second use I used all three but I only conditioned the ends of hair. My hair was still too weighed down for my liking. On my third use I only used the shampoo and conditioner. The roots felts weighed downed but my ends felt frizzy and hard to manage. They were more prone to tangle. I'm going to keep trying these out and I hope to find a combo that works for me.
Date published: 2013-03-12
Rated

5

out of

5
by
CM1986
from
Great Product, Love this Scent
I'm an African American with short, relaxed hair and it definitely has a tendency to be dry. I was excited to try this since my hair has been particular dry lately. I really loved the smell! Nice and fruity. Easy to rinse out, no heavy feeling or residue left. Hair felt nice and tangle free. Ok, I didn't look like Beyonce in a hair commercial. But my hair DID feel noticeably softer and more smooth. It felt very clean, light and fresh and was tangle free. It didn't feel heavy or leave any residue like some conditioners tend to. I would recommend it and use it again!
Date published: 2013-03-12
Rated

4

out of

5
by
midwestmommaof2
from
Weightessly soft
I love that this makes your hair feel soft and conditioned without weighing it down or making it feel greasy.
Date published: 2013-03-10
Rated

5

out of

5
by
Krys
from
Garnier did it again!
Garier has a way of always improving & adding to their hair care line, well they did it again! Garnier Fructis' new Hydra Recharge has become my go to product. The Moisture-Plenish Treatment is a very quick & easy way to make your hair healthier, feel softer & look silky smooth! The microbeads in the shampoo was quite a different experience. I like how thick & rich the lather became. It truly felt indulgent to me, as if I was spoiling myself. The conditioner is my favorite of the trio. First, it smells absolutely amazing! The goji berry, passion fruit & kiwi create an amazing treat for your smelling senses right out of the bottle. The conditioner leaves your hair soft, shiny, & beautiful for nearly two whole days between washes. No dry shampoo needed! This has become the product for me, you should try it for yourself! It might just be the one for you as well!
Date published: 2013-03-10
Rated

5

out of

5
by
dancegirl21
from
My Hair Looks Shiny
Overall, I really like the Hydra Recharge conditioner. I like that this conditioner is not heavy and it leaves no residue in my hair. It is easy to rinse from my hair. It moisturizes my dry and fine hair without making it look greasy. This conditioner has helped with frizziness and made my hair look shiner and smoother. Best of all, I really like the fruity scent.
Date published: 2013-03-07
Rated

5

out of

5
by
MissyRaeG
from
Awesome conditioner
My hair is so soft! It smells just like kiwi. I have also tried the shampoo, and while I found the shampoo to be perfectly average, the conditioner really did its job. My hair when I tried it had not been deeply washed in almost 5 days! And I have long hair and workout regularly! Totally revitalized my dried out locks. Thanks Garnier!
Date published: 2013-03-07
Rated

5

out of

5
by
ShiNana
from
My hair is soooooo SOFT!!!!!!!!
I have always been a fan of Garnier products and when I saw this cool new kind in stores, I HAD to have it! I have thick, long hair that has been very abused in years past by over color treatment and this has been the solution to my problems! I normally use this in rotation with the Color Shield and the Fall Fight (I know it sounds weird to use it with thick hair but I also have problems with breakage despite my hair type) and I usually rotate every other day. I hope this review helps!
Date published: 2013-02-22