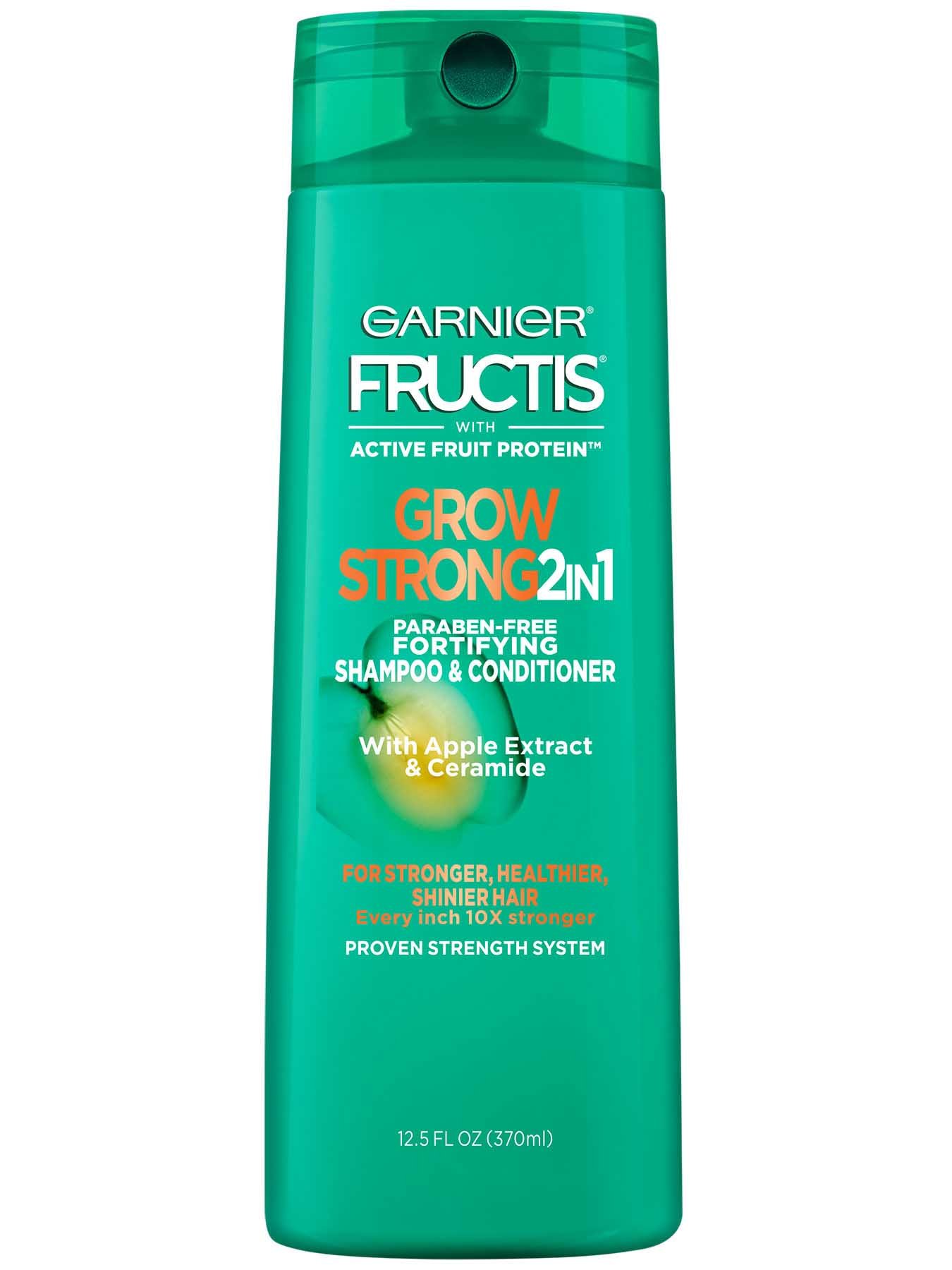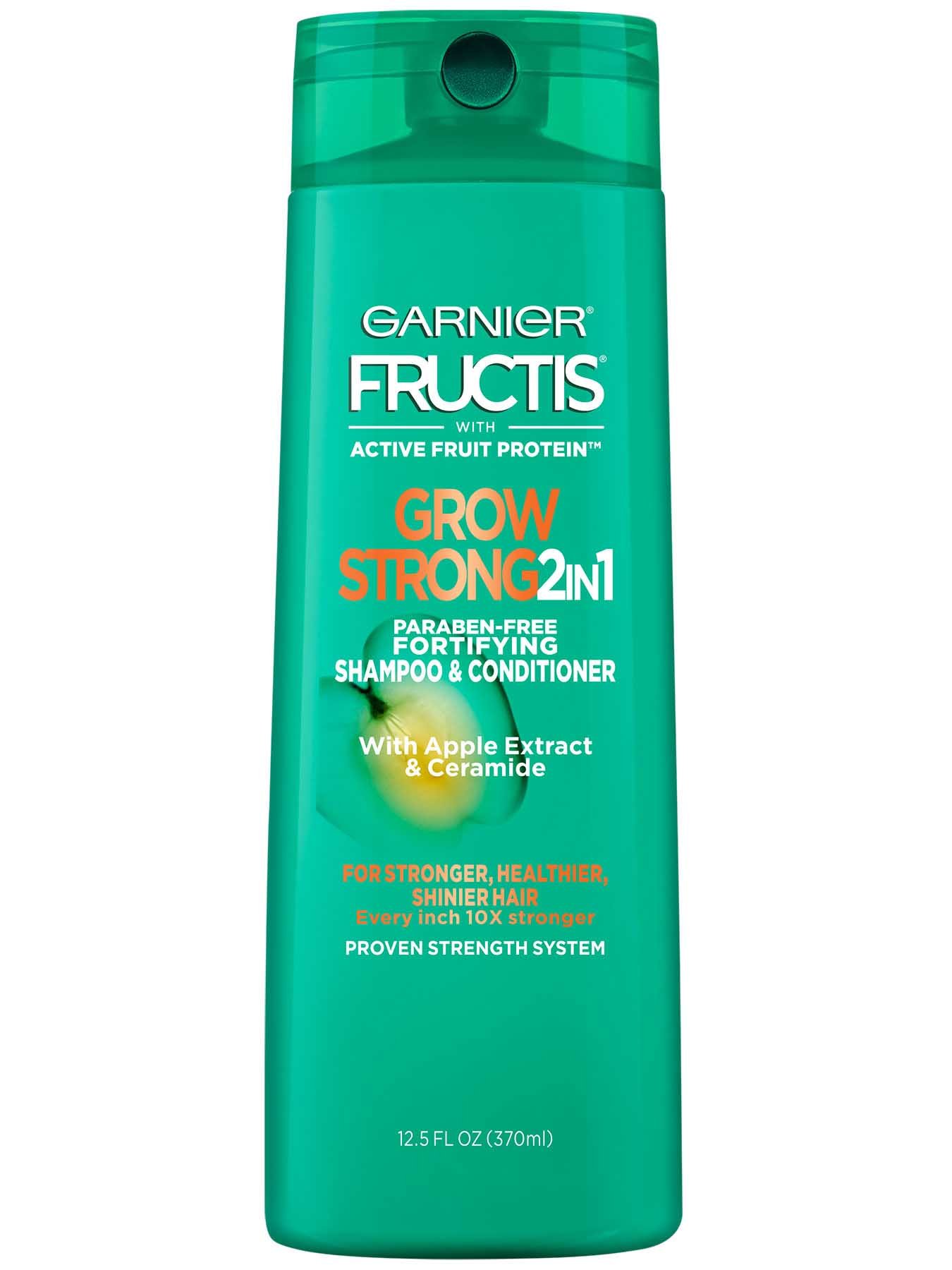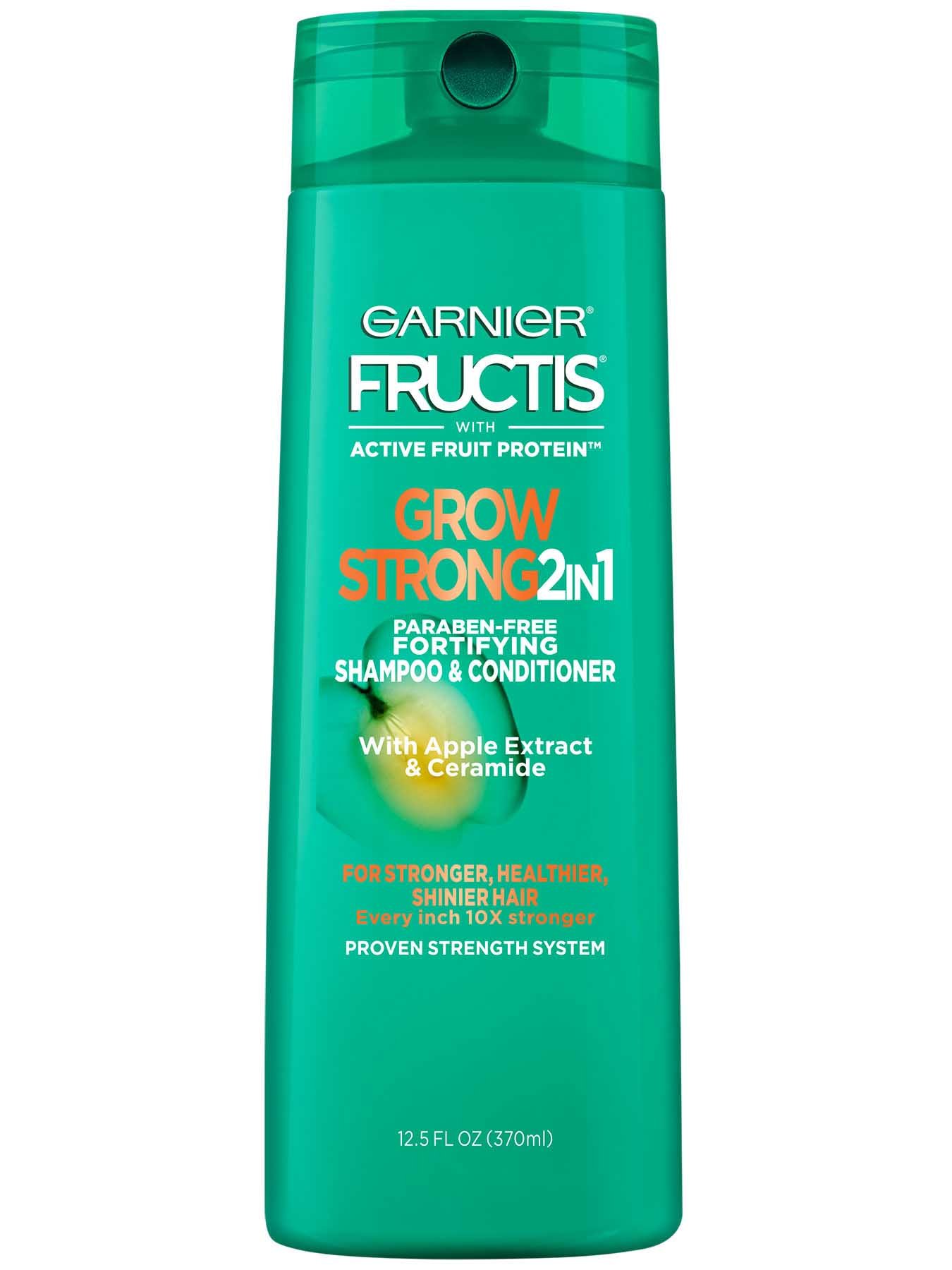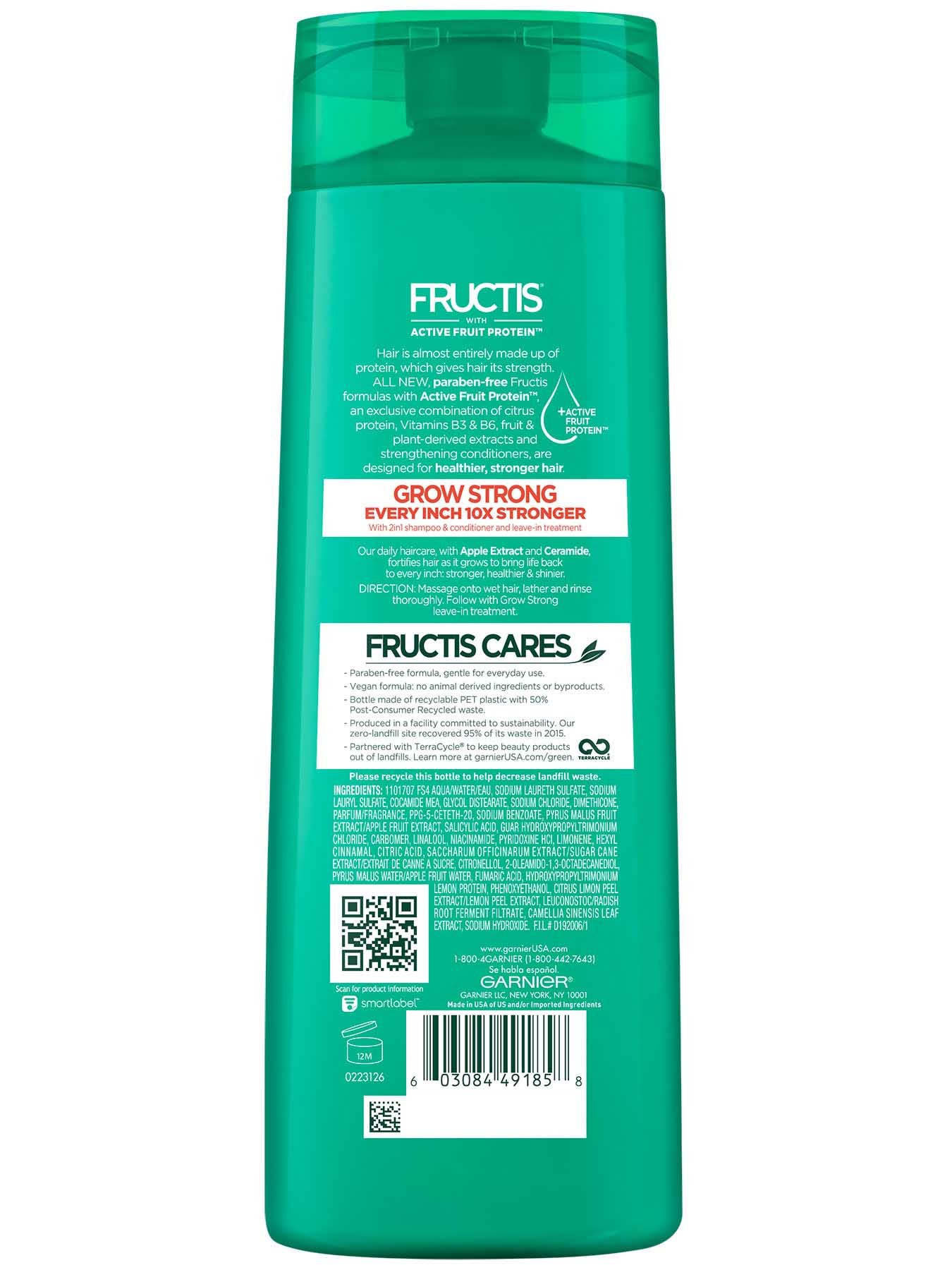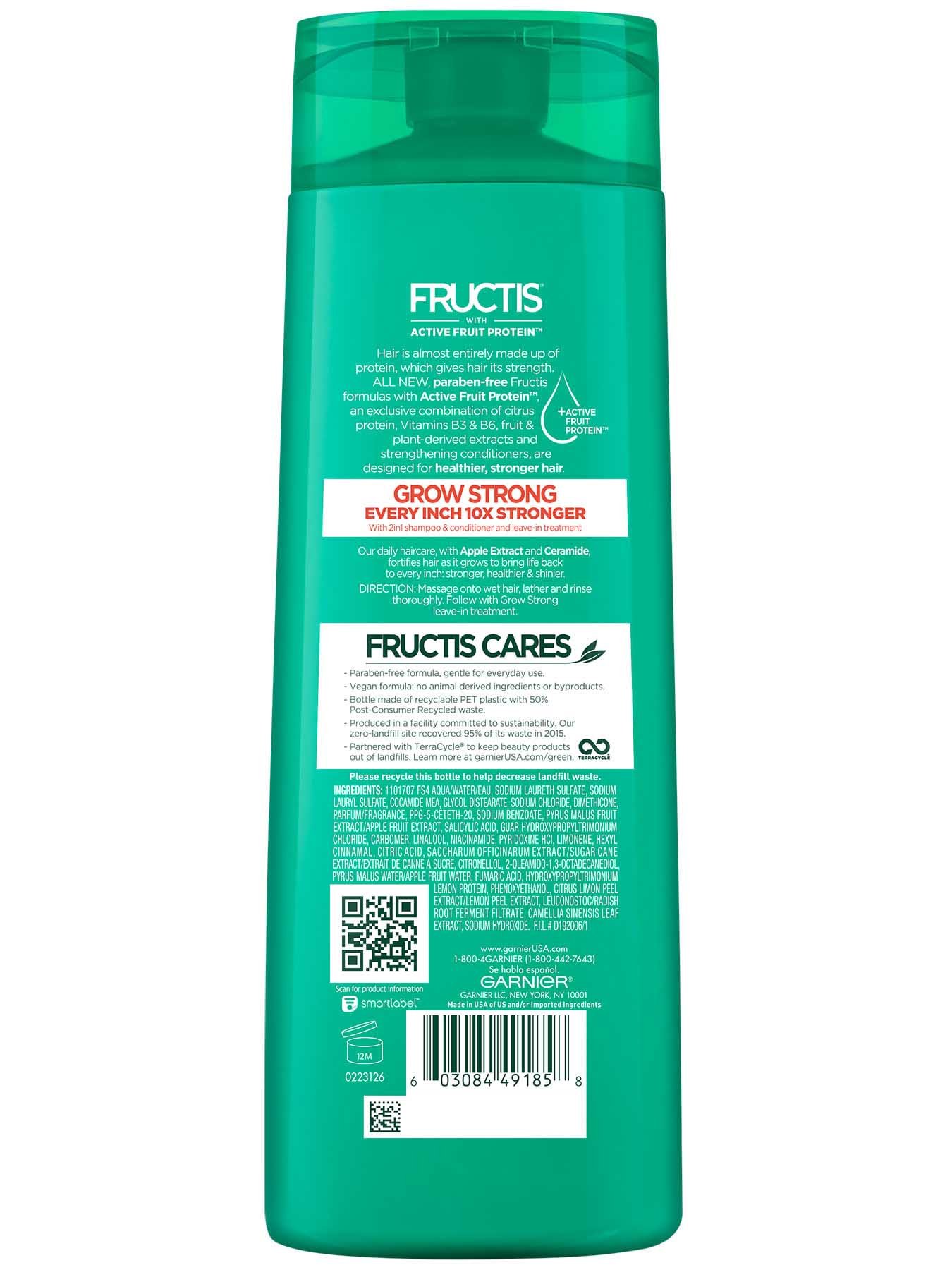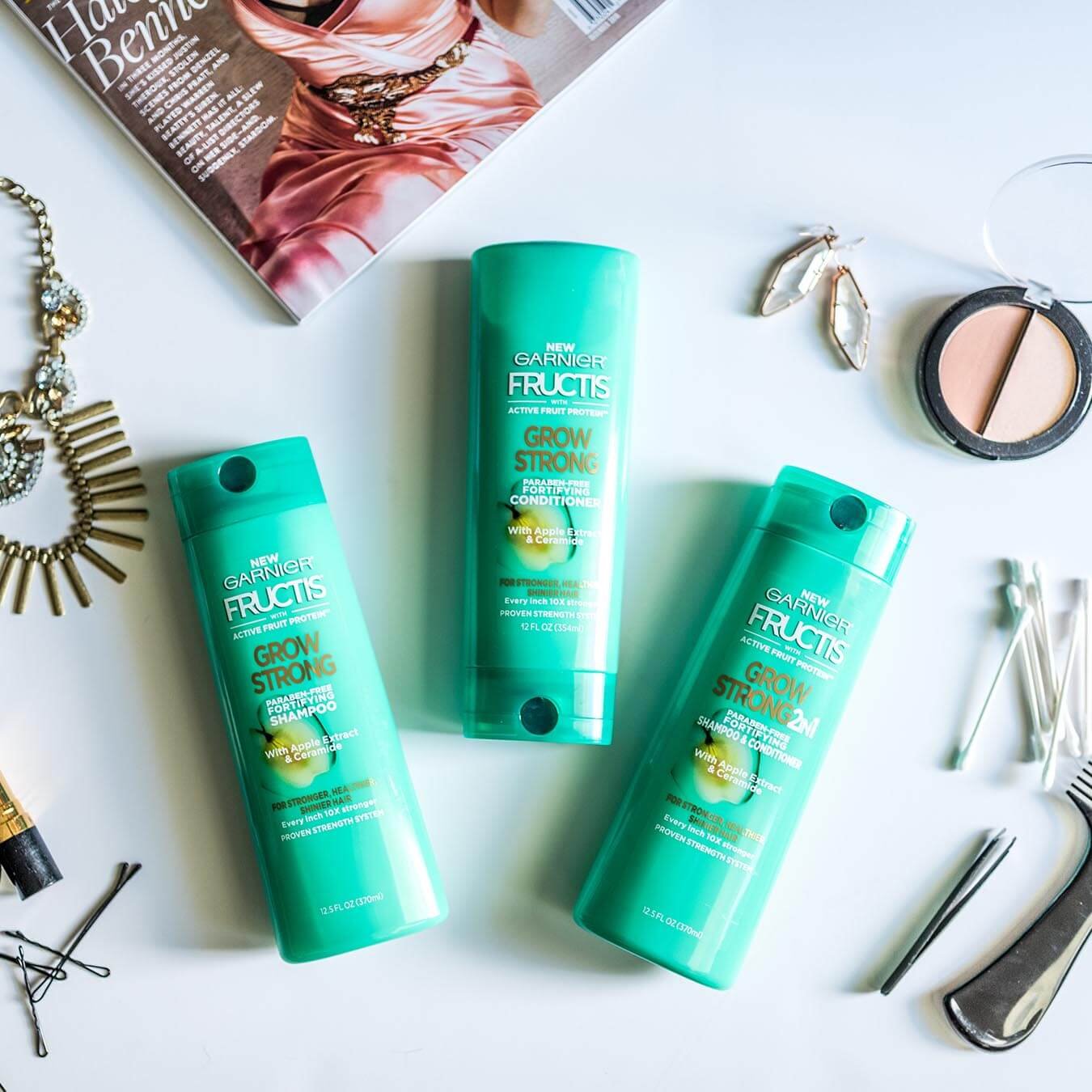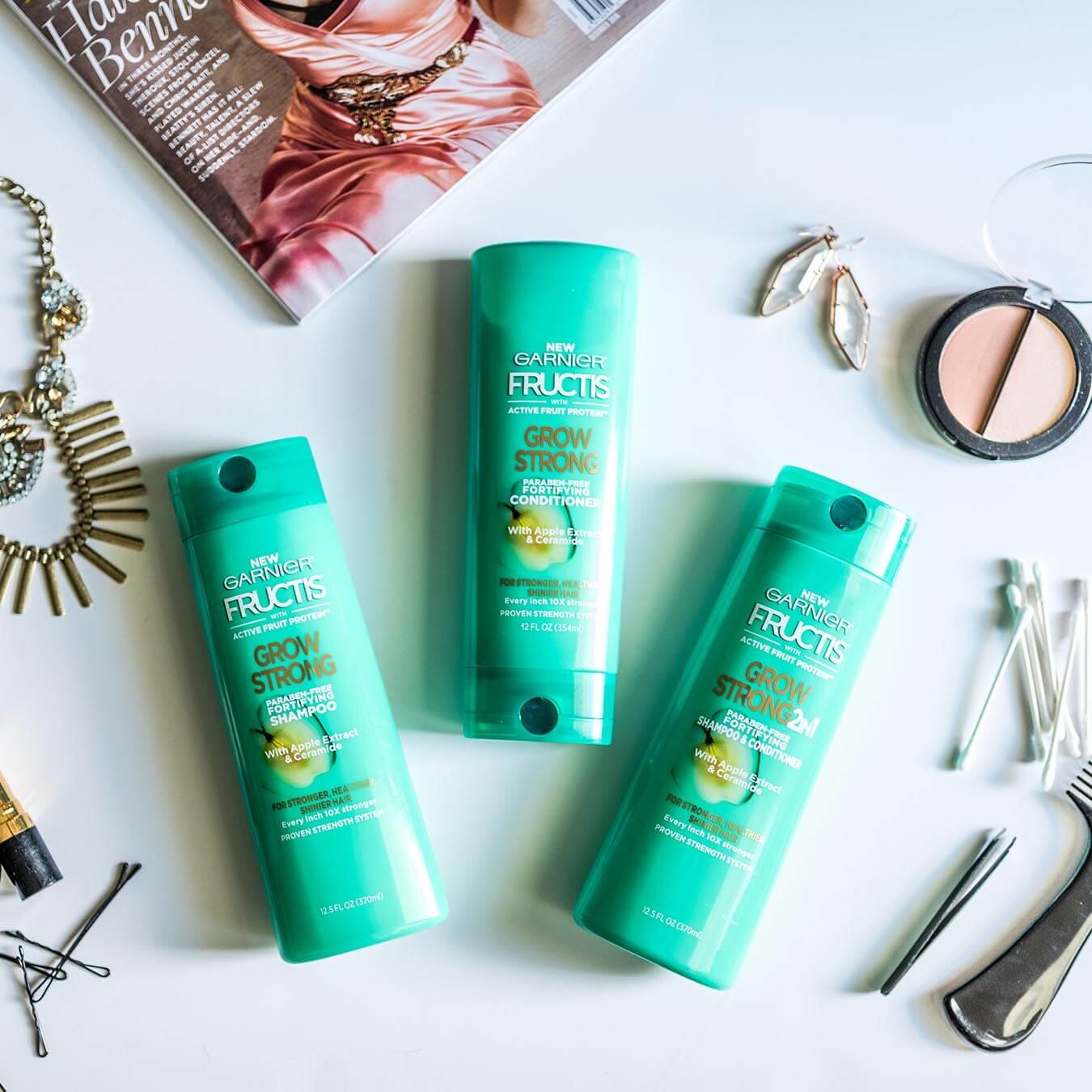 Grow Strong 2-in-1 Shampoo & Conditioner
Garnier Fructis
$4.49 MSRP
Fortifying 2-in-1 shampoo & conditioner helps make every inch stronger*
PRODUCT INFORMATION:
Hair is almost entirely made up of protein, which gives hair its strength. Paraben-free Fructis formulas with Active Fruit Protein™, an exclusive combination of citrus protein, Vitamins B3 & B6, fruit & plant-derived extracts and strengthening conditioners, are designed for healthier, stronger hair.

Fructis Grow Strong 2-in-1 Shampoo & Conditioner, with Apple Extract and Ceramide, fortifies hair as it grows to bring life back to every inch: stronger, healthier & shinier.
How to Use:
Massage onto wet hair, lather and rinse thoroughly. Follow with Grow Strong leave-in treatment.
Ingredients:
1101707 FS4 AQUA/WATER/EAU, SODIUM LAURETH SULFATE, SODIUM LAURYL SULFATE, COCAMIDE MEA, GLYCOL DISTEARATE, SODIUM CHLORIDE, DIMETHICONE, PARFUM/FRAGRANCE, PPG-5-CETETH-20, SODIUM BENZOATE, PYRUS MALUS FRUIT EXTRACT/APPLE FRUIT EXTRACT, SALICYLIC ACID, GUAR HYDROXYPROPYLTRIMONIUM CHLORIDE, CARBOMER, LINALOOL, NIACINAMIDE, PYRIDOXINE HCl, LIMONENE, HEXYL CINNAMAL, CITRIC ACID, SACCHARUM OFFICINARUM EXTRACT/SUGAR CANE EXTRACT/EXTRAIT DE CANNE A SUCRE, CITRONELLOL, 2-OLEAMIDO-1,3-OCTADECANEDIOL, PYRUS MALUS WATER/APPLE FRUIT WATER, FUMARIC ACID, HYDROXYPROPYLTRIMONIUM LEMON PROTEIN, PHENOXYETHANOL, CITRUS LIMON PEEL EXTRACT/LEMON PEEL EXTRACT, LEUCONOSTOC/RADISH ROOT FERMENT FILTRATE, CAMELLIA SINENSIS LEAF EXTRACT, SODIUM HYDROXIDE. F.I.L.# D192006/1
Active Fruit Protein
An exclusive combination of ingredients, Active Fruit Protein is the key to all of Garnier's fortifying Fructis formulas. Made with Citrus Protein as well as Vitamins B3 and B6, and fruit- and plant-derived extracts, the formula delivers stronger, healthier-looking hair.
Apple
Full of vitamins and minerals, apples are more than a delicious fruit to eat. Apple extract is believed to provide many benefits as it is highly packed with powerful polyphenols and antioxidants.
The Full Regimen
Everything you need to complete your Grow Strong hair care routine.
Wash
Garnier Fructis
Grow Strong Shampoo
Shampoo for stronger, healthier, shinier hair
Condition
Garnier Fructis
Grow Strong Conditioner
Conditioner for stronger, healthier, shinier hair
Rated

4

out of

5
by
Chantelleraines
from
Grow strong 2in1
My husband and I love the smell of this shampoo! It's super strong on the apple. I love the lather and feel of my hair after washes!
Date published: 2017-11-02
Rated

4

out of

5
by
WeirdFunBun
from
The Best 2in1!
I gave the Garnier Fructis, Grow Strong 2in1 with Apple Extract & Cermide, about two weeks to get a good feel of it. Garnier Fructis Grow Strong 2in1 smells fantastic and that smell lasts all day. It lathers very well and definitely cleans my hair. My roots feel stronger, and I'm progressively losing less hair while using it. The 2in1 also drastically reduces my time in the shower, which is a bonus when I'm in a rush or don't have alot of time. However I have a very picky scalp. Even when I put it in my hair (and on my scalp) for as short of time as possible before rinsing, it dries my hairline to the point that it's pretty uncomfortable. In summary. I feel that Garnier Fructis Grow Strong 2in1 is a really great shampoo (and probably the best 2in1 I've ever used), but if you're like me (with a picky scale and one that doesn't get have enough natural oils to replenish the dryness) it may not be the right one for you. Still a great shampoo overall, I would suggest anyone looking for a good 2in1 try this one out!
Date published: 2017-11-01
Rated

5

out of

5
by
AngelBabe2011
from
Non Greasy Shampoo
This was my first time trying a new in one shampoo usually no matter what brand I buy my hair tends to always get greasy. When I first tried this product I loved the smell you don't need to apply a big amount of shampoo . This is only shampoo I've been using for the past week and not once did it make my hair look greasy it also keep's it very soft.
Date published: 2017-11-01
Rated

4

out of

5
by
othlover92
from
Best 2 in 1 I have ever used
Ok so this may possibly the best 2 in 1 Shampoo & conditioner I have ever used. Ok fine you got me, it definitely is! I don't ever recall a time when my hair ever felt, looked or smelled this good! Coming from the brand Gariner Frutis i knew this would be a hit especially for my hair and it was! If you want the best hair of your life you better be picking this up on your next trip!
Date published: 2017-11-01
Rated

5

out of

5
by
shayna0809
from
Garnier Fructis 2in1
What do I think? I think this shampoo/conditioner is amazing. My hair looks and smells great. I work in a factory, and when I take my hat off, which has a bump cap in it, it usually has a bad scent, but when I use this, I smell apples!!! I have absolutely, positively no complaints. So, would I recommend this product?? Yes, without a doubt!
Date published: 2017-11-01
Rated

5

out of

5
by
ChristenJ
from
Time Saver and Great Quality!
I ended up loving this product. I am not one to usually grab a 2-1 product because I am worried that it won't be effective on my thick hair. However, I was very pleasantly surprised. The product left my hair feeling clean and soft. My hair is thick and long, so it did get a little tangled, but overall I think this is a great product to use when you don't want to spend too much time in the shower.
Date published: 2017-11-01
Rated

4

out of

5
by
MRiggins19
from
Great Smell, Not So Great On My Hair
I love the smell of this shampoo! I even like the texture (which I usually don't). However, I am not big on 2-in-1s because they make my oily hair even oilier. I wanted to give this a try because I have a lot of hair and am always trying to find ways to make washing easier. However, this was not kind to my hair. If you don't have oily hair already, this could be great for you! I would even recommend it! But, I just can't use it and that's sad...... My husband can though!
Date published: 2017-10-31
Rated

5

out of

5
by
GeneralDow
from
Fruitful Shampoo
I don't ordinarily use 2 in 1's because they leave my scalp dry and itchy. This shampoo was an exception as it kept my hair clean and moisturized as well as not causing dandruff. I also like the light fruity fragrance. Whether or not my hair is fortified I don't know, but it did its job and didn't leave my scalp dry.
Date published: 2017-10-31
Rated

2

out of

5
by
letitenfoldyou
from
Not for thick wavy hair
While this product does smell amazing and has a long lasting scent, I felt as if it worked only as a shampoo for my very thick, wavy hair. When I received this product, I was halfway through my seperate shampoo and conditioner of the exact same Grow Strong formula. On day 1, my hair was dry and brittle and I didn't think this product would work at all. But by day 2, I realized my hair was super soft and smooth (as if I had used my regular hair products.) And by day 3, my hair became very oily and greasy, the way it is by day 5 or 6 with seperate shampoo and conditioner. I tried this product alone several more times, but the results were the same. I have been using Garnier Fructis hair care products for several years and am sad to say I was disappointed with the results of this product. The product also states to use with a leave-in treatment which I did not do, but I would rather just stick to my tried and true routine with the seperate shampoo and conditioner. I think for thin hair or regularly less oily hair than mine or people who can wash their hair more often, I would definitely recommend this product. But for my thick wavy hair, I can not wash more than twice a week. I highly respect Garnier for their efforts in making vegan formulas and using recycled/recyclable packaging. You will not find a better environmentally friendy company that can work for your hair.
Date published: 2017-10-31
Rated

4

out of

5
by
MadelineGrace08
from
Not your Regular 2-1 Shampoo
I think this 2 and 1 shampoo and conditioner is great. I have super thick hair so usually 2-1's make me cringe, but this one works awesome! The only problem for me was the scent, but I also am super sensitive to most scents.
Date published: 2017-10-31
Rated

4

out of

5
by
karolinaanp
from
Great product
The product is great, the hair feels great after a wash. I gave this product a 2 week try and overall its good. However it just didn't work with my hair type ( I have oily hair) and I have to wash my hair everyday with this product.
Date published: 2017-10-30
Rated

4

out of

5
by
Hcole022
from
Smells AMAZING
I was so excited to try this product. I shop with my eyes usually and the design really grabbed my attention! The smell is amazing, I love when a fragrance actually sticks to your hair and doesn't just smell good when smelling the bottle! I was really excited to try another 2 and 1 as I have very fine hair so using straight conditioner make its a very greasy and means I have to wash it once a day, but I do have a lot of hair so it get very dry and hair to brush! I used this product and right off could tell it didn't have enough conditioner in it! My hair still very dry when I got out of the shower, I let my hair air dry and it did look and smell amazing. I did have to wash my hair fully the next morning, because it looked greasy, which I was disappointed about because it didn't feel like there was much moisturizer in the product. I now use this product on days I know I can fully shampoo the next day! The smell is still amazing and it does make my hair look really good when it air dries!
Date published: 2017-10-30
Rated

3

out of

5
by
gabgec
from
Garner Fructis Shampoo
I loved the scent of this shampoo. Unfortunately I have highlighted hair and I feel like it washed off my glaze a bit. I would. It recommend if you are trying to extend the life of your color. It does feel strong but not very moisturized. I have thick hair.
Date published: 2017-10-30
Rated

4

out of

5
by
ohmyalicee
from
Good smelling shampoo
The best thing about this 2 in 1 shampoo conditioner is the smell. I like the fresh smell of apples that stays in your hair all day. I am not a fan of 2 in 1 because it did not work for me. It did clean my hair well and it was not greasy, but I felt like it did not condition it at all. My hair, especially the ends and tips, were dry and hard. I've dyed my hair so maybe that is the reason, but it didn't condition at all.
Date published: 2017-10-30
Rated

3

out of

5
by
Haileyspencer
from
Okay for an two in one
First off, I want to say how truly amazing the apple scent of this product is. It's sweet and crisp, and the scent lingers all day. I got a few compliments on my "apple hair" at work and my fiance likes it as well. When using, it lathers richly, which is nice for my curly hair. It left my hair and scalp feeling very clean. I don't think it stripped my hair of all its moisture like some harsher shampoos do, but it did fall short in giving my hair moisture like a conditioner would. This is a common issue with 2 in 1 products and is why I typically don't use them. My hair NEEDS hydration and moisture, or it's a mess.
Date published: 2017-10-27
Rated

4

out of

5
by
lajennison2000
from
Amazing and smells great
This is a time saver being two in one. I am not normally a big fan of two in one but this is great. I recommended it to my mom and she likes it too. We have very different hair. Mine is straight and fine, hers is thick and curly.
Date published: 2017-10-26
Rated

5

out of

5
by
ivyflippo
from
Yay for healthy hair
I think garnier makes my hair healthy and strong I have lost less hair then other shampoos while using it. I am against two and one products but this is actually a really good product that leaves hair feeling healthy all day.
Date published: 2017-10-26
Rated

3

out of

5
by
sendmefaraway
from
not bad...
Although this smells amazing...it is not a very good conditioner for me. I have very thick and wavy hair so I need a strong conditioner. The shampoo part of this 2in1 works great though. I use it more so for my younger son and he loves the smell and it does great at cleaning.
Date published: 2017-10-26
Rated

5

out of

5
by
Maya3029
from
Garnier fructis grow strong
I normally don't like buying 2 in 1 hair product, because my hair is very difficult to handle. However after using garnier fructis grow strong 2 in 1 I've noticed less split ends and it leaves my hair feeling fresh and clean for the whole day. It doesn't leave any residue and gives my hair volume without having to use any other type of hair product. Overall I give this product two thumbs up, and will continue to purchase garnier fructis grow strong two in one.
Date published: 2017-10-26
Rated

5

out of

5
by
bmccammon
from
2 in 1....um, no. Well now, YES
I have never liked 2-in-1 shampoo and conditioner combos. They have never left my hair feeling nice and I usually throw the bottle out before it's even done. But this stuff is awesome! It eccentuates my natural hair, smells good, and doesn't leave my hair greasy.
Date published: 2017-10-26
Rated

4

out of

5
by
Smitn08
from
Growing Strong with Garnier Fructis
For the past week I have used the new 2 in 1 Grow Strong shampoo and conditioner by Garnier Fructis. I was beginning to notice a lot of breakage in my hair when this product came along. After using the strengthening shampoo and conditioner for a week my hair felt stronger and there was noticeably less breakage when I would brush my hair. I absolutely love the Apple. This product did not recieve a 5 star rating from me only because I felt that it was lacking in the conditioning department. It has been my experience that this is a common issue with 2 in 1 style shampoos. Brushing my hair after using this product did seem to be more challenging. Not impossible but I spent more time untangling hair than I would have liked too. I did at times have to use supplemental conditioner. My hair is long and fine in texture but I did notice it had a bit more body when it dried after using this product. Overall I enjoyed this product and would definitely recommend it to my friends.
Date published: 2017-10-26
Rated

4

out of

5
by
Tiff1615
from
Garnier Frutise
I think the shampoo is great and even smells great. The conditioner part I wasn't to happy with bc I still had to use other conditioner to get the knots out. I loved the apple smell and I don't even like Apple fragrances.
Date published: 2017-10-26
Rated

5

out of

5
by
Missniky929
from
Soft hair!
I love this shampoo conditioner 2 in 1. I was never a fan of 2 in 1s because they always ended up not giving my hair a soft feeling. But this one is fantastic! It made my hard to manage hair very manageable. It also gave it a nice shine as well! I would definitely recommend this product!
Date published: 2017-10-26
Rated

4

out of

5
by
Sneumann1
from
Strong and Shiny Hair
Let me start off by saying that I am always looking for a great shampoo/conditioner since I have long thin hair. What I look for is a product that will give my hair more volume while keeping the shine and softness. The Garnier Fructis Grow Strong 2in1 so far has been delivering this expectation! My hair not only feels more full, it definitely has been keeping the shine and softness in my hair too and an additional plus is the great smell it has (sort of an apple scent). I've only been using it a few days now but I can definitely see how the more I use it, the more strength my hair will build up.
Date published: 2017-10-26
Rated

4

out of

5
by
Ianandilaria
from
Love Gariner fructis
Gariner fructis shampoo and conditioner 2 in 1 is not only great because it's two in one but it makes for a easy quick wash and that's a plus as a mom of three. I love that this shampoo and conditioner leaves my hair growing long. Garnier fructis grow strong 2 in 1 has made my hair softer and stronger and shinier after each use! It's also a plus that it smells amazing! It's a vegan shampoo and doesn't use any animal byproducts which is great for our family who are now being very careful of the products we use as a family!
Date published: 2017-10-26
Rated

4

out of

5
by
ShaeKylen
from
Clean and fresh
I decided to try this product after my kickboxing class, because that's the best time to see if it really cleans the grease out of my hair. So, I took my sweaty nasty hair and jumped in the shower. When I opened the bottle the scent took over the whole bathroom. It is definitely apple, a little too strong on the scent for me. I lathered up, great texture and bubbles. Jumped out and let the drying process begin. I seriously smelled apples for hours. My hair is really long and thick, so it takes a while to dry, but after it dried, my hair was soft and silky and clean! (No grease, which is super impressive from a 2-1). 24 hours later and my hair still looked good and the apple smell was gone. I will say the only negative is the scent. A little too much for my nose!
Date published: 2017-10-26
Rated

4

out of

5
by
Apickett88
from
Absolutely love the smell!!
This product smells absolutely amazing!! I'm not usually one to use two-in-one shampoo and conditioners, but I went into using this product with an open mind. I have previously damaged hair from a horrible perm so I still have to use a conditioner along with it. Although, I still use conditioner I'm finding myself not using nearly as much as I would normally use, so thats a plus! It does however leave my hair feeling soft, clean and smelling amazing!!
Date published: 2017-10-25
Rated

2

out of

5
by
tranell221
from
Great Smell for Women
This shampoo smells great, but its mostly for women. My hair ended up very dry afterwards, and very fruity smelling, which isn't a bad thing, but as a 28 year male, that't not the scent I'm looking for.
Date published: 2017-10-25
Rated

5

out of

5
by
Kspencersachs
from
Amazing!!!
So my hair isn't super greasy and thin and no matter what I do, it never stays nice after one day. Trying this was a sort of "let's give it a shot" thing and wow! It made my hair silky smooth and stayed fresh for at least two days! I was very surprised!
Date published: 2017-10-25
Rated

2

out of

5
by
abagael
from
Smells Great, Works Okay
First of all, this product smells absolutely amazing. I'm not usually one for two-in-one shampoo and conditioners, but I went into using this product with an open mind. As just a shampoo, this works fine - cleans my hair, gets the job done. However it did not condition my hair in the slightest. My ends were left very dry, frizzy, and brittle. I have quite damaged hair from bleaching and this product did nothing to aid in its repair. I didn't notice any difference in the strength or shininess of my hair either.
Date published: 2017-10-25