Daily Care 2-in-1 Shampoo & Conditioner
Garnier Fructis
$4.49 MSRP
Fortifying 2-in-1 shampoo & conditioner refreshes and energizes.
PRODUCT INFORMATION:
Paraben-free Fructis Daily Care 2-in-1 Shampoo & Conditioner with Grapefruit refreshes and energizes hair for stronger-looking hair with touchable softness. Gentle enough for everyday use.
How to use:
Massage onto wet hair, lather and rinse thoroughly.
Ingredients:
1043495 FS8 AQUA/WATER/EAU, SODIUM LAURETH SULFATE, SODIUM LAURYL SULFATE, COCAMIDE MEA, GLYCOL DISTEARATE, SODIUM CHLORIDE, DIMETHICONE, PARFUM/FRAGRANCE, SODIUM BENZOATE, PYRUS MALUS EXTRACT/APPLE FRUIT EXTRACT, SALICYLIC ACID, GUAR HYDROXYPROPYLTRIMONIUM CHLORIDE, CARBOMER, NIACINAMIDE, PYRIDOXINE HCl, HYDROLYZED SOY PROTEIN, CITRIC ACID, SACCHARUM OFFICINARUM EXTRACT/SUGAR CANE EXTRACT/EXTRAIT DE CANNE A SUCRE, BENZYL ALCOHOL, FUMARIC ACID, CITRUS GRANDIS OIL/GRAPEFRUIT PEEL OIL, PHENOXYETHANOL, CITRUS MEDICA LIMONUM PEEL EXTRACT/LEMON PEEL EXTRACT, CAMELLIA SINENSIS LEAF EXTRACT, SODIUM HYDROXIDE. F.I.L.# D53502/7
Active Fruit Protein
An exclusive combination of ingredients, Active Fruit Protein is the key to all of Garnier's fortifying Fructis formulas. Made with Citrus Protein as well as Vitamins B3 and B6, and fruit- and plant-derived extracts, the formula delivers stronger, healthier-looking hair.
Grapefruit
With antioxidant vitamins from A to K, and minerals including calcium, phosphorus, and potassium, Grapefruit's beauty benefits start from the fragrant oil found in its peel to its juicy flesh and seeds. When infused in beauty formulas for hair and skin, Grapefruit Extract purifies and protects.
Related Products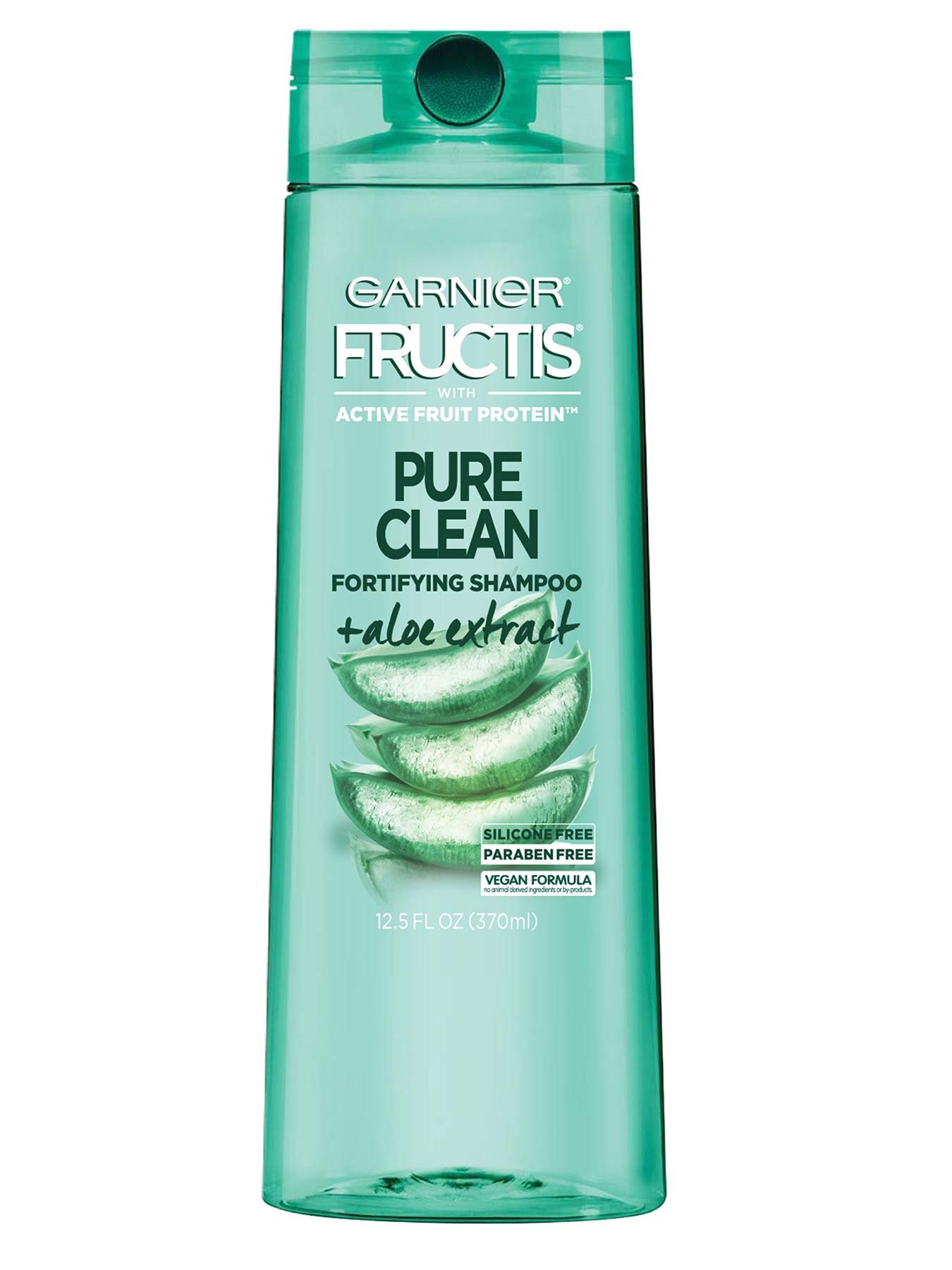 Garnier Fructis
Pure Clean Shampoo
Shampoo for normal to oily hair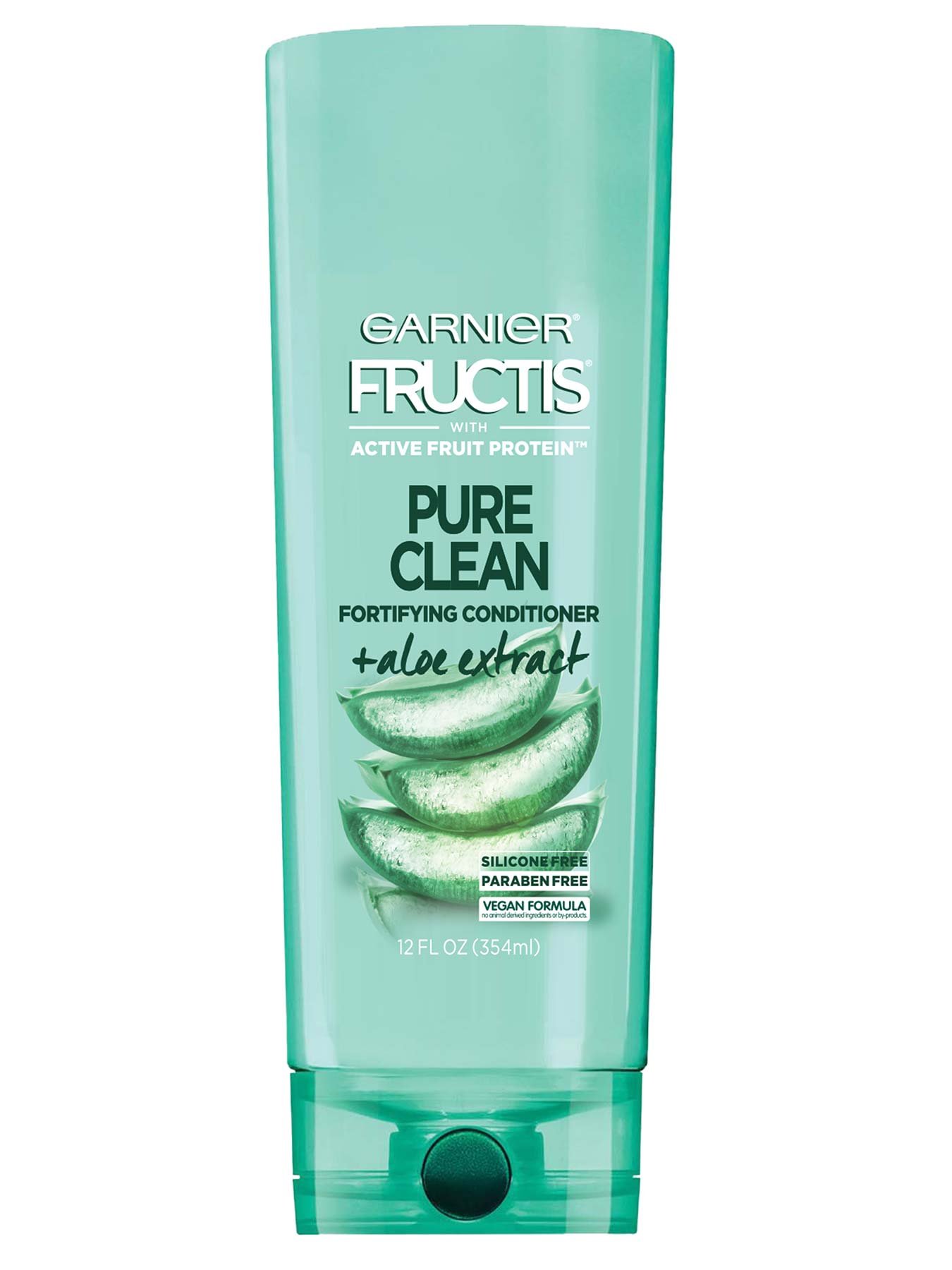 Garnier Fructis
Pure Clean Conditioner
Conditioner for normal to oily hair
Rated

4

out of

5
by
mevans6
from
Simple, Effective, Great for Kids
This Garnier product is definitely one I would recommend. While it did not work great on my hair (28 year old female with thin hair that holds water like crazy), it works great on my girls hair (2 & 4 years old). The girls both require conditioning after shampooing due to tangles, however, this product worked great without additional conditioner! I did let it sit in their hair longer before rinsing, but it added a shine after drying and depending on the price, I would definitely purchase it for future use!
Date published: 2017-10-30
Rated

4

out of

5
by
hihohannah
from
Solid, one-step, hair cleaning
I used to use Garnier when I was in high school. The Sleek and Shine was my go-to everyday shampoo. Then I discovered other brands and moved on with my hair care. Well, it was good to come back! This is a solid, one-step shampoo and conditioner. I enjoyed skipping the step in my routine, and the shampoo really did a nice job on my long thick hair. Recommended!
Date published: 2017-10-30
Rated

5

out of

5
by
Molly26
from
Daily hair that's shown care
I started off skeptical about this Garnier Fructis 2 in1 daily care. Normally I'm not a combo fan- I like my shampoo and conditioner separate- however! I LOVE THIS! As soon as I put some in my hand it had this fresh clean smell! It lathers really well! I washed it out in a timely manner and was able to brush through my hair without any Tangle issues which is amazing for a 2in1! Once it dried my hair didn't have a greasy look and it appeared healthy and shiny! I love this product and it's my new go to! I am super happy with this shampoo conditioner duo!
Date published: 2017-10-29
Rated

5

out of

5
by
Pluralise
from
Fantastic!
I'm always looking to cut steps out of my morning routine, but combining shampoo and conditioner in one product usually means it's not good at doing either... Not with Garnier Fructis Daily Care 2in1! I have thick, long hair that usually takes a long time to wash, but this made it quick and easy. My hair feels clean but not dried out, and not heavy with conditioner either. Plus it smells amazing!
Date published: 2017-10-29
Rated

4

out of

5
by
a4assassin
from
Garnier Fructis Daily Care 2in1
I wouldn't say that there is any incredible results from using this shampoo/conditioner duo but it does get the job done. For instance, I have a natural oily hair and even though this formula is used for normal hair my hair looks great. It is not as oily as it usually is and it makes my hair look refreshed after washes. Plus, it is a time saver, unless your one of those who like to rinse and repeat. I like that it makes my hair feel clean and my shower shelf looks clean with less products from each step. The product has a nice lather which I love in shampoos/conditioners and the scent is wonderful, nice and fruity from the grapefruit. I also love the fact that this is one of the healthier shampoo choices being vegan and animal byproduct free so it makes me feel great in making smart choices.
Date published: 2017-10-29
Rated

3

out of

5
by
SophieStewart
from
Not for dry hair
Overall, this 2 in 1 shampoo and conditioner had a smooth texture (like most garnier fructis products tend too) and a great smell, however, I generally have dry hair and this only made it worse. I generally avoid 2 in 1 products anyways so this may be better for others with oily hair.
Date published: 2017-10-28
Rated

4

out of

5
by
azngirl11990
from
Really Nice Smelling 2 in 1 Shampoo
I really liked the scent on this 2 in1 shampoo, it was fresh and clean without being overpowering. I also liked that I did not have to shampoo and then condition my hair as well. Though it doesn't soften my hair as much as my conditioner, I think it did well for being a 2 in 1 product. I would overall recommend it.
Date published: 2017-10-28
Rated

3

out of

5
by
Barbiexdoll
from
It smells amazing!
My first impression upon opening my very first 2-in-1 Garnier Fructis was, "Wow! That smell!". It smells fresh and clean, with a hint of sweet. A little bit of background; I have thick, long hair that's a bit dry. What I look for in a shampoo: I want my hair to feel CLEAN after I wash it and extra points if it smells good! What I look for in a conditioner: Softness! My hair tends to get dry, especially during the winter months, so I always look for a conditioner that can leave my hair soft and manageable without feeling greasy or oily. What I got from Garnier Fructis 2-in-1: Pros, it smelled great and left my hair feeling clean. Cons, It just didn't leave my hair feeling as soft as I'd like and my hair was a bit frizzy by the time it dried. Over all, I think I would purchase it again to use between my deep conditioning sessions.
Date published: 2017-10-27
Rated

5

out of

5
by
tiffster18
from
Greatest duo
I don't turns to use 2 in 1s but decided to give this one a try and its great! Leaves hair soft and manageable.
Date published: 2017-10-26
Rated

3

out of

5
by
Talialucky
from
Good not great
Upon first try of this product I was a bit skeptical since I am not a huge fan of 2 in 1 shampoo/conditioner. I was, however, pleasantly surprised at how delightful it smelled. There was nothing super special about this product but I did notice that it left my hair feeling nice and it even seemed less frizzy. Overall, I will most likely use this product again. 3.5/5
Date published: 2017-10-26
Rated

4

out of

5
by
seka06
from
Maybe once again?
I used this 2in1 shampoo for about a week. Its a great shampoo it left my hair silky soft and beautiful. The only down side to it was that it didn't control my dandruff. I get bad dandruff during the fall/winter seasons and I need a shampoo that can help with that as well. I used to use Garnier shampoo all the time when I was younger. I would definitely consider using this brand of shampoo again if it had one that would control my dandruff.
Date published: 2017-10-26
Rated

2

out of

5
by
Sstacy27
from
Not for me!
I wanted to love the 2n1 by Garnier but it didn't work for my hair. I have thick, wavy hair that's dry and easily tangled. I typically shampoo my hair 3 times a week and use a conditioner or deep conditioner from the middle of my hair shaft to the ends and use a wide tooth comb to get the tangles out while I'm the shower. This 2n1 made my hair feel clean initially, but when my hair was dry it felt so heavy! It felt as if some of the product was left on my hair. Not to mention all the tangles it caused! The 2n1 is a good idea for some, like my husband, with short straight hair. So I will let him enjoy it for me. For others I wouldn't recommend. Pro: Vegan and Paraben free! Cons: Weighs my hair down, No help with detangling
Date published: 2017-10-26
Rated

5

out of

5
by
Tatalie
from
Lushious hair with great scent
I really like Garnier Fructis Daily Care 2in1 it not only made my hair feel smooth but it has a great scent. It does work as both a shampoo and conditioner which not only is great in saving money but time! I definitely will be purchasing again once I finish my current bottle.
Date published: 2017-10-26
Rated

5

out of

5
by
Smthomas17
from
Goodbye Frizz,Hello world!
With thick long hair it is almost impossible do find any shampoo and conditioner combination that will clean my hair and leave it silky smooth. Thankfully I heard about garnier 2 in 1 daily and not only did it cut my shower time in half my hair felt and looked clean with no after frizz. It's now my go to hair product!
Date published: 2017-10-26
Rated

5

out of

5
by
hemayu
from
Great Shampoo!
I thought this was a great shampoo! It left my hair feeling very soft. Many shampoos do not work for my thick hair, but this one sure did! I usually do not buy 2 in 1 shampoos, but this one worked great.
Date published: 2017-10-26
Rated

4

out of

5
by
hsbzzagent
from
Great option for working women
I started using this product a few weeks ago and have really enjoyed including it in my morning routine. For some background, I have long, brown hair that is fine and dries straight. As a result, I definitely look for products that provide volume and moisture to prevent breakage. In my experience with other two-in-one products, they often weighed my hair down or left it feeling and looking dry. I can honestly say that is not the case at all with this two-in-one Garnier Fructis product. Also, it smells great, cleans and moisturizers my hair well, and comes in a great big bottle that will surely last me several months. I also appreciate that the product is paraben free. For me personally, is the Fructis Daily Care a better permanent solution than my existing Aveda routine? No. But it is a great (and also affordable!) option for those mornings when I hit the snooze button a few too many times and need to get to the office on time. Plus, it smells and feels great so it's a no-brainer.
Date published: 2017-10-26
Rated

3

out of

5
by
Jburwick89
from
Great smelling 2 in 1
Great smelling shampoo, leaves hair and scalp feeling clean and moisturized. which is especially impressive considering the price point of this product. My husband loves this product as well, especially that it is a 2 in 1. I use many other Garnier products and they are always good quality and this didn't disappoint. I do wish it was safe for color treated hair.
Date published: 2017-10-26
Rated

5

out of

5
by
Luzmaro
from
New Shampoo?
I didn't want to review this product until I had used it enough to give a good review. One thing I look for in my shampoo is great smell but the most important thing that it does what the product is intended for. Now that summer is over my hair was just feeling very dry and it just had felt dirty. Well after a couple of uses my scalp felt amazing!!!! It felt so refreshing and my hair smelled great! This product really helped my head and hair feel so amazing! I would definitely recommend this product to anyone!
Date published: 2017-10-26
Rated

5

out of

5
by
Lexcece
from
Garnier Daily 2 in 1 Care - Great!!!
I am very impressed by this shampoo 2 in 1 product!! I have been using Garnier for years and it's always exciting to see and to try out their new products. I loved the way that this made my scalp feel; Super clean and even helped a bit with my dandruff!! My hair smelt AMAZING after using!! Loved it and will definitely try again and will recommend to anyone and friends/family!
Date published: 2017-10-26
Rated

5

out of

5
by
Carlivia
from
Great Product
This is a great product. It makes my hair feel so soft and lush. It makes my hair shiny in a good way. I love this set and would definitely buy it when I run out. Intecommended this product to my family and friends and they mostly tried it already and agreed.
Date published: 2017-10-26
Rated

5

out of

5
by
Katiekinney28
from
Silk for your hair
This shampoo/conditioner is truly like no other. It makes your hair feel so silky and smooth. Not to mention...THE SHINE it gives. A product that does all of this plus thats a shampoo AND conditioner? What more could you ask for??
Date published: 2017-10-26
Rated

5

out of

5
by
Klovett88
from
Great for an in between day
This shampoo is a great for a wake up in between professional shampoos. It seems to really make your hair soft and feel very clean. This smells fantastic! I would definitely recommend this to a friend for a quick grab at the convient store shampoo.
Date published: 2017-10-26
Rated

4

out of

5
by
LuckyMommaLisa
from
Garnier 2-in-1
I used to hate using shampoo/conditioner combos, they never seemed to get my hair clean. It would always feel greasy afterwards. THIS one on the other hand, LOVE IT. I love Garnier products anyway, I think they are great. I probably wouldn't switch from shampoo and conditioner separates, but it would be nice to have around if I didn't want to lather/rinse/repeat 3 times. Great product, no greasy feeling afterwards, and does a good job cleaning.
Date published: 2017-10-26
Rated

4

out of

5
by
Caramary
from
Daily Care 2- in - 1
I have to admit, I was pretty skeptical at first about using a 2-in-1 shampoo and conditioner. I have oily roots and very dry ends, so I usually only shampoo the roots and only condition the ends. But I have to say I am absolutely impressed with this product! Although it was a bit harder to brush through my tangled ends after getting out of the shower, my hair was soft, sleek, and felt healthier than ever! I also love that this product does not contain any animal derived ingredients or byproducts, now my conscious can be as clean as my hair!
Date published: 2017-10-26
Rated

5

out of

5
by
KristinFrakes
from
Love this shampoo & conditioner
I don't typjcally buy 2 in 1 shampoo/conditioner, but I love this! The smell is great, and it doesn't leave my hair feeling greasy or heavy. It creates a nice lather, too, which makes me feel like it is really cleansing my hair.
Date published: 2017-10-25
Rated

5

out of

5
by
kaybee1112
from
Amazing!!!
I absolutely love this product! It makes my hair feel amazing. I would highly recommend this product to everyone I know.
Date published: 2017-10-25
Rated

3

out of

5
by
ccrunnerchic
from
2 in 1 shampoi
I normally don't use 2 in 1 shampoos because the conditioner is not strong enough for my hair. Unfortunately, this shampoo did not contain enough conditioner to affect my hair either. I had to use another conditioner after rinsing the shampoo out. The shampoo did smell amazing, and my hair felt good after using it (it wasn't weighed down or oily).
Date published: 2017-10-25
Rated

3

out of

5
by
RachaelD95
from
Worked pretty well for me
I think that being a paraben free shampoo that the Garnier Fructis Daily 2in1 shampoo, honestly, works about as well for my dandruff and oily hair as anything else I have tried. But for those with manageable hair issues(dryness, mild oiliness), I think that this would work very well for you.
Date published: 2017-10-25
Rated

4

out of

5
by
ashleynichole2495
from
really great affordable shampoo
usually my hair gets oily and i have to wash it every day but this helped with the oiliness and i could skip a day of washing, which is great to help prevent dryness. it smells nice and leaves my hair shiny, full and manageable. i recommend it!
Date published: 2017-10-25
Rated

5

out of

5
by
ricanlove
from
Amazing product
First let me start of with grapefruit . Never knew grapefruit is healthy for the hair. I love grapefruit to eat but never thought of putting it on my hair. I like2 in 1 product because they make less mess and save more money . I like that it is shampoo and conditioner combined. My favorite part is that it smells amazing and makes my hair feel soft . I love that energized and fresh feeling to my hair. I recommend because it gives your hair that volume you looking for. I will definitely buy more in my future.
Date published: 2017-10-25