Sky-Hi Volume Mousse
Garnier Fructis
$4.29 MSRP
24H High reaching volume and hold.
PRODUCT INFORMATION:
Get volume that reaches the sky! Garnier Fructis Style Sky-Hi Volumizing Mousse gives your hair high reaching volume and 24-hour hold. Now Paraben free.

HOW DOES IT WORK
Sky-Hi Volumizing Mousse gives your hair high reaching volume and 24-hour hold with our most extreme holding technology.
How to use:
Shake well. Hold can upside down and dispense into palm. Apply evenly to damp hair and style.
Ingredients:
1031223 C AQUA/WATER/EAU, PROPYLENE GLYCOL, ISOBUTANE, SODIUM POLYSTYRENE SULFONATE, DIMETHYL ETHER, TRIETHANOLAMINE, CARBOMER, PHENOXYETHANOL, PROPANE, PEG-40 HYDROGENATED CASTOR OIL, PARFUM/ FRAGRANCE, COCAMIDOPROPYL BETAINE, POLYSORBATE 20, ETHYLHEXYLGLYCERIN, GLYCERIN, MALTODEXTRIN, SODIUM CHLORIDE, LIMONENE, HEXYL CINNAMAL, LINALOOL, AMYL CINNAMAL, PUNICA GRANATUM EXTRACT, GOSSYPIUM HERBACEUM/COTTON EXTRACT, TOCOPHEROL. F.I.L.# D190200/1
Wash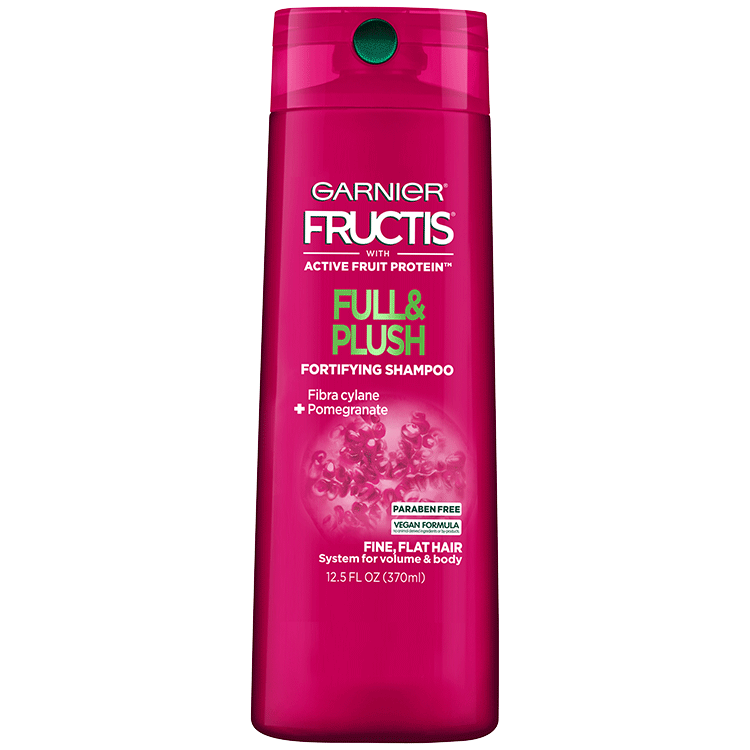 Garnier Fructis
Full & Plush Shampoo
Shampoo for fine, flat hair
Condition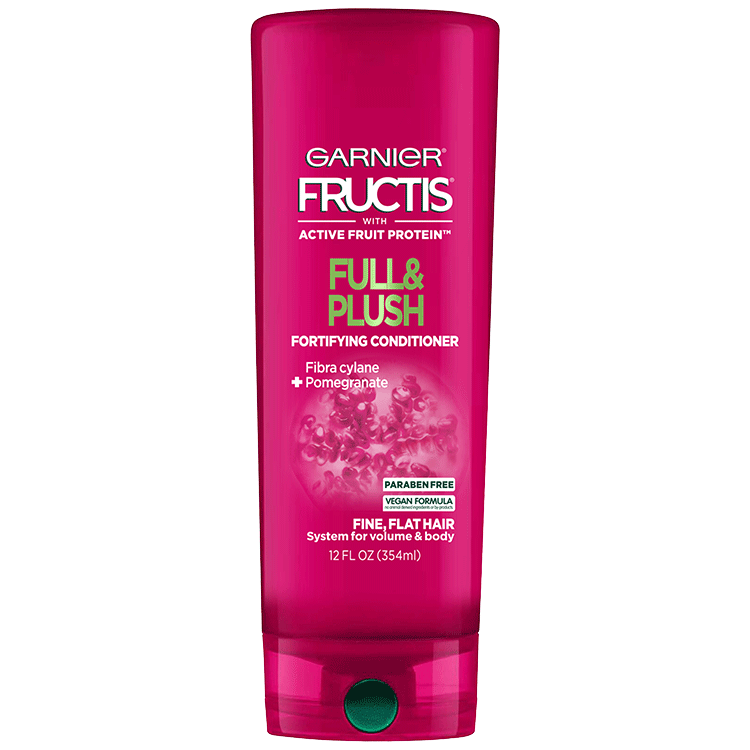 Garnier Fructis
Full & Plush Conditioner
Conditioner for fine, flat hair
Style
Garnier Fructis
Sky-Hi Volume Mousse
Build volume without adding weight
Rated

5

out of

5
by
03Lorena03
from
Stays in place
I think this product is pretty good. It doesn't leave a sticky film on your hair. It doesn't dry and leave a white residue. It does exactly what it says it does. Adds volume to my hair and holds my curls in place. Surprisingly after a workout sessions curls weren't fizzy and hair stayed in place!
Date published: 2018-01-28
Rated

5

out of

5
by
AlexHellums
from
Garnier Fructis Volumizing Mousse
I was very satisfied with this product. It smells very good and the result of my hair after I used it was very good. I recommend to everyone.
Date published: 2018-01-27
Rated

4

out of

5
by
Canhull
from
Best product ever
I think this is the best product I've tried. It gave me more volume than I expected the only downside is that it didn't last a full 24 hours but my hair is extremely thick so I don't think I applied enough product to my hair. I also love the smell of the mousse. It doesn't leave a sticky texture in my hair like other mousse products.
Date published: 2018-01-27
Rated

3

out of

5
by
anjelicaroman
from
Mixed feelings
I live Garnier Frutis as a brand, but I'm not sure about this product. It made my curls pop amazingly but it left my hair with a gross feeling. My hair felt crunchy and sticky at the same time. I think the product is good, just not for my hair.
Date published: 2018-01-27
Rated

4

out of

5
by
rachealbow
from
Sky hi volumizing mousse by Garnier
Let's be real ladies, I have some seriously crazy hair, it's poofy, has a kinky wave to it and is just down right unmanageable at times. So I'm always looking for new things to help tame it, and if we're being honest straightening it works best only downside? All that volume that was present pre-straighten is gone once it's all said and done so when I heard about the sky hi volumizing mousse by garnier, I knew I needed to get my hands on it. This product is amazing hands down! When you open the bottle it smells so amazing! Kind of floralish and I love that. It was super light weight, didn't make my hair greasy or crunchy. And it didn't leave that awful sticky residue most bottles of mousse leave. I was praising it!!! Now the bottle says it works best on damp hair and then you give yourself a blow out at home, so I attempted it. And I was so surprised, my hair looked amazing!!!! I couldn't believe it! Only downside, by the time we got to walmart my boyfriend kindly mentioned that even as good as the mousse smelled in the bottle it appears to have an unpleasant alcohol like scent to it once it is in your hair. Overall I really love this mousse, I will keep using it I'll just add my heat protecter and see if it's scent can mask the alcohol after smell. I attached a photo, ignore the snap filter, lol but you can see it still has volume even on day two!!!
Date published: 2018-01-26
Rated

4

out of

5
by
Mechupichu
from
Love this hair mousse.
I have complicated hair, so when it comes to hair products I am very picky. But this mousse was different. It held my hair for the entire day and made it feel softer than I have ever felt my hair to be. It also smells amazing. I'm definitely going to be using this product regularly.
Date published: 2018-01-25
Rated

5

out of

5
by
Baybayshortie
from
Hours of Holding Is Real!!
This Garnier Fructis Style Sky High Volume Volumizing Mouse is the real deal when it comes to extreme hold and an A+ Style that last! Doesn't dry out my hair after usage. Gives my hair perfect volume that lasts. No sticky residue left on hands after applying. One of my favorite ways to wear my hair is down, scrunched. This product let's me wear my go to style without it falling flat after a short while. It is absolutely my new go to "scrunch"/ any style I could possibly want mousse from now on! I will never buy any other from this day forward. Thank you Garnier Fructis for making this amazing product that is JUST RIGHT for me!!
Date published: 2018-01-25
Rated

5

out of

5
by
Karissapulliam
from
Garnier fructis in for another win
Absolutely love this product! It provides great Volume! I used it to scrunch my hair and I was so impressed with the hold, volume and the feel of my hair after using. The price point is so reasonable and it's just a great overall product!
Date published: 2018-01-24
Rated

5

out of

5
by
Jennerin91
from
Great product!
I used Garnier Fructis Style Sky-Hi Volume Volumizing Mousse for the first time this morning. Normally when I do my hair I have to use hairsparay to hold my hair. This morning I didn't need anything but the mousse. It's a great product and I defenently recommend it!
Date published: 2018-01-24
Rated

5

out of

5
by
Amberlynne1984
from
Locks in curls
This really locked in the curls for a long time. The scent is appealing as well, its not too strong that it over powers. I enjoyed the flow of the mouse, some ive tried before shoots the mouse so fast and it splashes everywhere as this did not. The design is bold and clear.
Date published: 2018-01-23
Rated

5

out of

5
by
abates2010
from
Great product
I love this product for my hair. I use this on damp hair before blowdrying and it gives me great body to my hair. The amount of volume you get will also depend on technique you use when styling. Using a fat round brush will really help. I feel like I have fewer flyaways and frizzies when I use this. It just gives great all over volume and body to my hair, making it look and feel fuller. I think it is just as good as more expensice brands and would highly recommend it.
Date published: 2018-01-23
Rated

5

out of

5
by
Mdbox95
from
Best mousse I have ever used!
It is great. The hold is fantastic, I have really think hair so its hard to find mousse that gives my hair volume and works all day but this one does!! It dont leave your hair feeling all sticky and weighed down either. Its light weight and perfect for thick hair!!
Date published: 2018-01-23
Rated

5

out of

5
by
Sarahcoward
from
Garnier Fructis sky-hi volume
Love this product! I use it when I'm in a rush and just out of the shower to add some texture to my wet hair. I love that it isn't as sticky as other mousses i've tried! It lasts long as well and has a great smell. Another bonus about this mouse is it doesn't make your hair grease or hard and crunch feeling. I would defiantly recommend this product!
Date published: 2018-01-23
Rated

2

out of

5
by
Disappointeduser
from
Disappointed!
Have used Sky-Hi Volume Mousse for a few years and found it to be the best one for my hair. It gave fullness without leaving sticky, white flaky residue like so many others. I just started the newly designed can and it's not the same. Immediately it felt like the mousse was very airy, no substance. Then after drying and styling I noticed it didn't give my fine thin hair the same volume and body as before. I do however, like the new scent, very clean smelling. Sadly, I will now have to look for another brand that performs the way Sky-Hi use to. Also, a recent (old style) can nozzle broke on the first use leaving no way to use the product. Money wasted.
Date published: 2018-01-07
Rated

1

out of

5
by
catchy50
from
nozzlle snapped off on first use
First time use nozzle snapped off and no way to access a full container. Had to throw it away! Looks like the "new" container is also not as good as the old!
Date published: 2017-10-10
Rated

1

out of

5
by
Deanna K
from
Please Bring Back the Old Formula!!
I've been using this mousse for quite a few years. I noticed the can looked different, I was so hoping the mousse was the same but it wasn't. It used to leave my wavy hair full of body and volume. I'm so disappointed! I tried to go back to the Curl Construct mousse, but that's obviously been changed, also. Now I'm trying to find the old version of Sky-Hi Volume to buy on EBay and Amazon. Garnier, you've lost a long time customer. In looking at everyone else's comments, I'm not the only one who wants the old product back.
Date published: 2017-09-14
Rated

1

out of

5
by
The Bean
from
CHANGED INGREDIANTS
I used to love this product and now my hair is dry and not shiny. Bring back the old one.
Date published: 2017-08-06
Rated

1

out of

5
by
ssyc
from
Turns out the paraben is pretty important...
Really disappointed with the change. It was the best mousse around, and the new formula completely ruined it. It doesn't do anything anymore. My hair stays limp like it would be if I didn't apply any product. It also feels drier. Bring back the previous version please.
Date published: 2017-08-03
Rated

1

out of

5
by
KarenK
from
New formula doesn't work for me
I went on the website to see if Garnier had changed their formula for this mousse and was relieved to read that others were having the same issue with it. I could tell right away that something was different. It's almost like putting nothing but water on your hair. This new formula just doesn't work for me -- my hair goes flat right away, which is disappointing because I've always liked their products. Now I'm shopping other brands to find a replacement that works. I normally don't take the time to complain, but thought Garnier would appreciate the feedback.
Date published: 2017-07-21
Rated

1

out of

5
by
MRNJ
from
Please bring the old version back
I agree with the previous reviews of this product. Does not provide volume, texture or smell good like the original product did. Extremely disappointed. I will not buy again.
Date published: 2017-07-10
Rated

1

out of

5
by
Lizzy 1
from
Yuck!
Didn't work! Made my fine hair limp & oily. Didn't live up to the hype.
Date published: 2017-06-19
Rated

1

out of

5
by
Dbmc512
from
Smells awful!
I have used this product for years. I loved how it smelled! Now it stinks! I mean it smells so bad, I can't even use it. Not only that, the new formula does no give my hair any body like it used to. Will be switching to another brand tomorrow. I can't wait to wash this awful smell out of my hair.
Date published: 2017-06-18
Rated

1

out of

5
by
Sue from nj
from
Why did you ruin it?!!
This was the best stuff out there for my thin, fine, short hair. Unlike all other mousse products, the Sky Hi Volume gave me hair that looked and felt full and thicker. Then the bright green can changed to a dull green one, and I could tell immediately that you changed the formula. I compared the ingredients and found that I was correct. The new formula makes my hair feel too soft and like it's overly conditioned. No volume or fullness at all. Now I'm scouring Ebay trying to stockpile as many of the bright green cans as I can find. Next step will be to find a new brand. I'm so disappointed.
Date published: 2017-06-12
Rated

1

out of

5
by
JAMSMOM
from
Horrible replacement for the XXL Thickening Mousse
I used to use the Fructis XXL Thickening Mousse and on the recommendation of this website I tried the Sky-Hi Mousse. There is absolutely NO comparison!!! Will they be making the Thickening Mousse ever again?? I hope so!!
Date published: 2017-04-15
Rated

2

out of

5
by
KristiWanders
from
Smells terrible works ok
This used to be my go to mousse for my curls, but not any more! I'm pretty sure they re-formulated because it no went from having a pleasant smell that I would always get compliments on to a more chemical like smell. I also feel like it doesn't work as well since my curls went from feeling soft and touchable to almost crunchy and not as well defined. Time to switch brands....
Date published: 2017-03-03
Rated

5

out of

5
by
JLN17
from
Great!
I really like this mousse! My hair had more volume. I'm able to get up the next morning and just brush and curl with curling brush just a little. Looks great the next day! I have received compliments on my hair several times. Glad I tried it!
Date published: 2017-03-02
Rated

5

out of

5
by
Ramos
from
I love this product and have been loyal to it for years
I use this mouse with the leave in conditioner from Garnier and it leaves my hair with soft curls. I definitely would recommend this mousse over the rest.
Date published: 2016-08-29
Rated

5

out of

5
by
CNYLady
from
Great stuff at a reasonable cost
I use this every day and love it. I found it works best when I lift up sections of hair and spray little dots directly onto my roots. Then I use my fingertips to distribute it. I let my hair dry most of the way naturally before I use a dryer to the roots.
Date published: 2015-03-02
Rated

5

out of

5
by
risbear
from
OMG!!
I love this product!! I have thick hair and nothing has given me the hold and all day life that this product has, I have reduced the amount of hair spray I now use because of this mousse. Thank you so much for finally creating something that really does what it says it will do.
Date published: 2013-11-27
Rated

1

out of

5
by
SueA
from
Dried my hair
I use a variety of Garnier products and love them. This one, however, made my hair feel like straw and unable to style. I had to wash it out and start over. One that I probably won't purchase again.
Date published: 2013-06-28