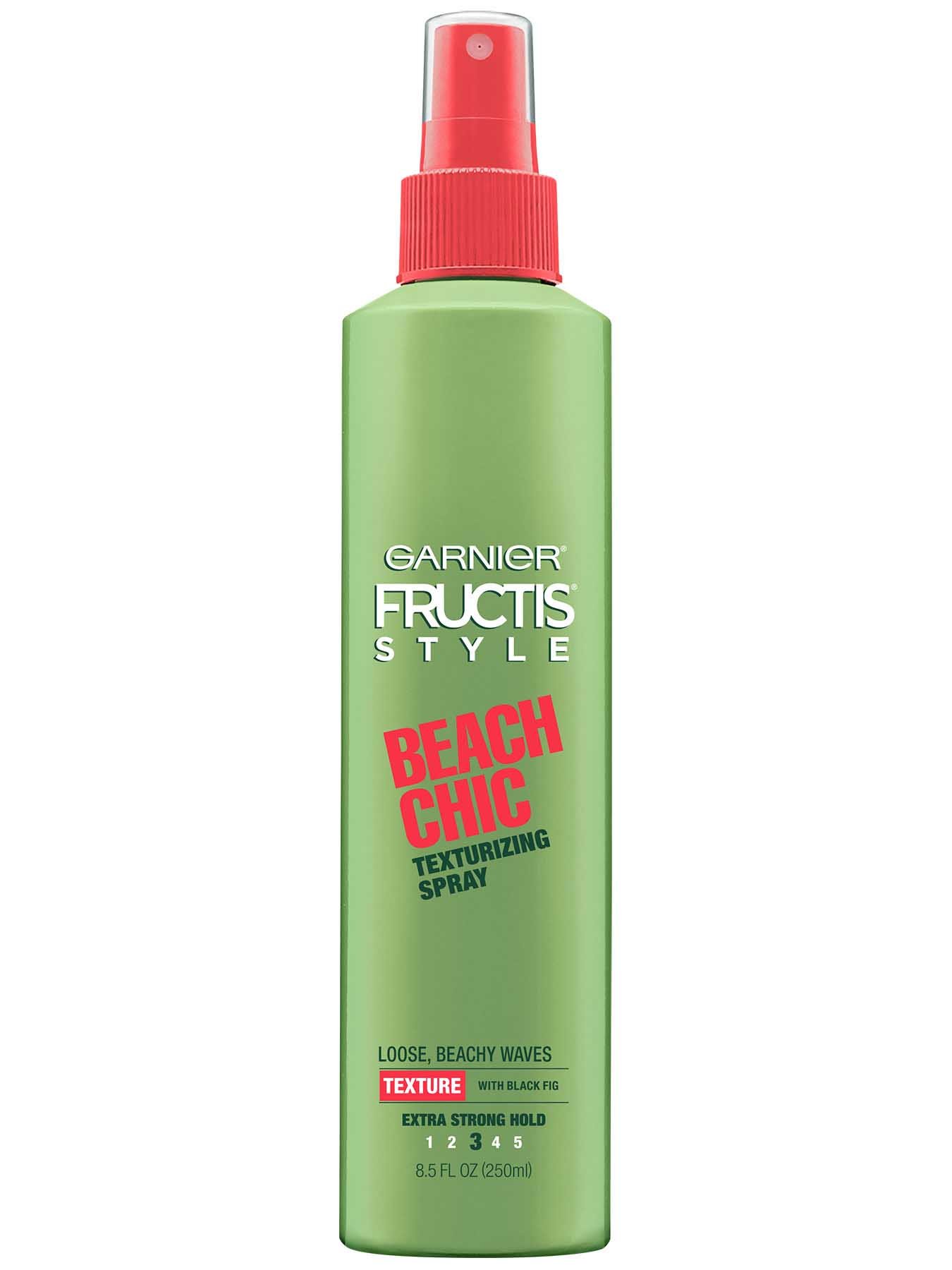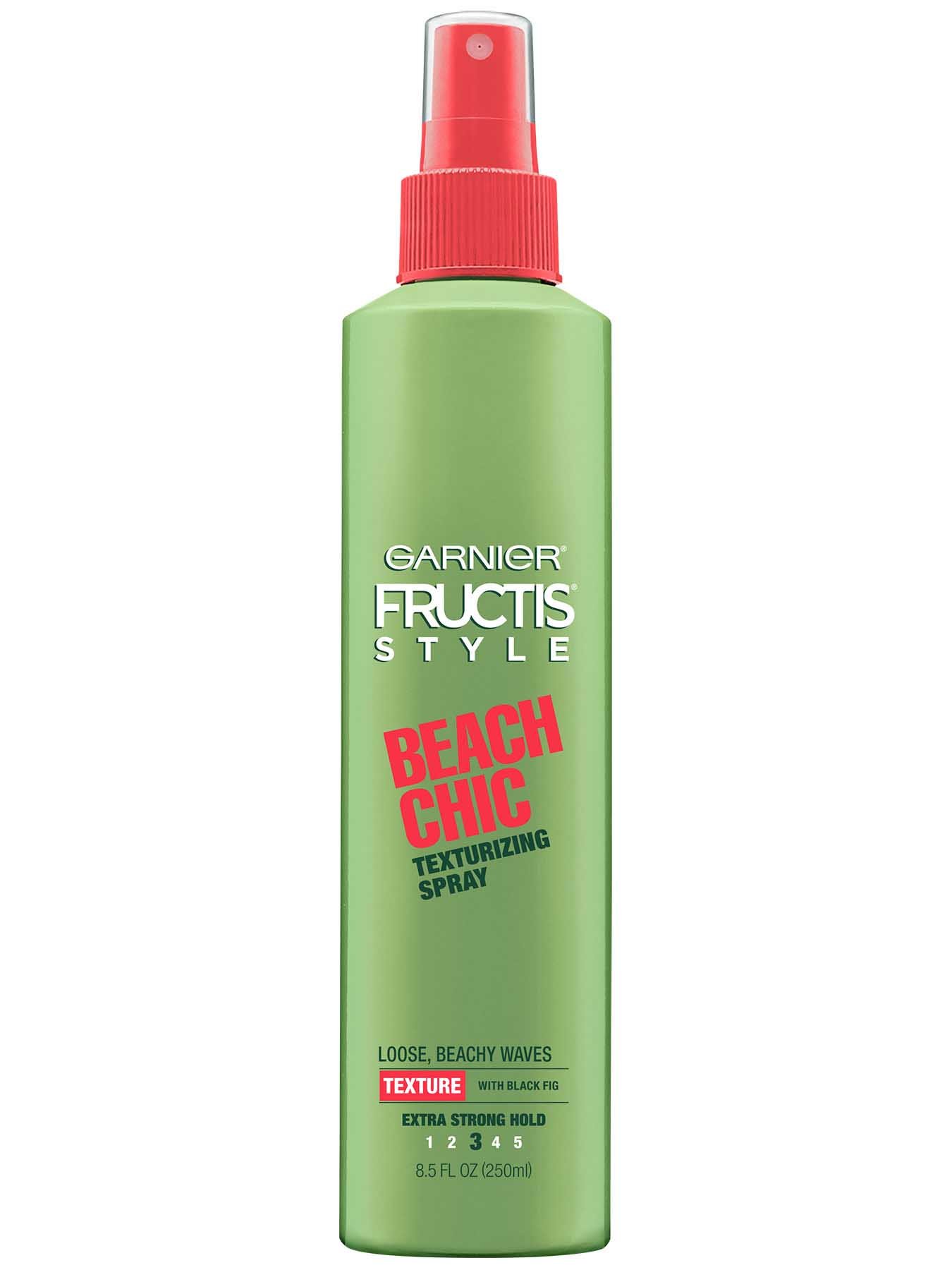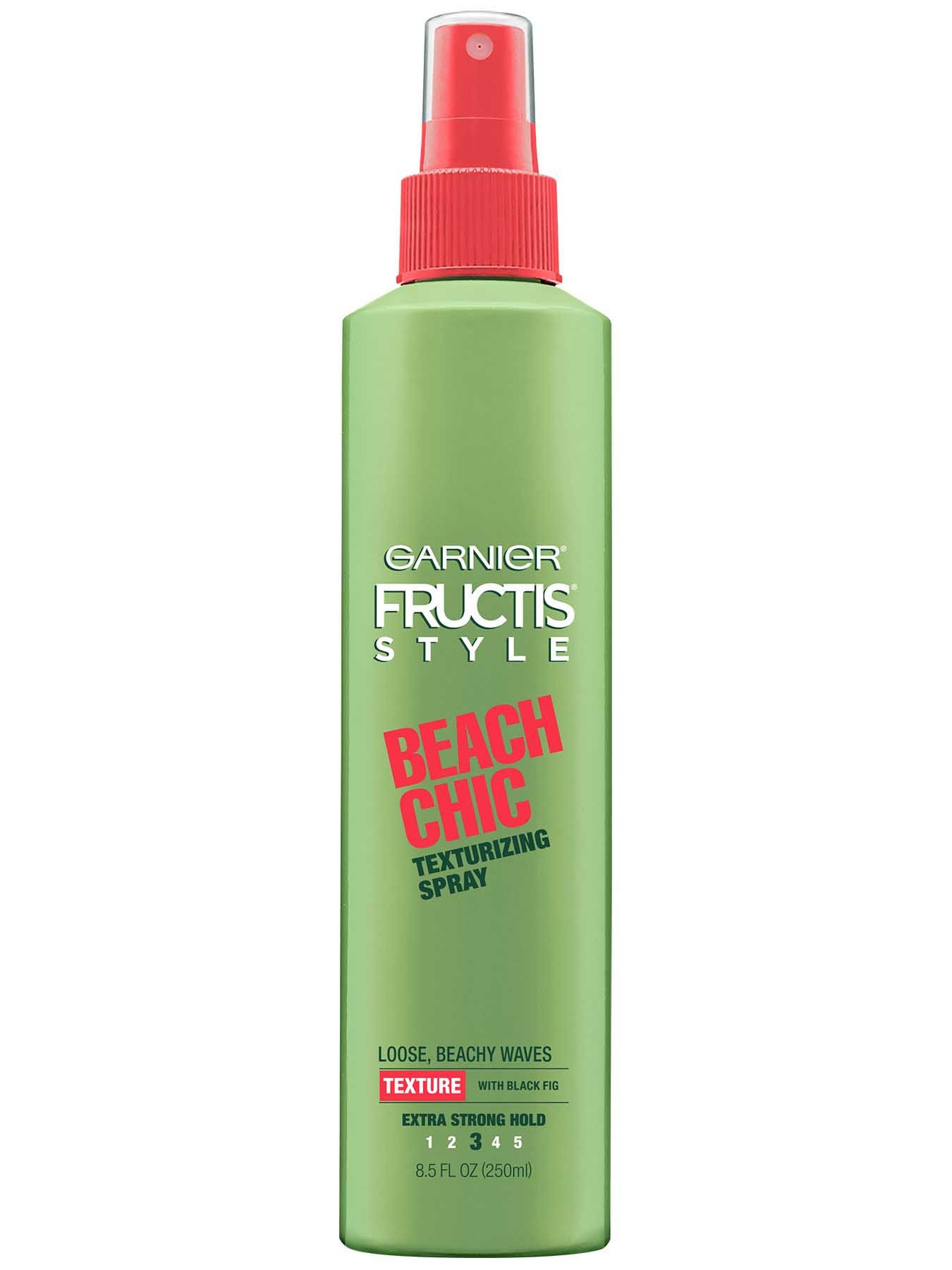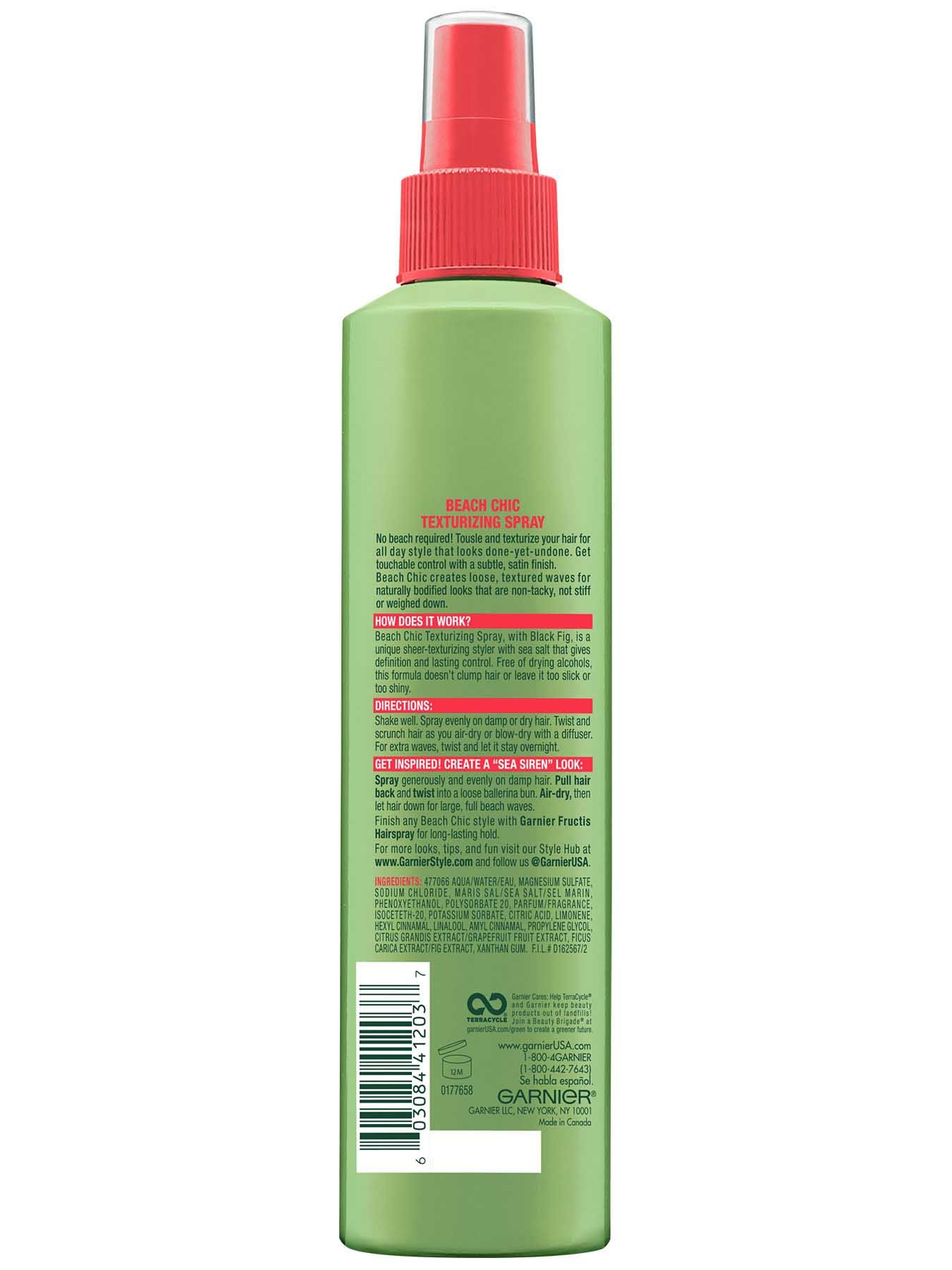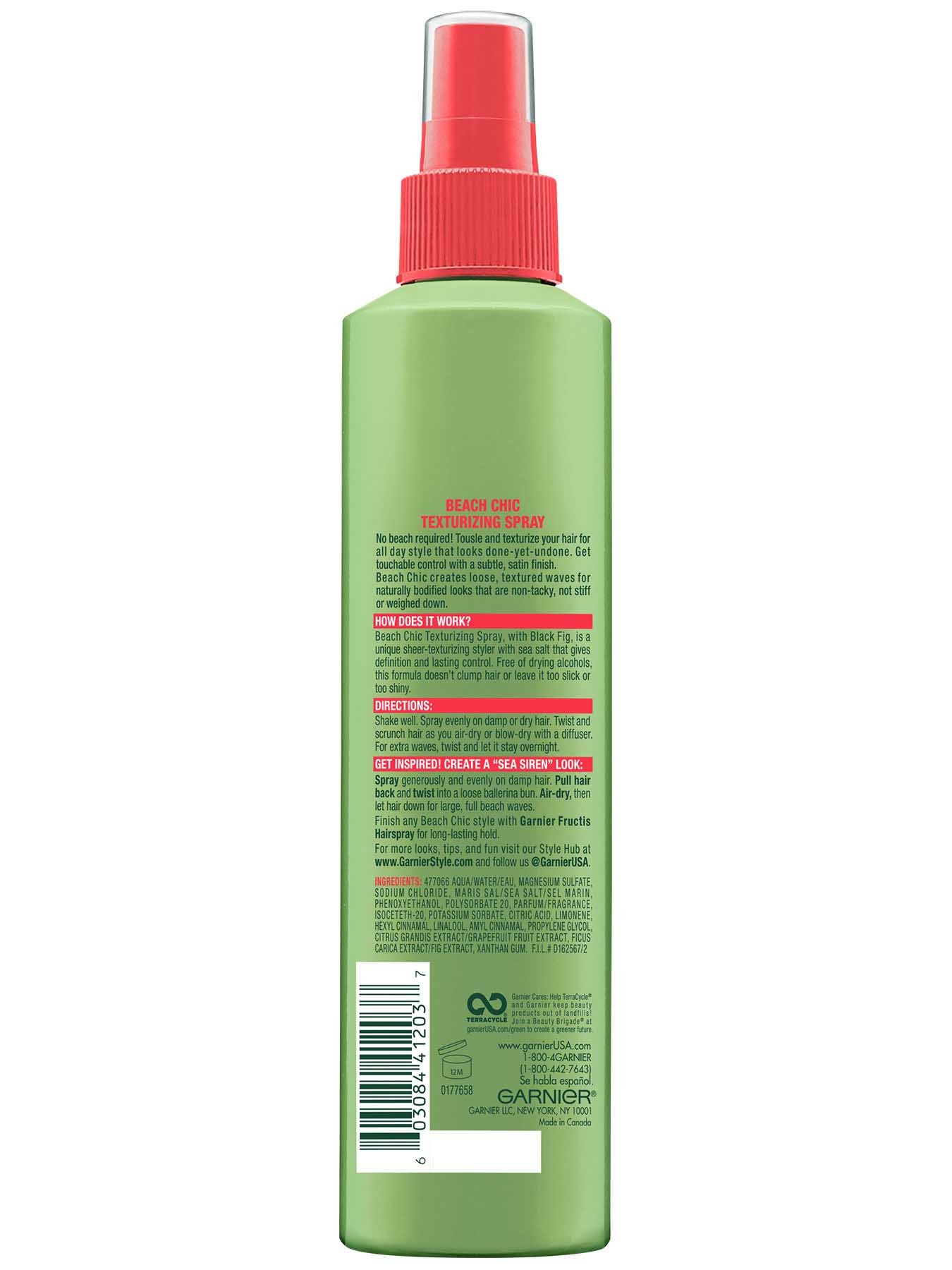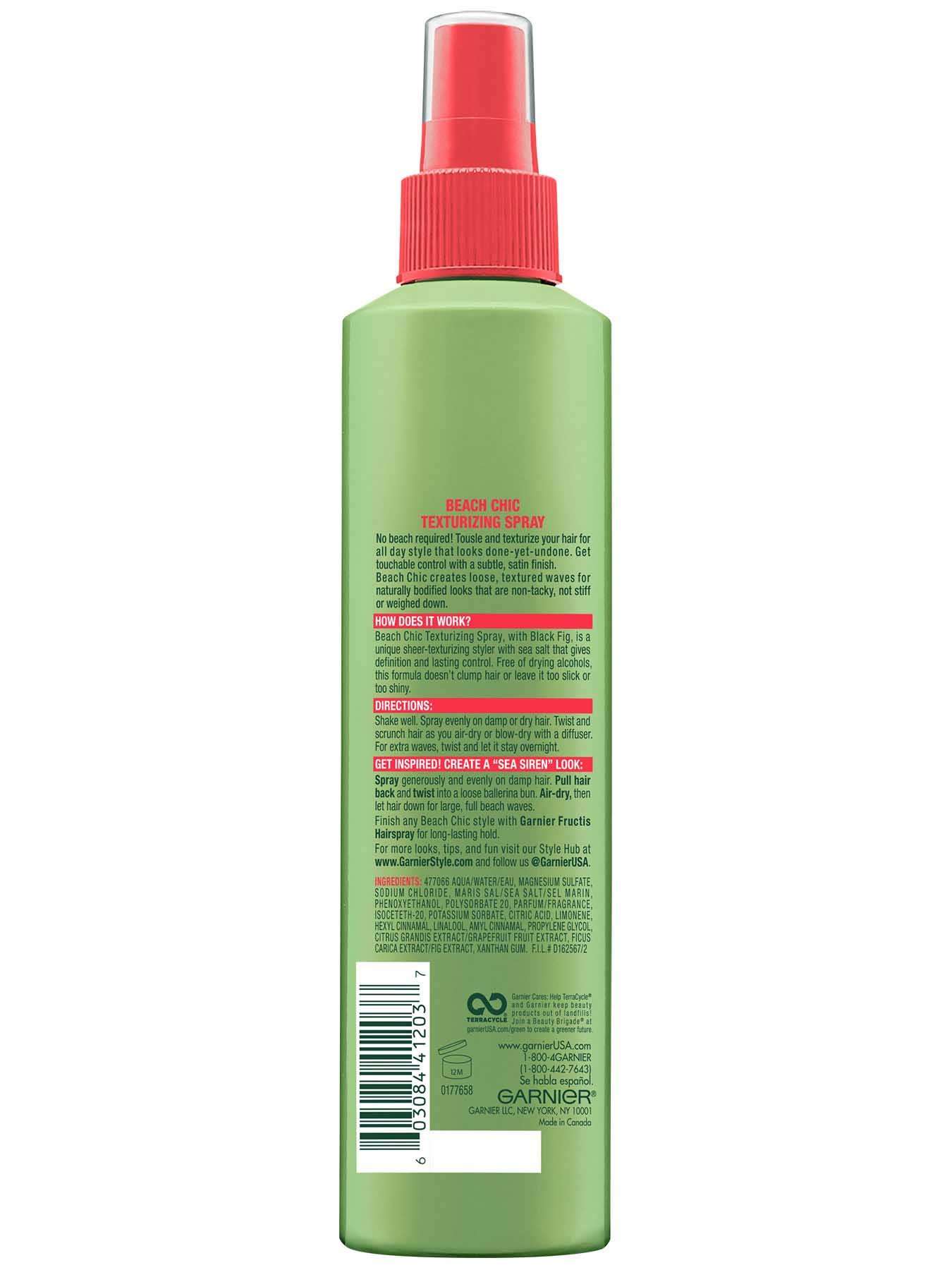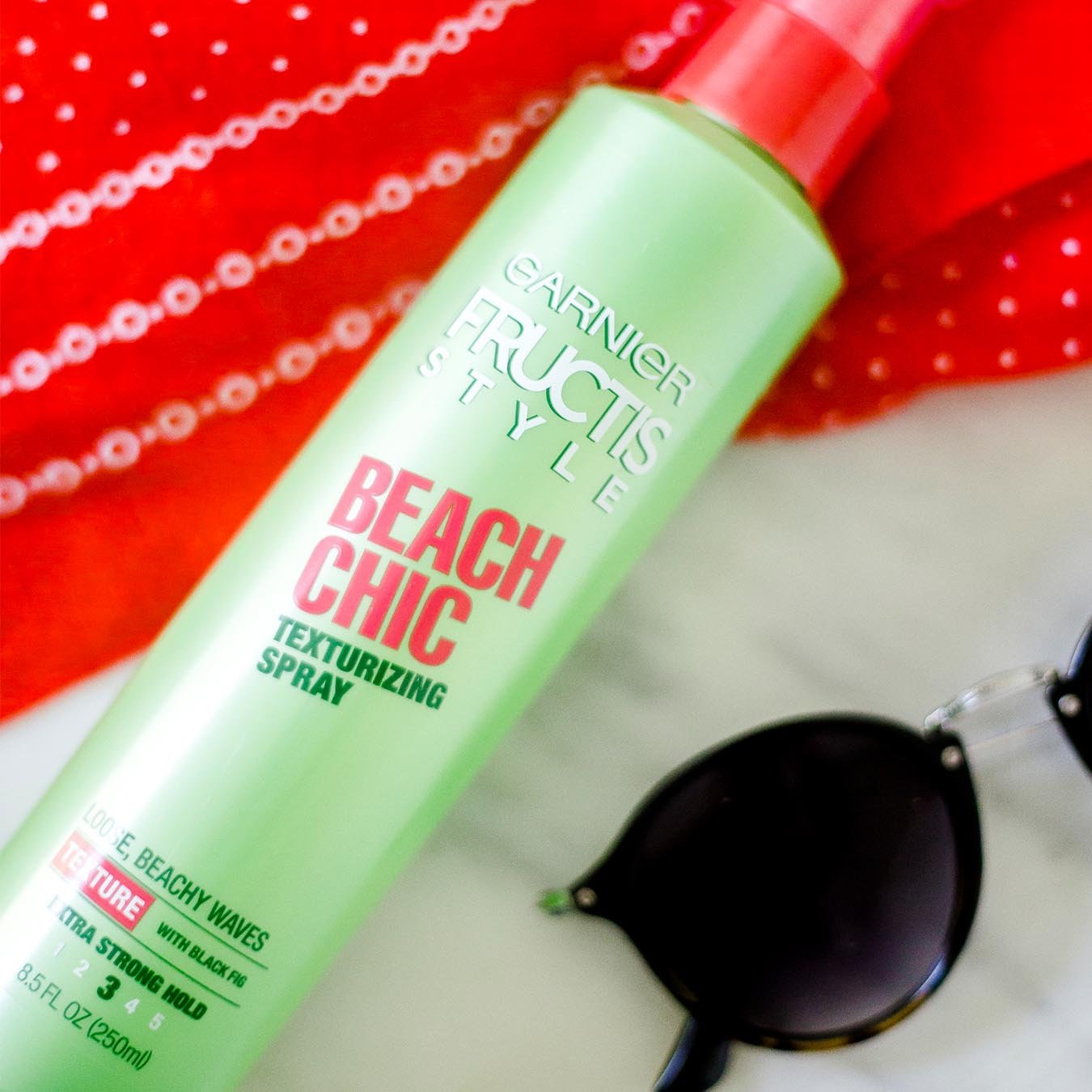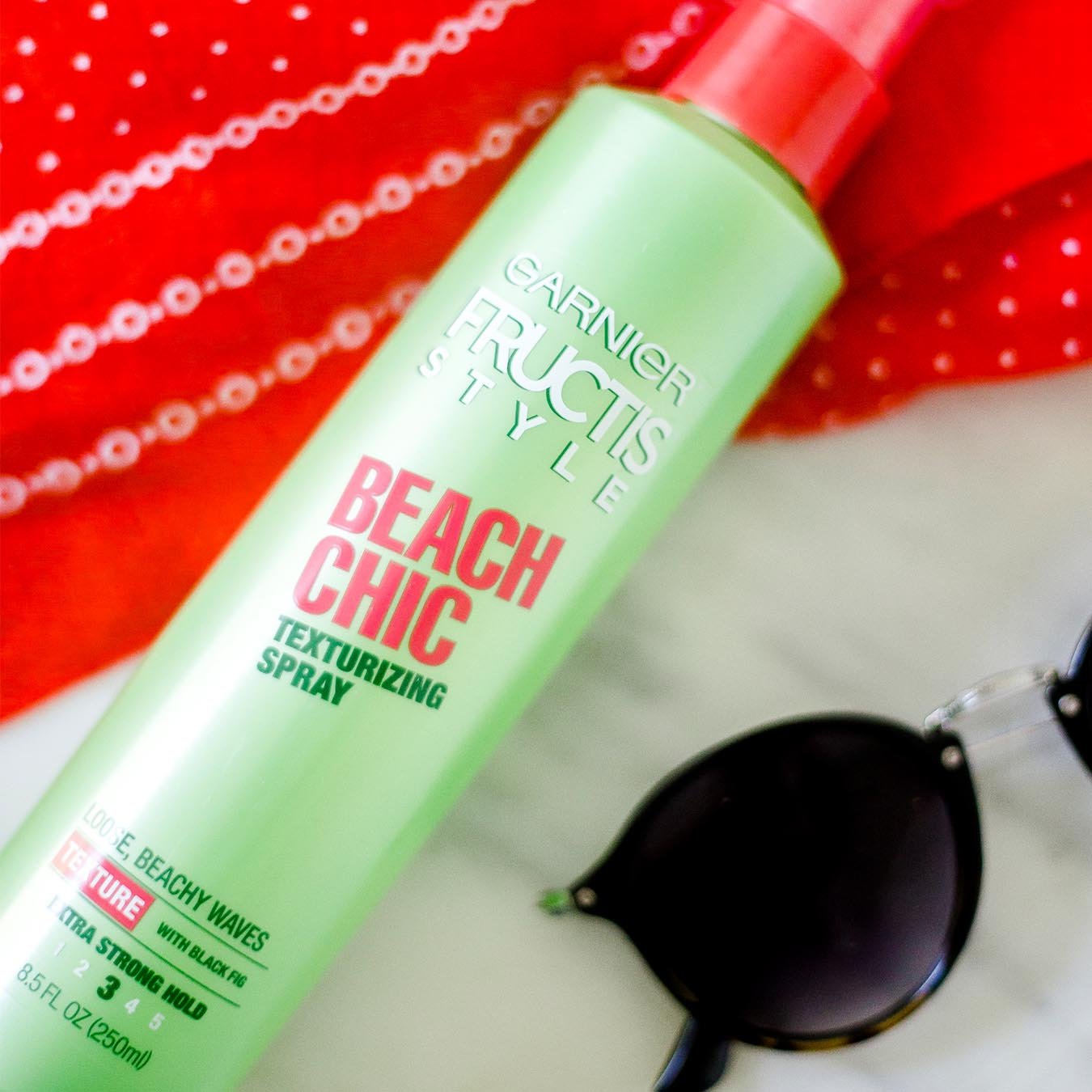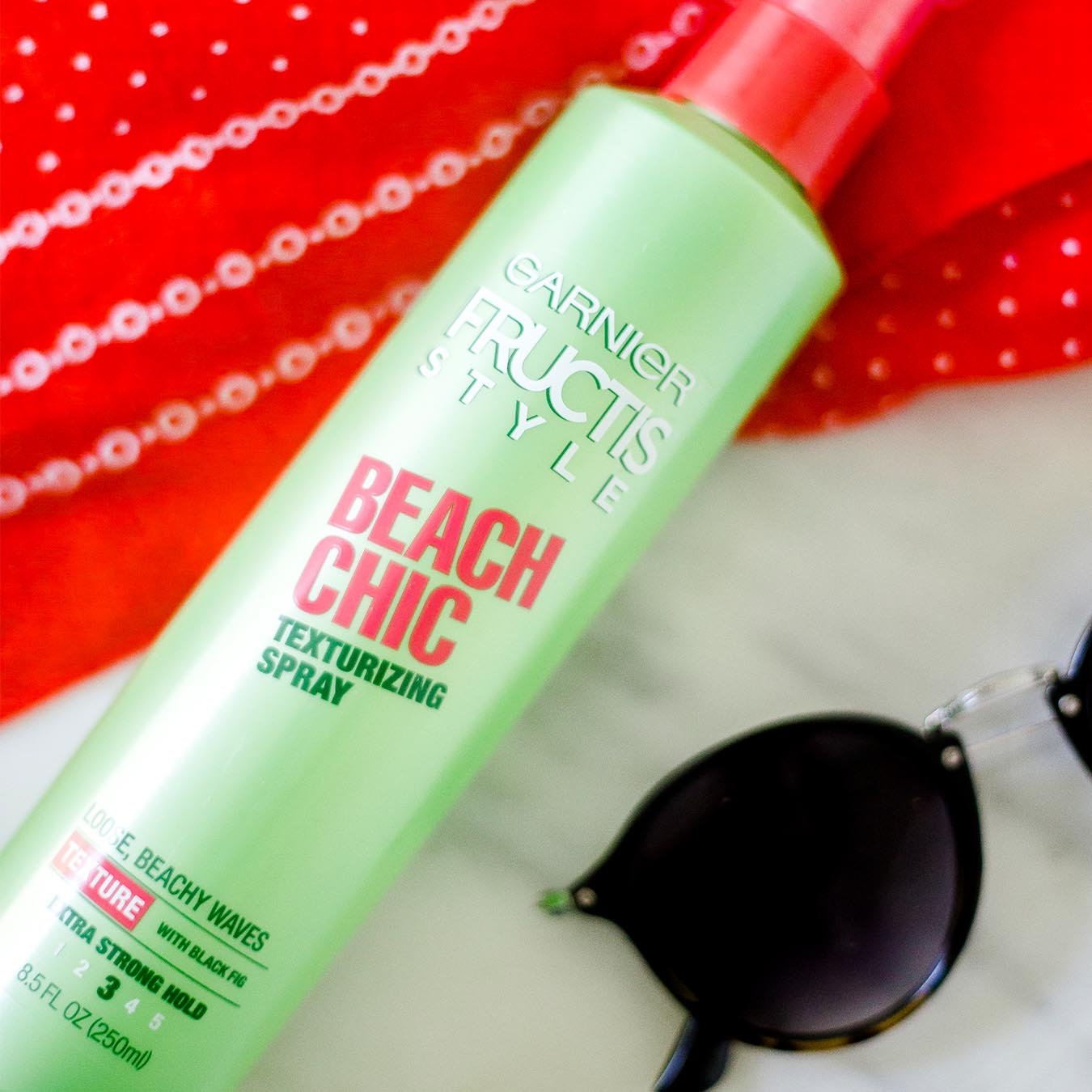 Beach Chic Texturizing Spray
Garnier Fructis
$4.29 MSRP
Get loose, textured beach waves
PRODUCT INFORMATION:
No beach required! Tousle and texturize your hair for all day De-Constructed style that looks done-yet-undone. Get touchable control with a subtle, satin finish. Beach Chic creates loose, textured waves for naturally bodified looks that are non-tacky, not stiff or weighed down.

HOW DOES IT WORK
Garnier Fructis Style Beach Chic Texturizing Spray, with black fig, is a unique sheer-texturizing styler with sea salt that gives definition and lasting control. Free of drying alcohols, this formula doesn't clump hair or leave it too slick or too shiny.
How to use:
Shake well. Spray evenly on damp or dry hair. Twist and scrunch hair as you air-dry or blow-dry with a diffuser. For extra wave, twist and let it stay overnight.
Ingredients:
Aqua/Water/Eau, Magnesium Sulfate, Sodium Chlor Ide, Maris Sal/Sea Salt/ Sel Marin, Phenoxyethanol, Polysorbate 20, Parfum / Fragrance, Isocete Th-20, Potassium Sorbate, Citric Acid, Limonene, Hexyl Cinnamal, Linalool , Amylcinnamal, Propylene Glycol, Citrus Grandis Extract/Grapefruit Fruit Extract, Ficus Carica Extract/Fig Extract, Xanthan Gum. F.I.L. D162567/2
Wash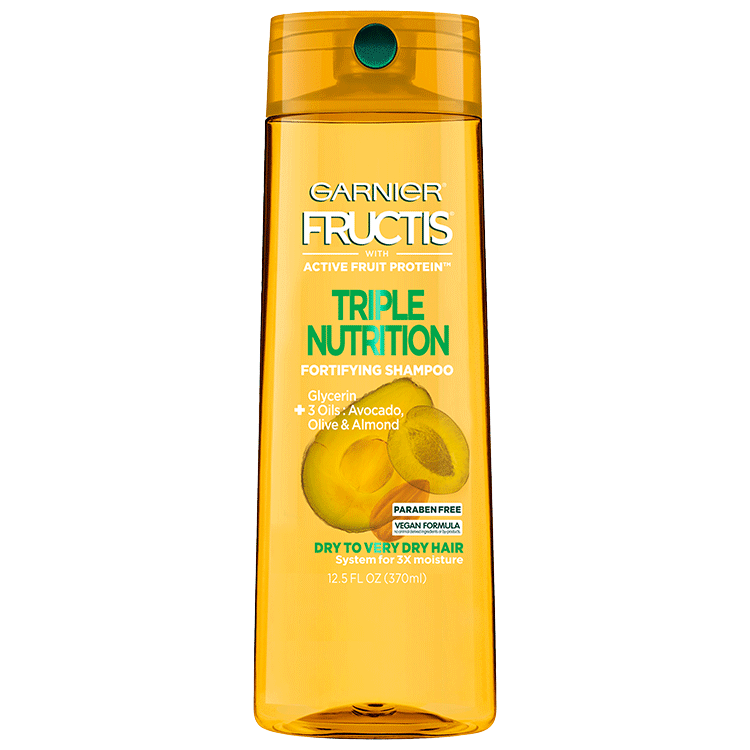 Garnier Fructis
Triple Nutrition Shampoo
Shampoo for dry to very dry hair
Condition
Garnier Fructis
Triple Nutrition Conditioner
Conditioner for dry to very dry hair
Style
Garnier Fructis
Beach Chic Texturizing Spray
Touchable control with a subtle, satin finish
Rated

5

out of

5
by
rbarraclough
from
BEACH WAVES
Loved this product. Shower, Spritz,Scrunch, and go about my business. I love being able to have a fast efficient way to do my hair!
Date published: 2018-02-05
Rated

5

out of

5
by
ChelCLea
from
Nice product
I have used multiple types of beach wave spray. This one is good. I would recommend and use again. I liked how it was not too heavy, but worked to make your hair beachy.
Date published: 2018-02-02
Rated

3

out of

5
by
GimePe
from
Like other texturing sprays
I was expecting this product to work better than other. But, at least to my hair and my abilities to style it (not the best) it didn't work as it is supposed to. It did give me more body, so I can use it as a volumizer. Now... beach weaves... not really. It says that it can be blow dry and that's what I did, without brush and trying to give shape with my hand. I didn't get any weaves, just volume. So, not a game changer to me!
Date published: 2018-02-01
Rated

4

out of

5
by
aleecya
from
Garnier Fructis- Beach Chic
Well first of all this product definitely Is lightweight! I love that it leaves your hair silky feeling although it's helping hold waves and it smells nice ! I chose to leave in over night; one of the application options on bottle. Definitely gave my hair more defined waves/curls which stayed in place! What I really liked I used it after curling my hair (ends) and it totally helps lock your curls in with a soft to touch look which I really like ! I'm still experimenting with this product I am glad I got it !
Date published: 2018-02-01
Rated

3

out of

5
by
AmberLuee
from
Texturizing review
The product will leave a wave in your hair. I found it more effective when I pulled my hair back into a loose bun and let it sit for an hour or 2. I have long, straight, fine hair and the product worked decently enough. It held throughout the day and if I wanted a night out with the waves as well, I would need to reapply. The smell of the product is sweet and nice. It's a little strong, but not uncomfortable. I would smell it occasionally, but with most products you'll tend to run into that. I didn't get a complaint from my husband about the smell. The product claims you won't feel weight or residue but that's not entirely true. If you you're use to product in your hair, which I am not, you probably won't notice a weight issue, but I could tell. There wasn't a sticky residue, but your hair did not feel natural. There was a chalky feeling after it settled in, but that's to be expected even though the product advertises there shouldn't be. It's not overly chalky, but like I said, when you touch your hair, it's not your natural hair. The only thing I didn't do was wear it in over night. I'm confident the product would be highly effective if it was used this way. I wash my hair every day or my roots will look too oily. Wearing the product over night would not be an option for me. Overall I liked the product. It did what it was suppose to and it will give me a nice change from straight hair to a nice subtle wave.
Date published: 2018-01-31
Rated

4

out of

5
by
Ruginomm
from
Garnier Fructis Beach Chic Texture Spray
I think its a good product. My hair normally wont hold a curl because its so thick but this actually helped hold a curl! It smells great as well. Would reccommend to others based on experience i had
Date published: 2018-01-31
Rated

4

out of

5
by
YuehongLu
from
Lovely Product!
I naturally have somewhat wavy hair, but this product really brought it out and added more volume. It smells great, exactly like black fig. However, it kind of dried my hair out, so I think adding that sea salt is an ingredient in a clearer place would help bring attention to that. I recommend putting in some leave-in conditioner before use.
Date published: 2018-01-31
Rated

5

out of

5
by
abag8r
from
Garnier Fructis Beach Chic
I think all in all this is a great product. The price on it is very reasonable and affordable. It smells amazing and adds some great texture to my hair. My hair is very thick and normally straight to wavy. It really added some great curls in there and I was just overall very satisfied with this product.
Date published: 2018-01-30
Rated

2

out of

5
by
Dainjah
from
I wont be buying this.
The garnier beach spray was not an experience of joy i was dissapointed with its scent it is very ordinary and blah and the fact my hair gets weighed down by it is worse i wanted to wash it out after trying it
Date published: 2018-01-30
Rated

4

out of

5
by
Danab1019
from
Pleasantly surprised
It's been a long journey for me trying to find products that had enough hold but left my curls/ waves feeling natural and soft rather than crunchy. This spray made it easy to twist my hair and get beachy, gentle waves with a hold that lasted all day. The only downside is that it was slightly tacky until it fully dried.
Date published: 2018-01-30
Rated

1

out of

5
by
Gambysgurl007
from
Did I stick my finger in a light socket?
I think that the only thing I was impressed with was the products scent. I have thick, curly hair and it is really hard to find a product that works well for my hair. I like it when i find something that makes my hair look natural. Light and smooth but still has volume. This product did not reach its potential my hair was flat stiff and frizzy. I would not recommend this to anyone.
Date published: 2018-01-30
Rated

5

out of

5
by
Hmlovern1987
from
Completely in love!
I think the Garnier Fructis Style Beach Chic Texturizing Spray was just the product I needed to add a little life to my hair without any damage involved. I love the sea salt added into the formula and not having to worry about my hair basically clumping together. Before trying this I could never have the "beach chic" hair look as my hair was just way too straight and flat no matter how hard I tried. After applying the spray and "twisting/scrunching" my hair, I then decided to put my hair in a loose bun to leave overnight. The next morning when I let my hair down from the bun...I was completely amazed! I actually had waves and texture to my hair! A huge plus to me is how long my hair stayed styled hours after using the spray. I have not one negative thing to say about the Beach Chic Spray. I love it!
Date published: 2018-01-29
Rated

4

out of

5
by
allyomara
from
its just so amazing!
This product was awesome! I will certainly be recommending this to my friends and running out to the store to buy more bottles haha!
Date published: 2018-01-29
Rated

4

out of

5
by
morganl2469
from
Great product
I enjoyed this product very much....I didn't have to spray very much and it lasted all day! I do not use products in my hair every day but I will definitely be using it again. It felt very light and did not feel sticky every time I touched it; which I like very much. I would recommend this product to others if they are wanting the textured wavey look without trying all that hard. I know some folks spend a lot of money trying to get their hair to look like this.
Date published: 2018-01-29
Rated

3

out of

5
by
Halbers
from
Not impressed
I tried scrunching and twisting my hair after spraying it while it was damp and It became crunchy and kinky. I ended up brushing it out and curling it and the curls lasted all day. I'm giving 3 stars for holding my curling iron curls. Cons: did not work well with my thick, straight hair. Crunchy. Pros: held my curling iron curls (similar to using like a hair mousse), smells great
Date published: 2018-01-28
Rated

4

out of

5
by
Hiker4days
from
Awesome hair product
It was really awesome gave my hair really nice curls without being to hard like some hair holds are. The only con that I noticed was that it gave my hair a sleek look and to me it makes my hair look greasy but if your someone who like sleek and shines hair than this hair product is for you. Let your hair look like a beach bum we all know you are.
Date published: 2018-01-28
Rated

3

out of

5
by
Megananne7
from
Garnier Fructis Beachy Chic
This hairspray for beachy waves is perfect for the woman with straight hair who has time to put her hair in twists overnight or for the woman with a little wave in her hair to start with. Initially, I did get some nice waves in my hair by twisting and letting it sit overnight. Due to the fact that my hair is fine and bone straight, I found that they were not long lasting. The product did work to an extent (tossled waves that fell out mid day). I do think the product would work well for those who have a little more body to their hair. The smell is fabulous and I believe the hold would be great for someone with less fine hair.
Date published: 2018-01-28
Rated

5

out of

5
by
Joshalyn21
from
Beach Chic
I have very straight hair, that can't seem to hold any style. I've always been mad because I can't do things to my hair that other girls can. I've seriously probably tried every texturing spray in the book, but none of them have worked like this Garnier Fructis spray! Not only do sprays like this normally not work for me, but the stickyness makes me hair like weird and greasy. The Garnier Fructis spray leaves my hair feeling bouncy and free, and even smelling good! Even provided with very helpful tips on the bottle! I just knew it was the spray for me when it hit my hand.
Date published: 2018-01-27
Rated

5

out of

5
by
Issaamber
from
Garnier fructis texture spray
I think if you want to go out with a calm nice wavy type look then this spray is for you! Once I tried it, it made my hair look AMAZING. I recommend for everyone to try!
Date published: 2018-01-27
Rated

3

out of

5
by
niquenky
from
Beach Chic Texturizing Spray
Honestly, this product was just okay. It did slightly make "loose, beachy waves", but they lasted maybe only 1.5 hours for me. The bottle says the spray has an extra strong hold (ranked a level 3 out of 5), so I would think it would hold for a longer period of time. The spray didn't make my hair stiff at all, which is a plus. Also, the smell was pleasant at first, but as it set onto my hair, it started to smell very much like hairspray. I think the same waves could be achieved without this product if I left my damp hair tightly twisted overnight. Note: I used the spray after I straightened my hair (I have naturally thick, curly hair).
Date published: 2018-01-26
Rated

5

out of

5
by
Bwindfelder
from
Incredible
Not only does the product smell fantastic, it actually works! I have paid expensive prices for products that advertise giving you "beach waves" and each time I was disappointed. This does not disappoint! It achieves the desired look without breaking the bank and without leaving your hair hard or greasy feeling. I have Crazy thick hair, my daughters have really thin hair and it worked like a charm on both hair types!
Date published: 2018-01-25
Rated

4

out of

5
by
Raven91
from
Beach Chic Spray
I used the Beach Chic Spray on my hair immediately after a shower when my hair was wet. I have very thick hair that is naturally curly/wavy and mid back length. I sprayed a liberal amount into my hair evenly when I first put the product in. I love the curls that were there right after applying the product! I was hopeful that my hair would accept this product and look like that all day! After about 2hrs I noticed my hair starting to get very frizzy and poofy. This is something that happens to me constantly so I wasn't surprised. I tried adding a little more product but it didn't help. By 4-5hrs after the first application, my hair was so big I had to put it up. The curls were still there but my hair had gotten crazy. I also put some of this product in my daughters hair. She has short naturally curly hair and it worked great In her hair! It held her curls all day and even the next morning after sleeping you can still see them and usually her hair gets flat overnight. Overal I think this is a good product that will work well for most hairstyles. My hair is just unruly and it didn't work to keep my hair under control even though it did hold the curls. The picture was about 30min after I added the product. It looked great!
Date published: 2018-01-25
Rated

5

out of

5
by
blueeyemommyof3
from
Love it!! Would buy and recommend.
I have naturally loose curls/ wavy hair. I have tried 100's of products and have never found a product that I could use when my hair is dry. I absolutely love this product it has a light scent and worked very well. I will purchase this product when I run out.
Date published: 2018-01-25
Rated

4

out of

5
by
Deyaniiraa
from
Great Hair Product
I liked this texturizing spray after using it for the first time. I have fine, straight hair that normally doesn't hold any sort of wave or curl, but this product was great. I applied after showering to damp hair ,made two loose buns and let hair air dry. After hair was dry I undid the buns and finger combed, the result was big loose waves as if I had spent the day at the beach. They lasted all day and hair was soft.
Date published: 2018-01-25
Rated

2

out of

5
by
Amberbreid16
from
I was expecting more, but..
So, for 3 days straight I tried out this product in a variety of ways. The last day I let it air dry. As you can see, it added a bit of waves but...not was I was expecting it to. I was honestly disappointed. Also the smell is not pleasant at all. If your into a quick, add some type of style to my hair then maybe this is for you?
Date published: 2018-01-25
Rated

5

out of

5
by
Citlali99
from
Loved it !
I loved it ! It smells so good ! Feels like a dry shampoo but then again feels like hair spray ? But holds the hair pretty good and fresh ! Totally recommend it to anyone who wants a wavy natural hair look. It lasted all day looking and smelling good!
Date published: 2018-01-25
Rated

5

out of

5
by
cwillison
from
Love this product!!
This came a few days ago and I absolutely love it. I use it after I wash my hair and my hair is still damp. After I spray it on there, I use a hair ties and loosely wrap it up and let it dry all the way. Once it's completely dry I take it down and it gives me the softest waves in my hair without me going into the ocean at the beach. I would easily recommend this for anyone who wants an easy beach style.
Date published: 2018-01-25
Rated

2

out of

5
by
honomi
from
Beach chic
I tried this product few times after shower and to be honest I don't really like it it's could be because I have short hair it's get my hair sticky and just messy looks. Only thing i liked this product is gives my hair little volume People who looking for give your hair volume I highly recommend this product.. also I watched few reviews about this product on YouTube and she had long hair it's actually looks not bad so I recommend to people who has long hair too:)
Date published: 2018-01-25
Rated

4

out of

5
by
jnbslp
from
Wavy Hair Without the Weight!
My hair is naturally thick with a tendency to be wavy or curly. I tried the product on both dry and wet hair. When my hair was dry the spray did not revitalize flattened waves, it only provided some texturization for styling. However, the texture was soft and full of body not tacky or sticky. When my hair was damp to wet I sprayed the product on generously and allowed my hair to dry overnight. In the morning my waves were well defined and soft. This product worked for me best when my hair was damp to wet and allowed to dry over time. I do not use heat on my hair regularly therefore I did not try the product with use of a diffuser. Overall I enjoyed the waves it held into air dried hair, its smell, and the lack of greasiness or tackiness after application.
Date published: 2018-01-24
Rated

5

out of

5
by
bzzagent1nurse
from
Great product
I think this product is great if your looking for an easy way to style your hair. I have wavy hair and this product really fits, there is no weighing down and my hair still felt very soft. I would definitely recommend this product to others especially people with curly or wavy hair.
Date published: 2018-01-24