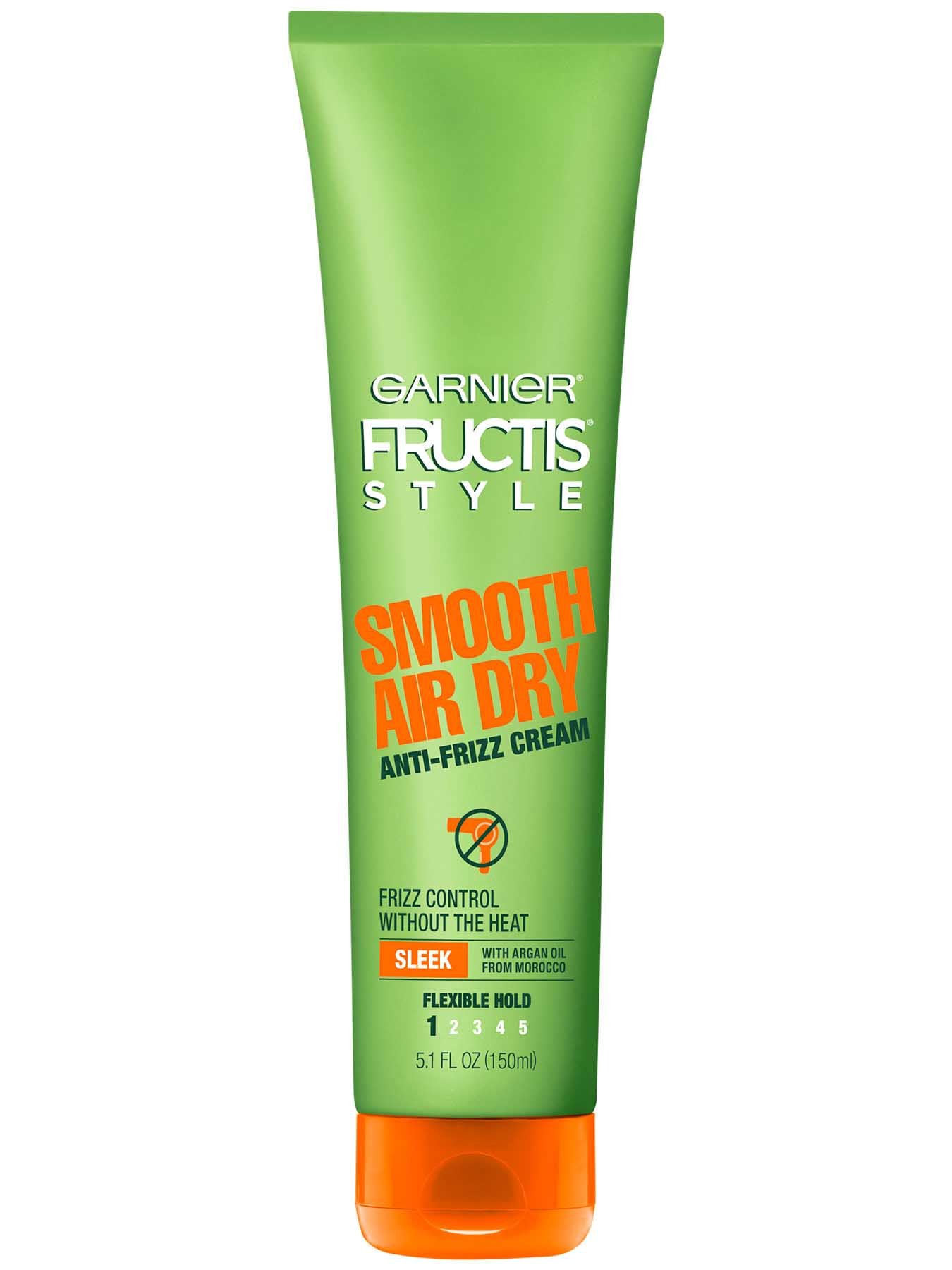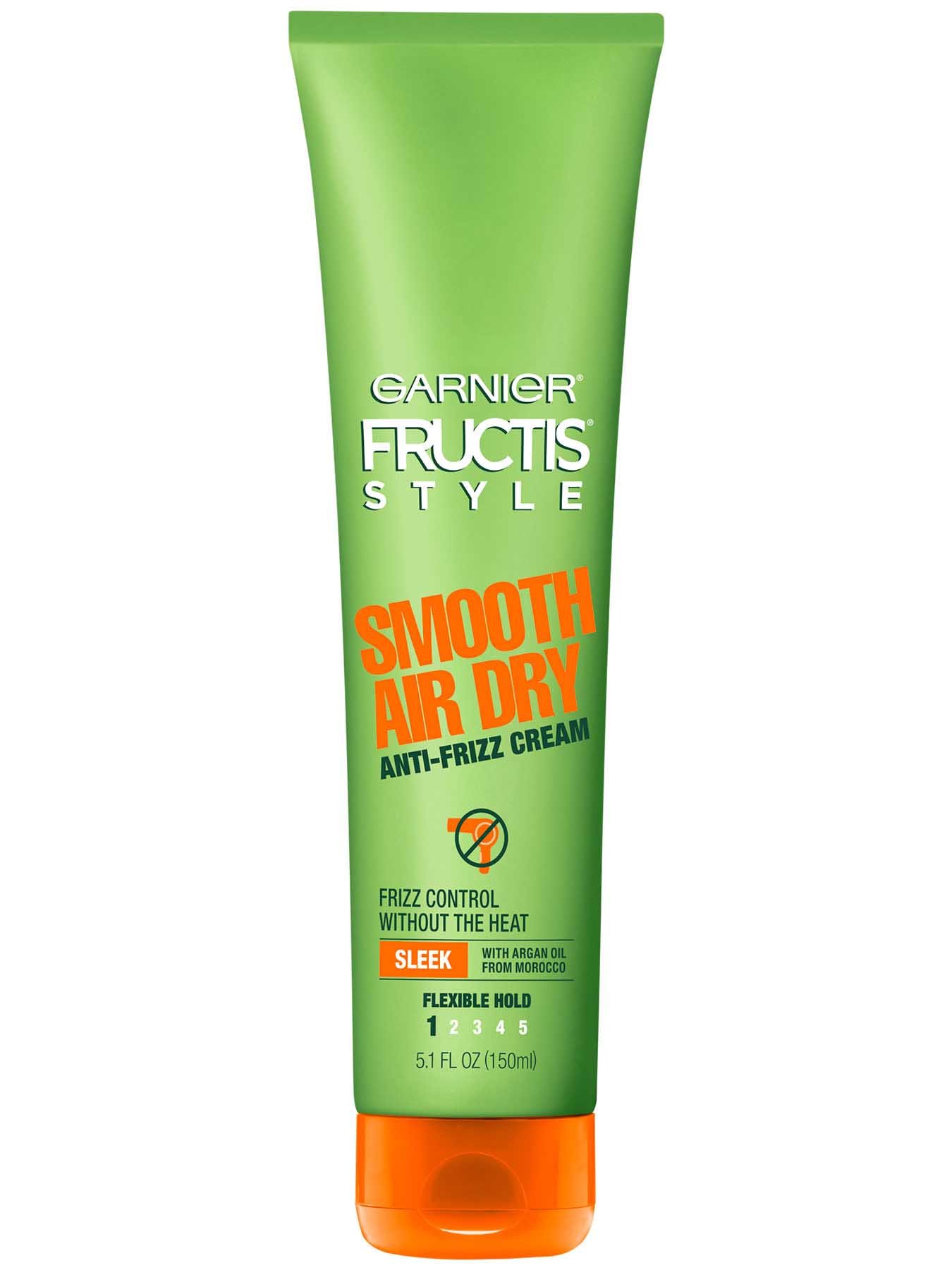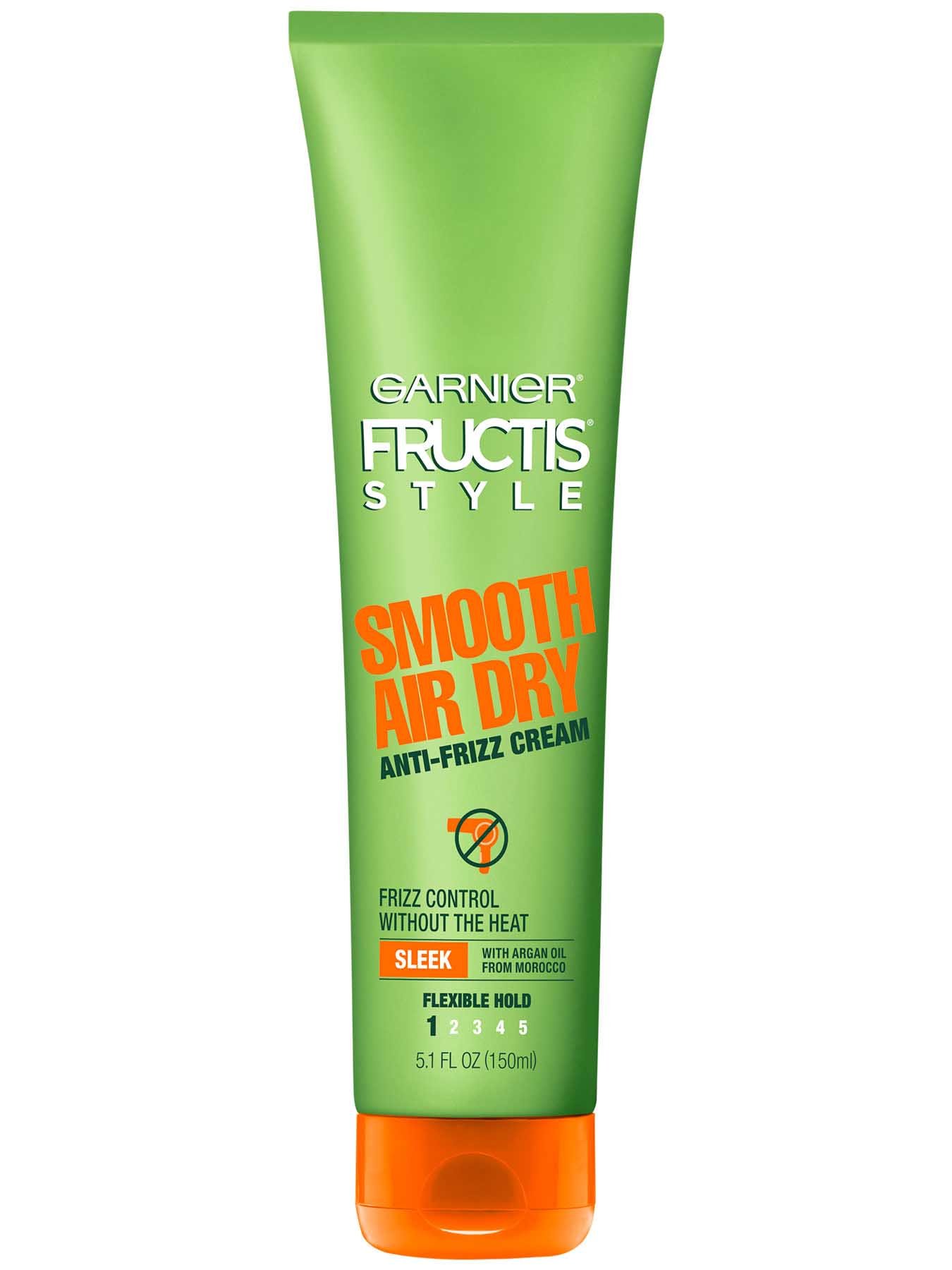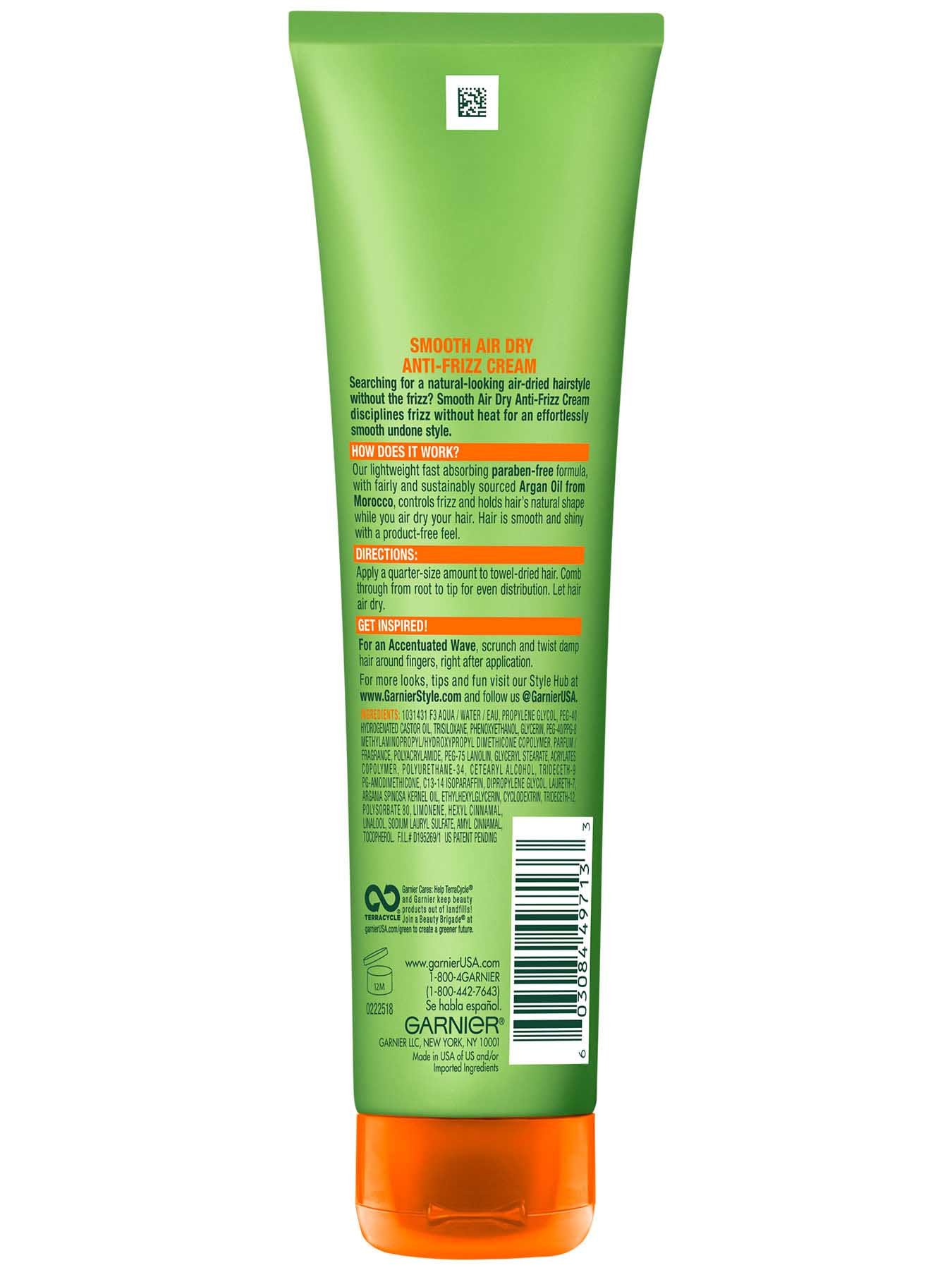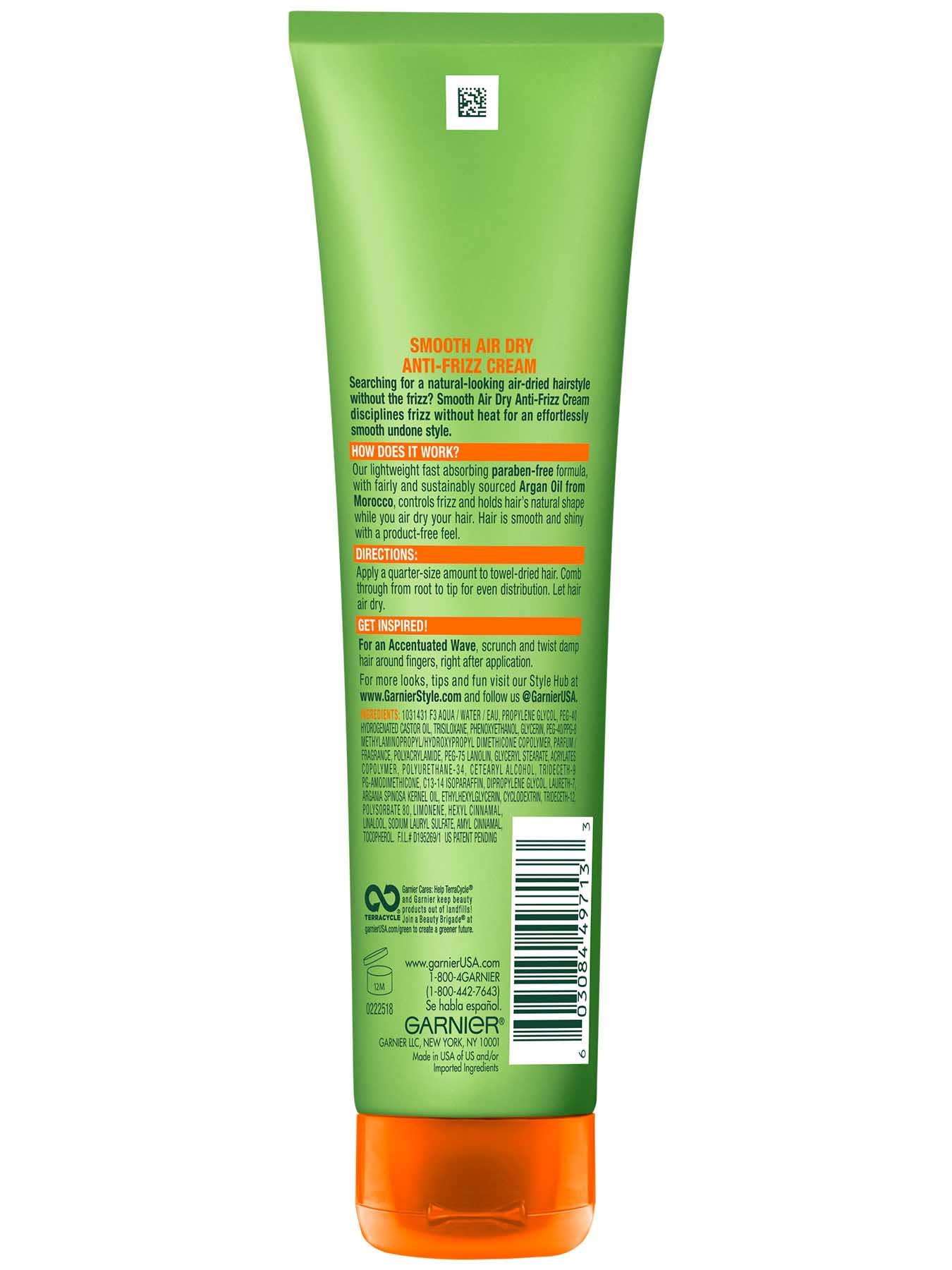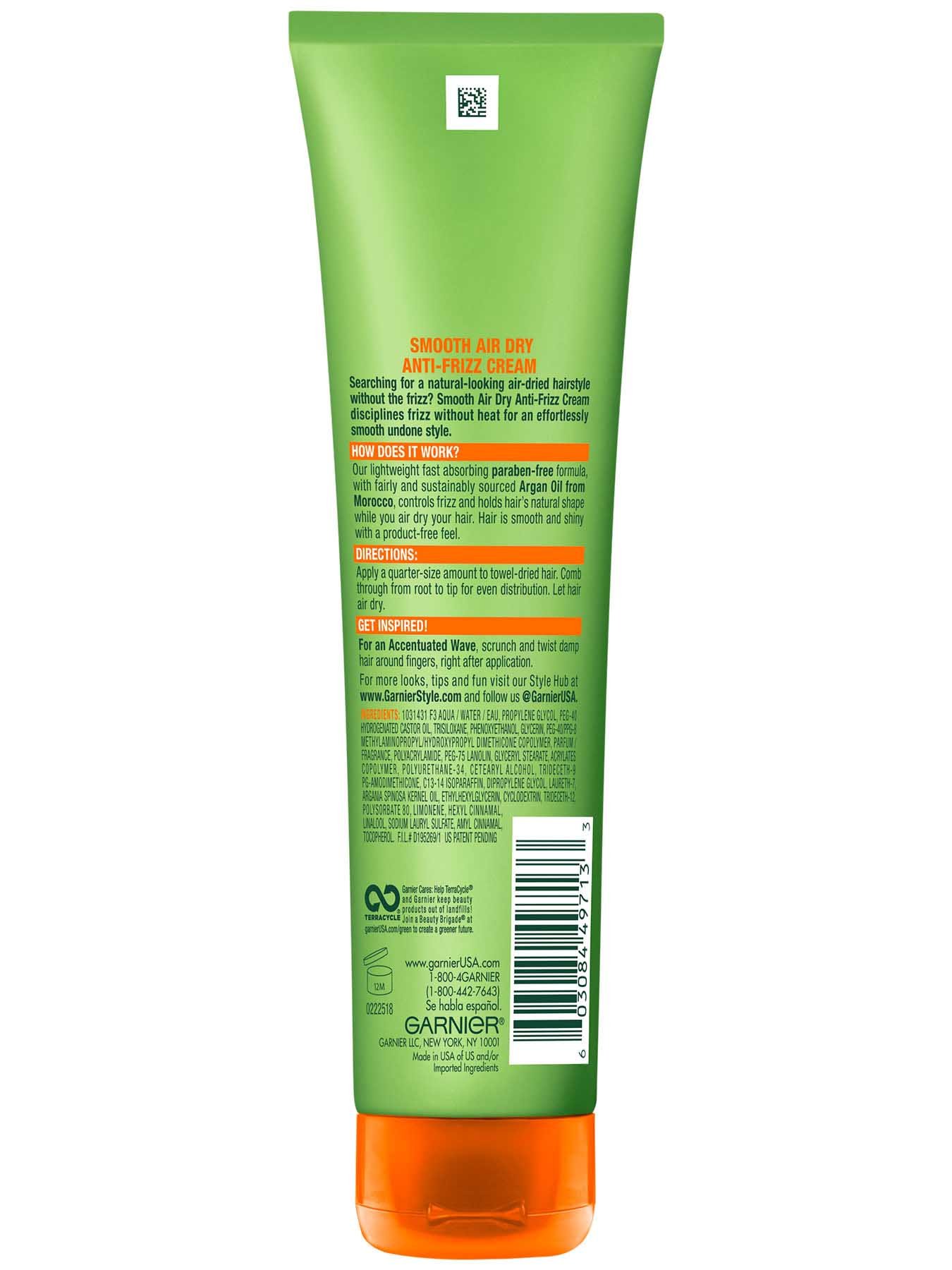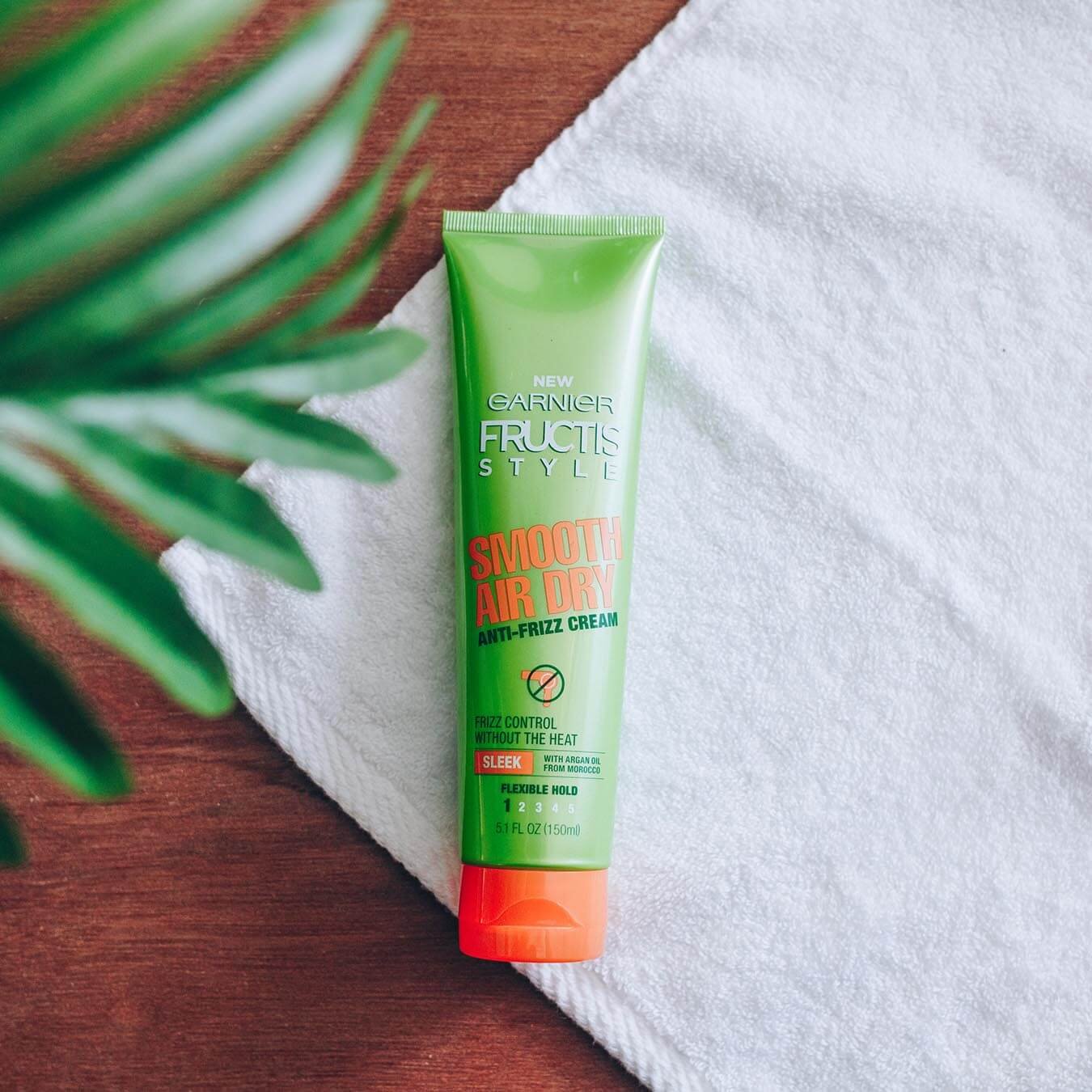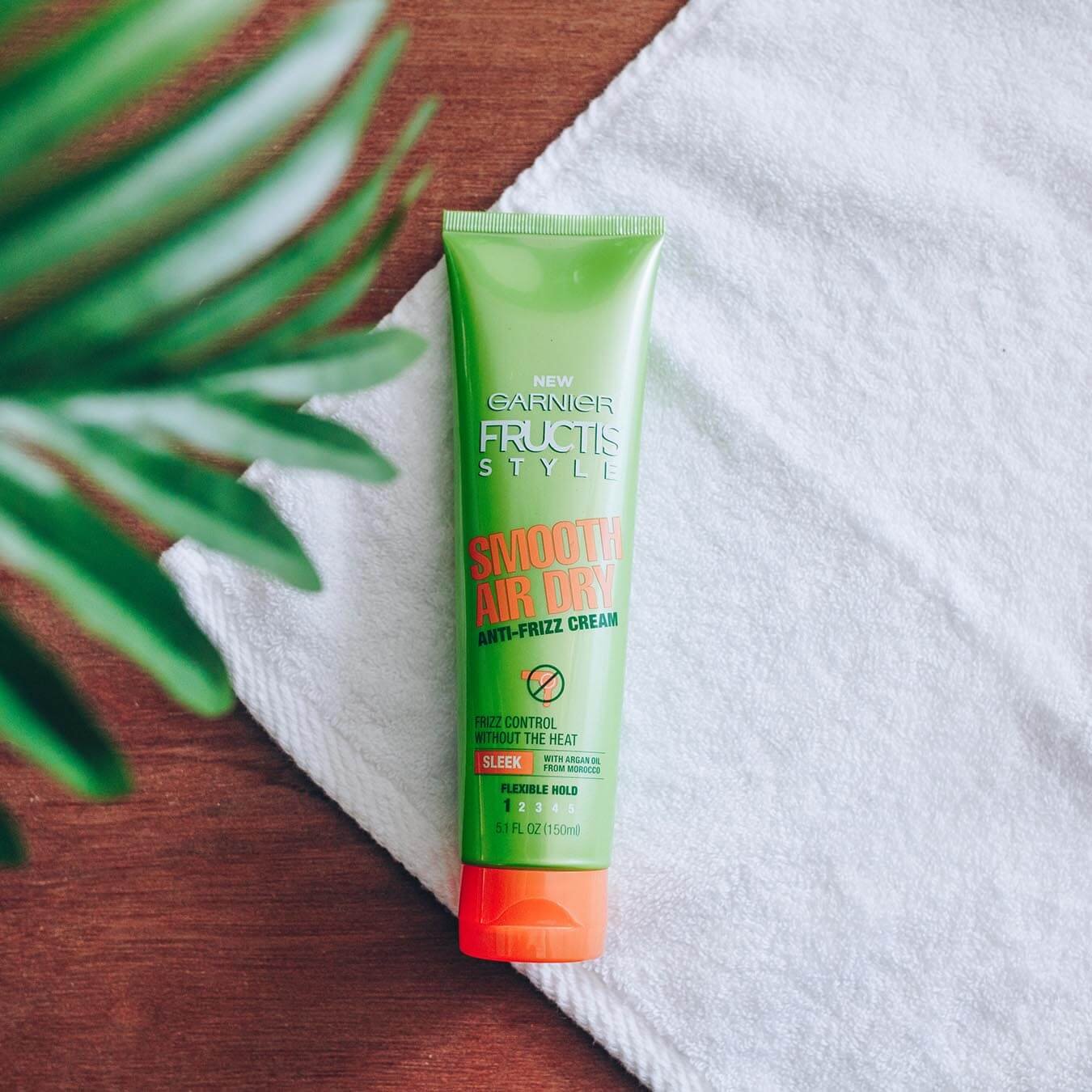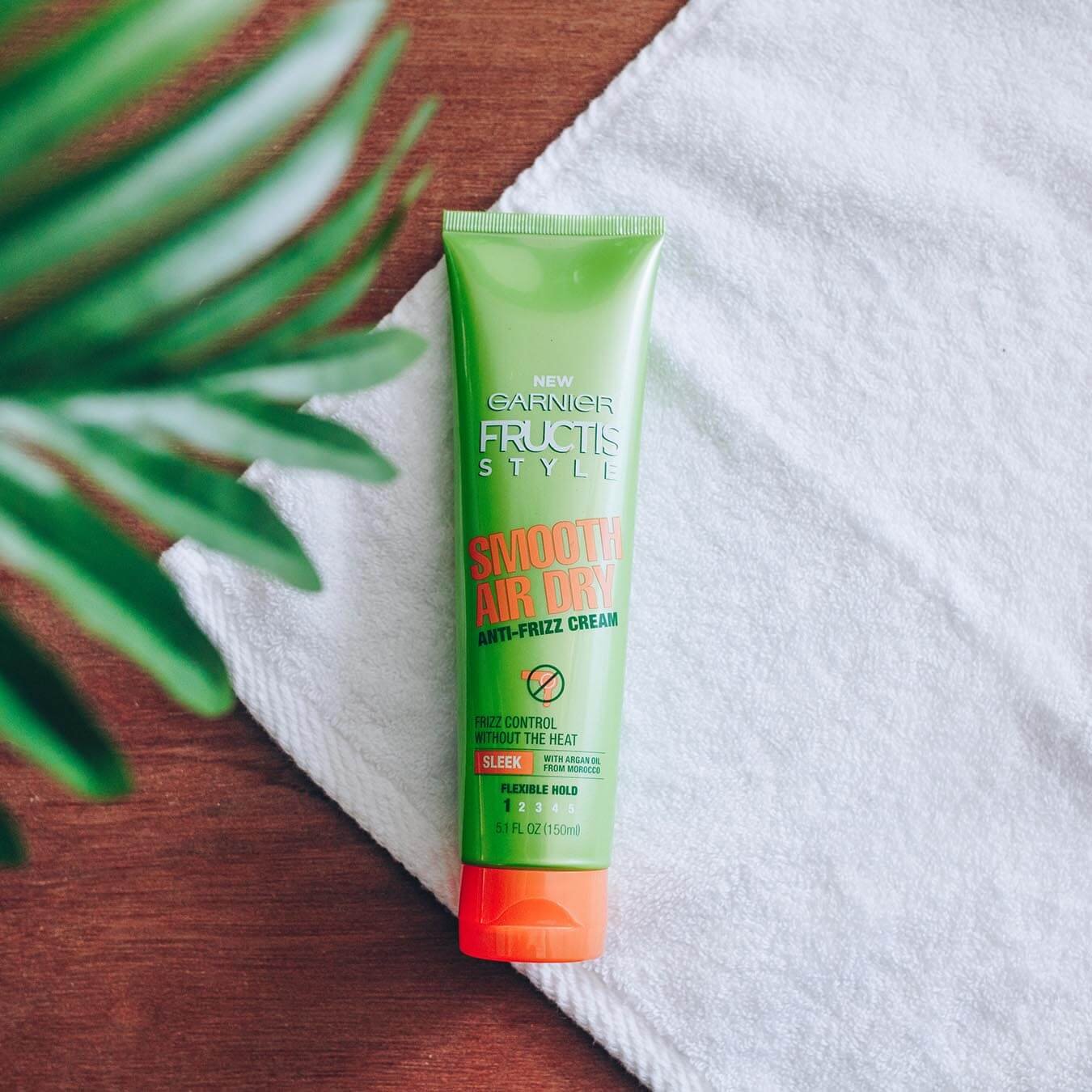 Smooth Air Dry Anti-Frizz Cream
Garnier Fructis
$4.29 MSRP
Anti-frizz cream for a natural-looking air-dried hairstyle
PRODUCT INFORMATION:
Searching for a natural-looking air-dried hairstyle without the frizz? Smooth Air Dry Anti-Frizz Cream disciplines frizz without heat for an effortlessly smooth undone style.

HOW DOES IT WORK
Our lightweight fast absorbing paraben-free formula, with fairly and sustainably sourced Argan Oil from Morocco, controls frizz and holds hair's natural shape while you air dry your hair. Hair is smooth and shiny with a product-free feel.

GET INSPIRED!
For an Accentuated Wave, scrunch and twist damp hair around fingers, right after application. For more looks, tips and fun visit our Style Hub.
How To Use
Apply a quarter-size amount to towel-dried hair. Comb through from root to tip for even distribution. Let hair air dry. Can also be used on dry hair to add more control.
Ingredients:
1031431 F3 AQUA / WATER / EAU, PROPYLENE GLYCOL, PEG-40 HYDROGENATED CASTOR OIL,TRISILOXANE, PHENOXYETHANOL, GLYCERIN, PEG-40/PPG-8 METHYLAMINOPROPYL/HYDROXYPROPYL DIMETHICONE COPOLYMER, PARFUM / FRAGRANCE, POLYACRYLAMIDE, PEG-75 LANOLIN, GLYCERYL STEARATE, ACRYLATES COPOLYMER, POLYURETHANE-34, CETEARYL ALCOHOL, TRIDECETH-9 PG-AMODIMETHICONE, C13-14 ISOPARAFFIN, DIPROPYLENE GLYCOL, LAURETH-7, ARGANIA SPINOSA KERNEL OIL, ETHYLHEXYLGLYCERIN CYCLODEXTRIN, TRIDECETH-12 , POLYSORBATE 80, LIMONENE, HEXYL CINNAMAL, LINALOOL, SODIUM LAURYL SULFATE, AMYL CINNAMAL, TOCOPHEROL. F.I.L D195269/1 US PATENT PENDING
Wash
Garnier Fructis
Sleek & Shine Shampoo
Shampoo for frizzy, dry, unmanageable hair
Condition
Garnier Fructis
Sleek & Shine Conditioner
Conditioner for frizzy, dry, unmanageable hair
Style
Garnier Fructis
Smooth Air Dry Anti-Frizz Cream
Frizz control without the heat
Rated

5

out of

5
by
lila23
from
Only product that gets away the frizz.
I have been using the product for a few weeks. My hair is no longer frizzy. I love this product.
Date published: 2018-02-19
Rated

5

out of

5
by
kassidyk
from
LOVE!
This is the only product that has ever actually worked for me. I've tried so many different leave in products to manage my frizzy straight/wavy hair and this one works so well! I can finally air dry my hair without having all of the frizz!
Date published: 2018-02-10
Rated

5

out of

5
by
Nicole221
from
Best way to beat frizz
I have thick, curly hair and I have always struggled with frizz. I almost never straighten my hair and have been looking for something to combat the frizz without making my hair crunchy. I decided to give this product a try, especially since it is not very expensive. I have kept using it for around 4 months. This had been the best product so far in controlling frizz. My hair is soft and shiny. I just apply this product to slightly wet hair, scrunch a little bit, and then leave it alone to dry.
Date published: 2018-01-07
Rated

5

out of

5
by
Angel20
from
Anti-Frizz that actually works!!
I have tried lots of anti-frizz products and they either left my hair too oiling looking or flat with no life or just plain didn't take the frizz away but this product is different! I don't have to straighten or even dry my hair anymore! My naturally dried hair is soft and smooth and shiny and gorgeous! Even after going to sleep with wet hair. I wake up, it's still damp, put a little scrunch spray on it and scrunch it up with my hands and I'm good to go! I was not paid for or given products for this review.
Date published: 2017-12-13
Rated

4

out of

5
by
JustJensReviews
from
Definitely Left Hair Shiny
This spray definitely left my hair soft and shiny. It smells great too. I think right now my hair is beyond repair though or maybe it's the weather but I still had tons of frizz. It would be good for someone who has healthy hair to keep it protected when heat styling. And it did work on my healthy hair but not the part that is already damaged with split ends. I almost sprayed more to weigh those ends down but I felt like if I sprayed more my hair would just look greasy, although this product is rather lightweight. I received a free sample to test from Influenster.
Date published: 2017-12-01
Rated

4

out of

5
by
Babs625
from
Shiny and Sleek
This product has been awesome for me! Flyaways are gone and I'm able to quickly spray on for a little extra shine as well as a more finished look! It does make me have to wash my hair after I use it, but I'm ok with that!
Date published: 2017-11-29
Rated

4

out of

5
by
Kyla34
from
Works well
I have enjoyed this product. It has worked well in my hair. I don't usually straighten my hair and use products in it, but I will definitely continue to use this one. I received it for free to test and give my honest review from Influenster.
Date published: 2017-11-12
Rated

5

out of

5
by
sue57
from
best air dry smoother ever
So glad I tried this product, my favorite, that I'll always use
Date published: 2017-11-11
Rated

4

out of

5
by
kgkgkg
from
Good quality at affordable price!
This product is really great for an affordable and typical brand that you can purchase at a discount store. It makes your hair smooth, shiny, and soft! I received this product for free testing purposes! Thank you!
Date published: 2017-10-30
Rated

5

out of

5
by
Jenrob
from
Love this stuff use it daily for wet and dry hair
Helps keep hair shiny and smooth in between washes
Date published: 2017-10-30
Rated

5

out of

5
by
Kspinks123
from
Love this shine!
I received this product complementary from Influenster. I love this product! I love the way it makes my hair shine without making it greasy! I will definitely purchase this item in the future. I would recommend this product to a friend. It is a must-have if you have straight hair and want for it to shine and not be frizzy.
Date published: 2017-10-28
Rated

5

out of

5
by
Latinabeauty92
from
Awesome
I love it!! Used it in my sister and her hair was super straight I didn't have a scent or stickiness to it. It was super easy to use and I don't think it's expensive at all which is a plus because it protects the hair! I received this product complimentary for review purposes. Got it free for review
Date published: 2017-10-28
Rated

5

out of

5
by
Jess898
from
Amazing
The product is life changing. I have thin wavy hair with fly aways. This is the smoothest and softest I've ever felt my hair.
Date published: 2017-06-16
Rated

5

out of

5
by
Victorria1
from
Amazing!
I was sent a sample of this product and I am absolutely blown away! I have fine, wavy hair that tends to get frizzy. After using this my hair looks like I just styled it! My hair is strait, zero frizz, and lots of volume. I am truly amazed!
Date published: 2017-04-15
Rated

5

out of

5
by
Daddyslady
from
My hair is nice and soft
I tri it last month I took the chance to do my hair a right then use the things my hair needs
Date published: 2017-04-08
Rated

5

out of

5
by
PlumAwesomeness
from
I can finally go heatless!!!
This product works wonders I'm so glad I found it! Before this product my hair would always air dry super frizzy and fluffy. I would have to resort to the blow dryer every time. This product dried my hair flat and a little wavy and smooth. I love having the option now to give my hair a break from the damaging heat once and a while.
Date published: 2017-04-02
Rated

5

out of

5
by
benn
from
HOLY COW REALLY GREAT
I'm a 75 yr. old guy with coarse gray hair.....have used 'regular' hair gel for years to 'smooth out' my hair.......WOW NOTHING compared to Smooth Air Dry!! it's the BEST version of the old gels.....with lots of great ingredients!!! silky smooth out of the tube and a great scent........thanks for making something for my 'nasty' (lol) hair that I can use with confidence!!
Date published: 2017-03-12
Rated

5

out of

5
by
A10inTN
from
As advertised
I've been using this for a week now and am very pleased. My hair looks like I actually "did" it! I'm excited to stop heat styling for the first time in years! My poor hair needs a break.
Date published: 2017-03-06
Rated

1

out of

5
by
Berger33
from
Like Glue In Your Hair
I received a sample from Shape Magazine. I was excited to try this. I have curly, unmanageable hair. The sample was more than enough. I followed the instructions and applied a quarter size amount on toweled dried hair. I combed it through. My hair air dried to a "gluey" mess. I had to actually re-wash my hair.
Date published: 2017-03-01
Rated

5

out of

5
by
morgan c
from
awesome product!
i bought this last week after i saw it somewhere online. my naturally straight hair is down to the middle of my back and it's not too thick nor too thin. (to give you an idea of my hair type) i usually have to straighten my hair for it to not be frizzy after either air drying or blowdrying, but once i applied this product, it air dryed my hair without any frizz at all!! i still will straighten the ends just to make it all evenly straight considering i sleep with my hair wet, so sometimes it goes wild but atleast now its smooth. i would recommend this product to people with naturally straight/wavy hair.
Date published: 2017-02-26
Rated

1

out of

5
by
anonymous2017
from
Disappointed
If you look at the second ingredient, propylene glycol, does not evaporate easily and can cause dryness to the hair. It did exactly that. My hair felt extremely stiff and was too dry for me to use this. I have dyed hair and this just is too drying. Its sad that they can't make these products without these cheap chemicals because more people would use it.
Date published: 2017-01-26
Rated

5

out of

5
by
MergPartyof10
from
Works as advertised!!!!
Living in the south I am always battling the humidity. This is one of my all time favorite products. It gets the job done. I just put this on when I get out of the shower and then do my hair normally and bam! no frizz at all! And it does not leave my hair feeling weighted down and greasy. I love it. Plus, it smells great and is very well priced. My son has naturally curly hair that dries crazy! when he gets out of the shower, I put a small dab in his hair and it dries soft and curly, not frizzy and not crunchy at all. Just very natural feeling.
Date published: 2016-12-21
Rated

4

out of

5
by
ratherpuckish
from
Great product, maybe not for winter
The Fructis Style Smooth Air Dry Anti-Frizz Cream came in the mail the day I came home from the hospital with my newborn in tow. With a new baby demanding all of my attention and winter weather ensuring that my hair would be a static-y mess, I was very excited to try a product that could help me look at least somewhat put together. I have a lot of very straight, shoulder length hair that leans toward the finer side so I struggle with static and body. My normal hair routine involves mousse, salt spray, texture powder, a blow dryer and ample time with a round brush. I was pleasantly surprised that the Fructis Style Smooth Air Dry Anti-Frizz Cream was mostly able to provide the same result! And it definitely led to better hair than just air drying alone. After combing the product through my towel dried hair and waiting for it to air dry the rest of the way, the only finishing touch I needed was to flip my head upside down and run a bristle brush through a few times. It provided body and kept my more static prone baby hairs in check. The down side was waiting for my hair to dry, which took close to an hour, instead of the 5 minutes that using a blow dryer takes. On days when I need to leave the house promptly and it's cold outside I will still opt for my traditional routine. But with time to stay in, I would say this product is well worth it.
Date published: 2016-12-21
Rated

5

out of

5
by
Vanillagirl
from
Frizz Free Hair
I am always skeptical with products that promise to make your hair something that it is not. So, with those thoughts in mind, I tried this Fructis Anti-Frizz Cream. Lo and Behold, it actually worked! I normally style my hair curly as its naturally wavy, so with this product I left it straight. My hair was noticeably less frizzy than normal. The only complaint was that it did make my hair thicker which I don't love but I know some do! If you are looking for a product that will make your mornings way faster and still look stylish, this product will do that for you!
Date published: 2016-12-21
Rated

1

out of

5
by
Billybaggins
from
Style smooth air dry
I think that this frizz free product was okay. The smell of it was good smells like the same as all Garnier Fructis products. It kinda made my hair feel still and dry which I didn't like the stiff crunchyish hair but it smelled great though.
Date published: 2016-12-20
Rated

5

out of

5
by
Keepee
from
A Game Changer in cold weather
It's dry and cold here- which means my normally curly hair has turned in to a fluffy, static filled mess. That's where Fructis Style Smoth Air Dry Anti-Frizz Cream has been helping. I simply add it while my hair is damp and do a quick scrunch and my hair behaves! I just wish I had known about this product in the past because I've got a lot of not-so-flattering pictures thanks to my crazy hair!
Date published: 2016-12-20
Rated

2

out of

5
by
carlymiller
from
Same Same But Different...
I have to say, the product team at Garnier needs to learn less is more. Let me first start by saying I do like their products. I'm using their damage eraser conditioner currently. However, they have so many different styling products its insane! Not to mention they all smell the exact same... maybe its just all the same formula with different names in different bottles?? I have very long, damaged hair so the product definitly helped without weighing down my hair. I only applied it to the bottom third of my hair though so it doesn't make my roots oily. Overall I would maybe buy it if it was on sale, however, something tells me this product won't last long but will be replaced with something nearly identical in a few months...
Date published: 2016-12-20
Rated

5

out of

5
by
inahcent
from
The First Product That Has Actually WORKED
So I really didn't have high hopes for this product, but I'm so glad I was wrong. I've tried so many and have always been disappointed in the past. This was completely different! Not only was my hair NOT frizzy, it was nice enough to wear down, brushed, and OUT IN PUBLIC! Now, my hair is naturally frizzy, and I normally blow dry my hair every single time I wash it. I have to, or it ends up frizzy, with tons of flyaways, and just not nice enough to wear without styling it up into a ponytail or some other "do." This Anti-Frizz Cream actually worked when nothing else has. It's going to be my new go-to for the summer when I can't handle using the hair dryer or want to throw my hair up after going swimming. I'm really excited to actually have found something that works! Thanks, Fructis! My electric bill and split ends thank you!
Date published: 2016-12-20
Rated

4

out of

5
by
Shonnya1987
from
Lightweight and smells great!
I can't say that it kept me frizz free, but it does help with the frizz and the smell is absolutely WONDERFUL. overall, I can't give this product 5 stars only because I feel like it could have been better as far as frizz control is concerned.
Date published: 2016-12-20
Rated

4

out of

5
by
Cecig90
from
Awesome product
I think this is one of the good products of garnier ! Love it. I will definitely recommend to all my girl friends !! No need of mousse or hair spray
Date published: 2016-12-20