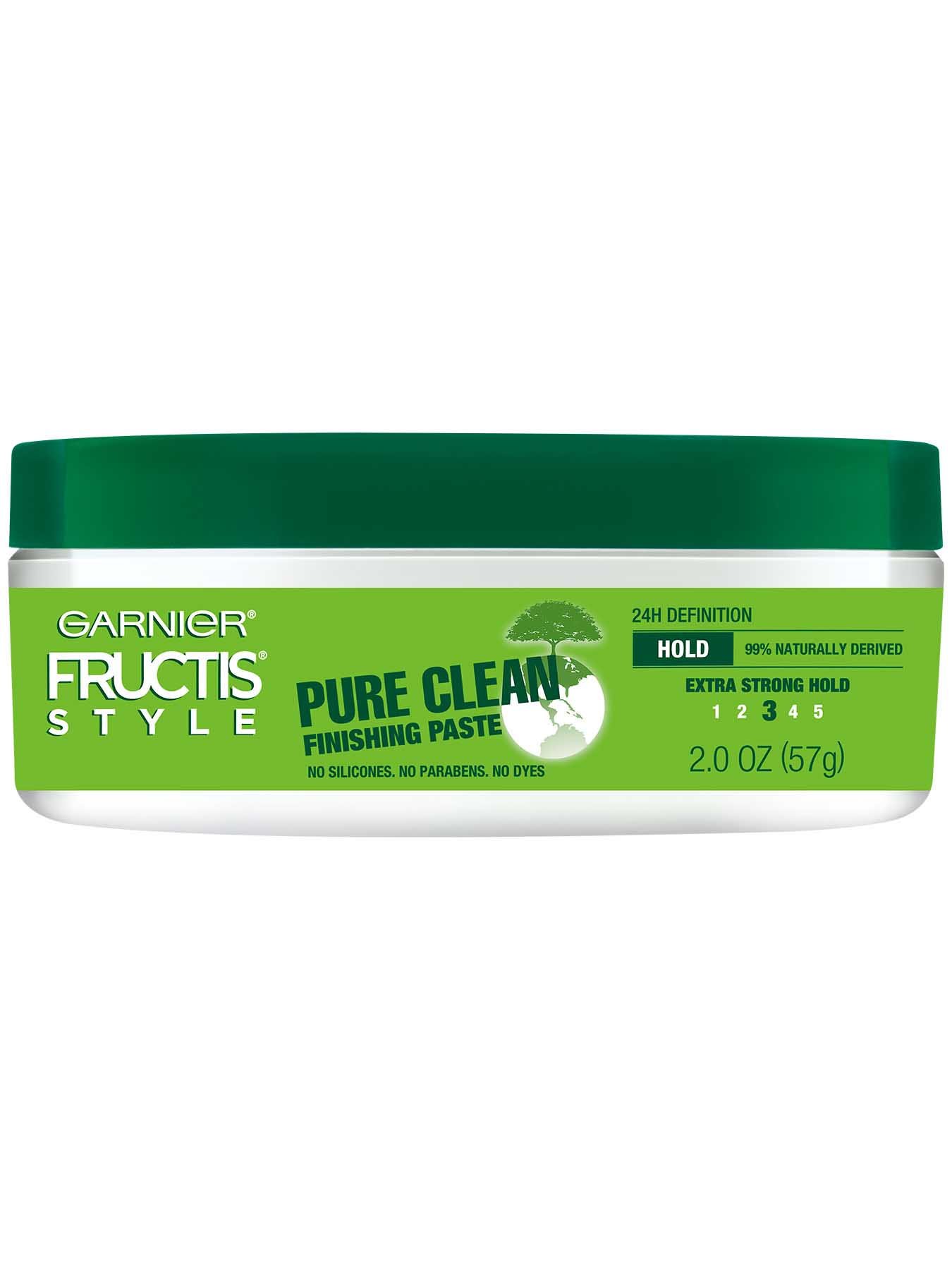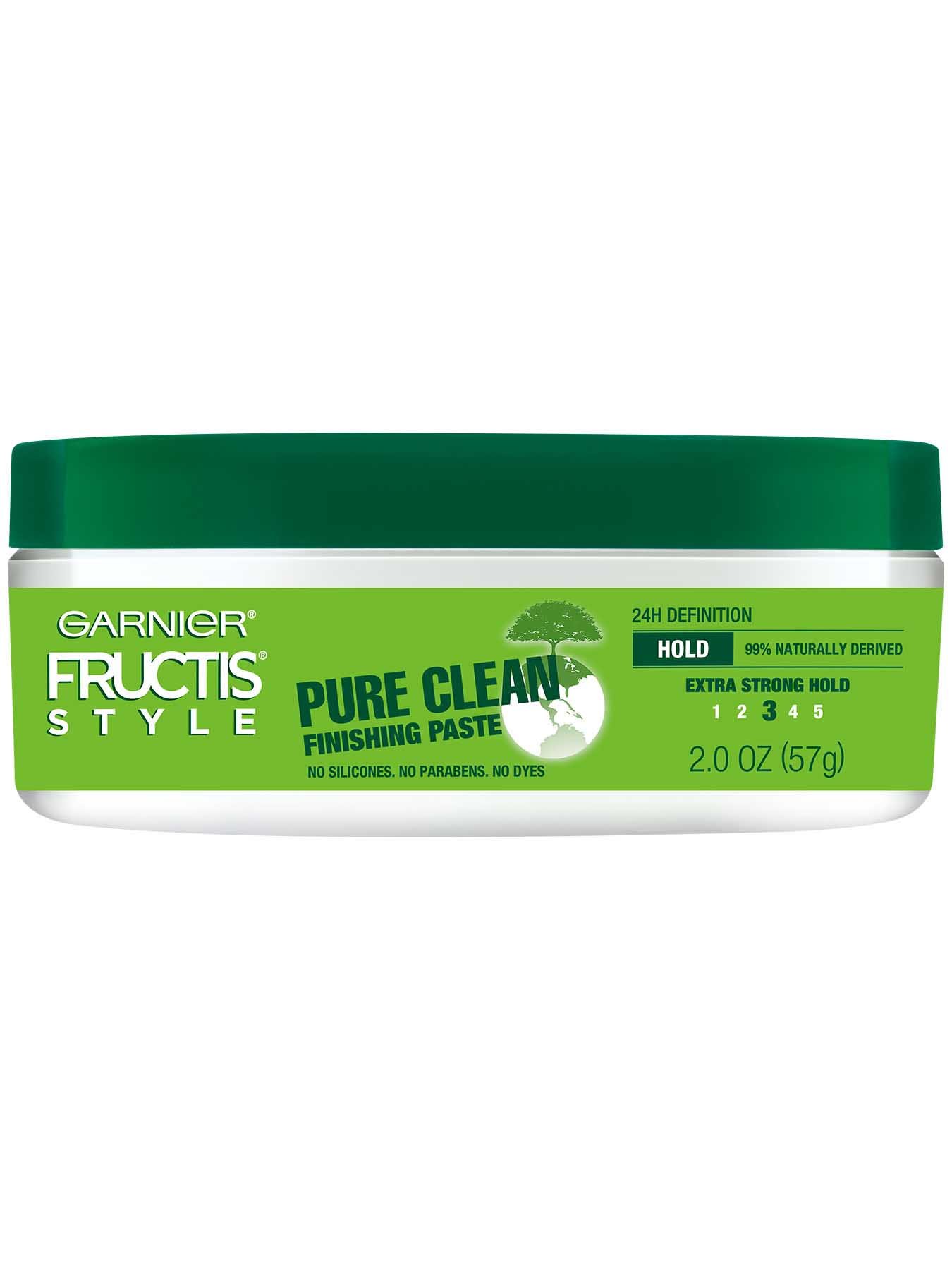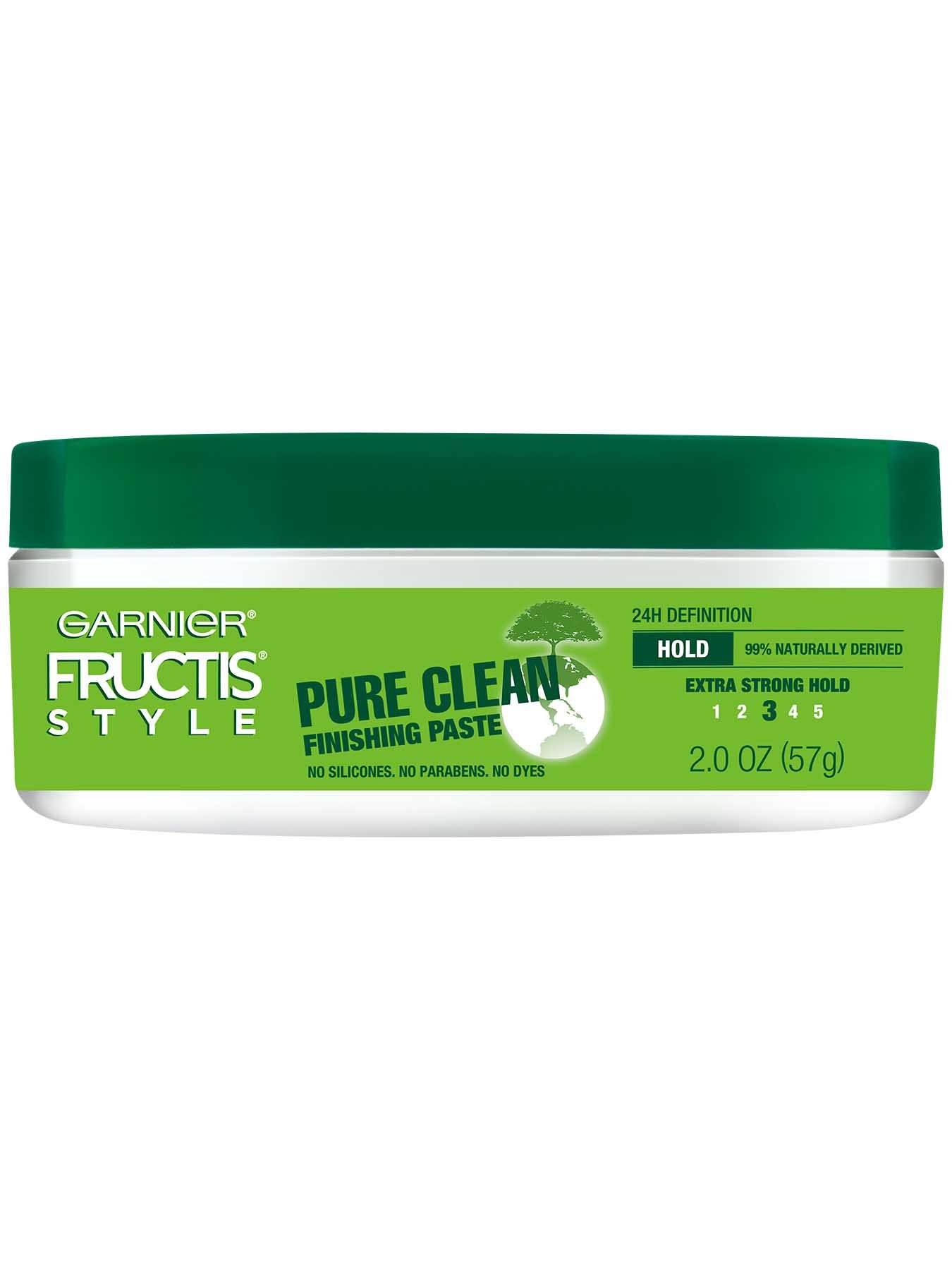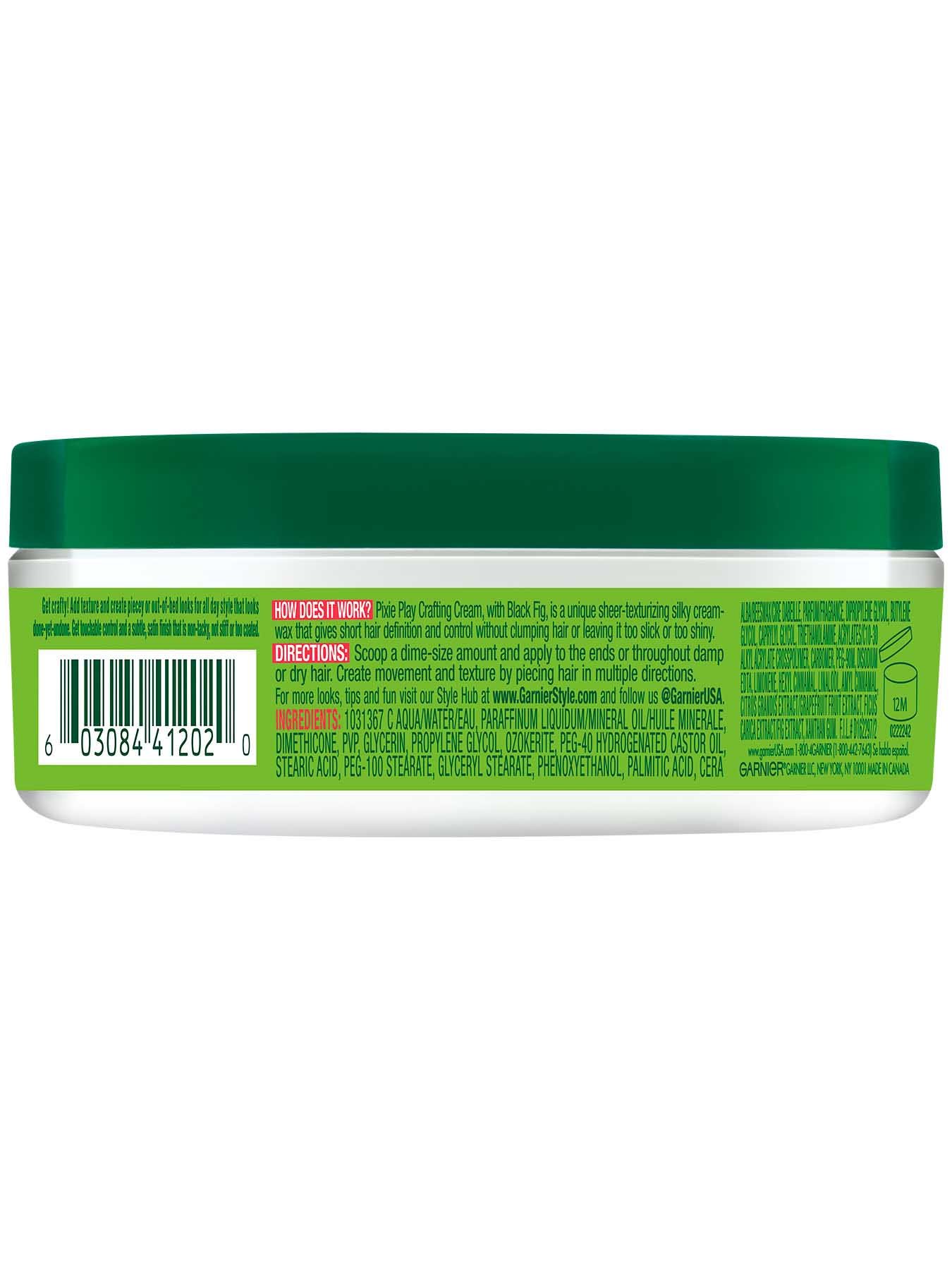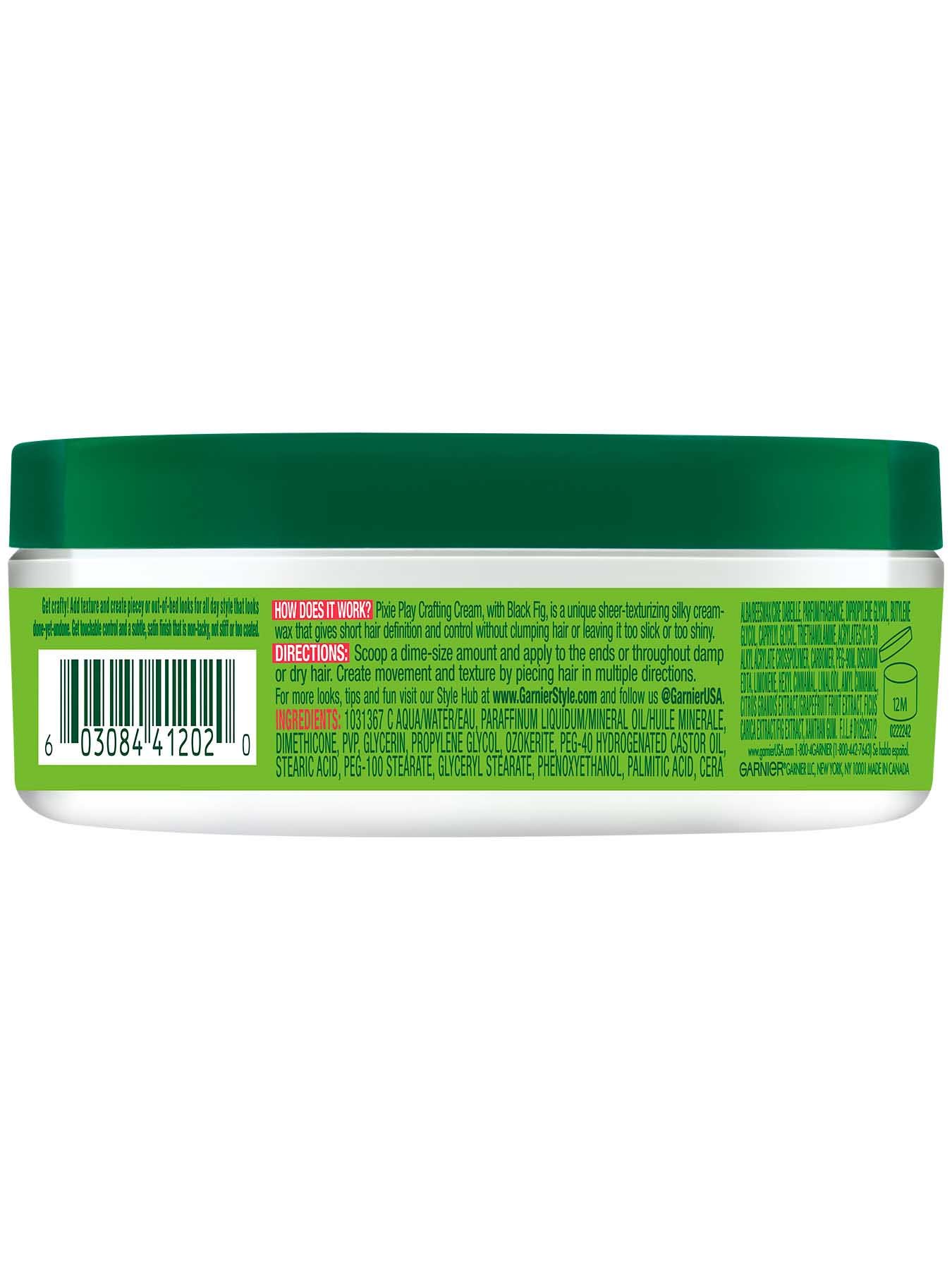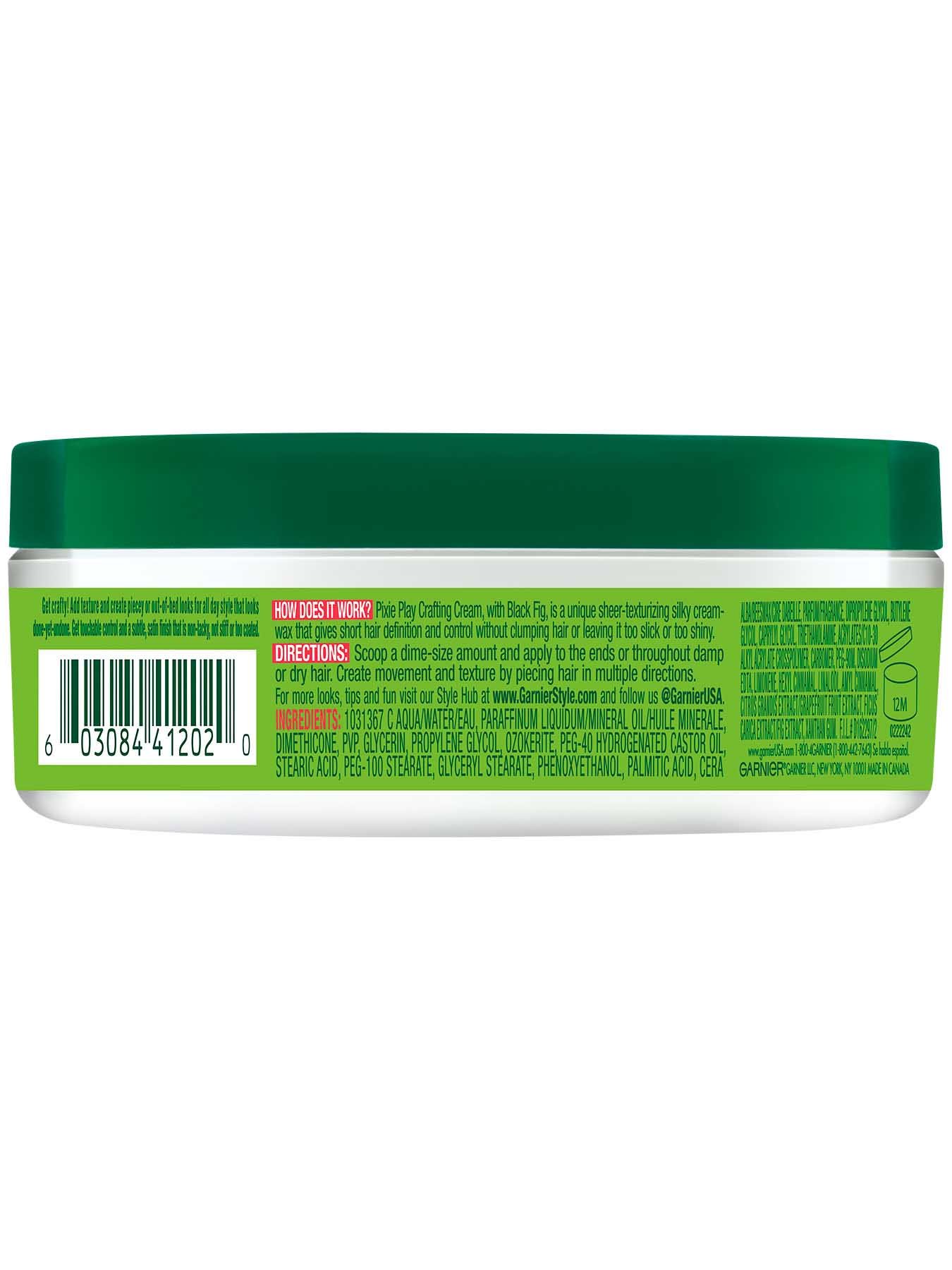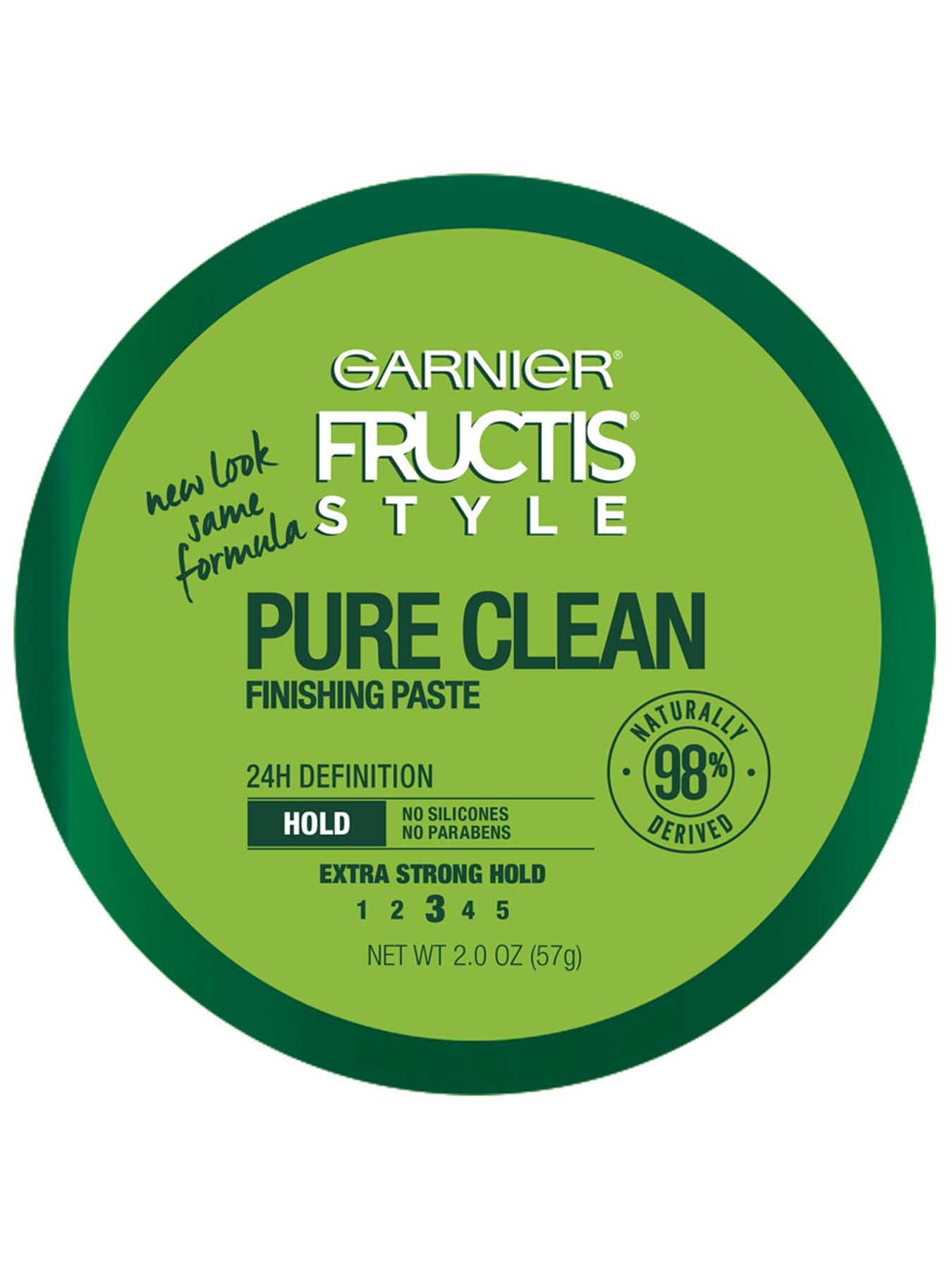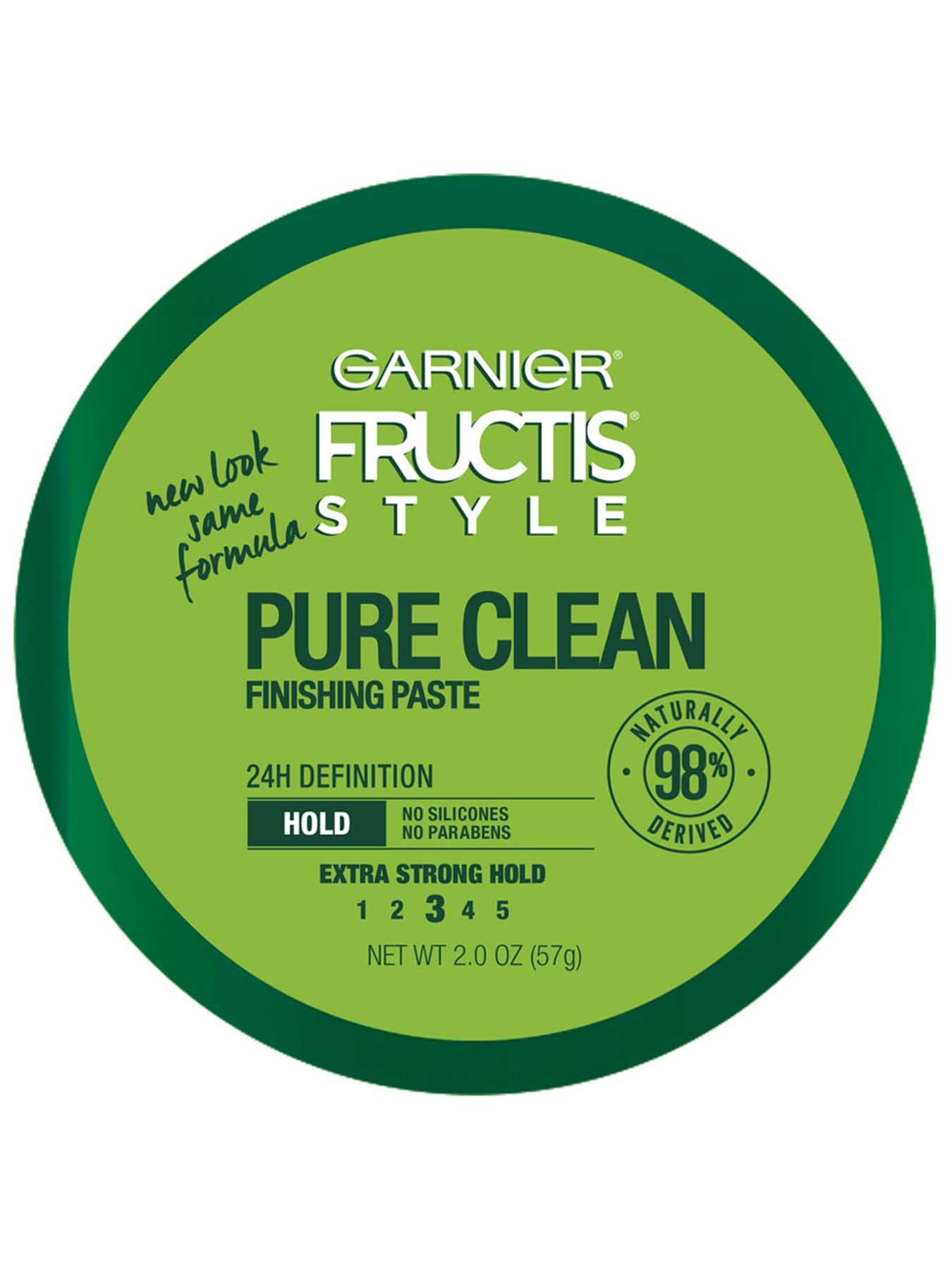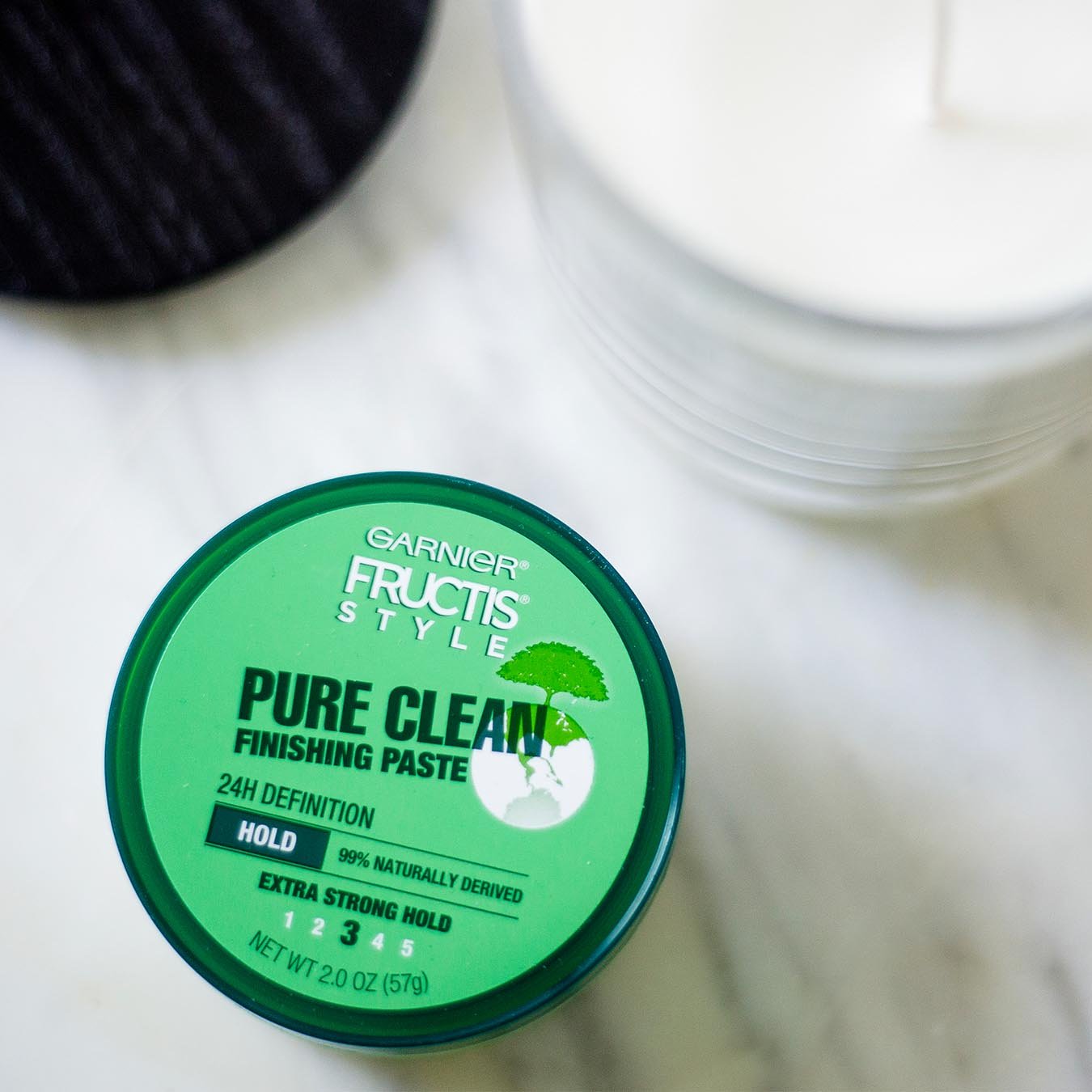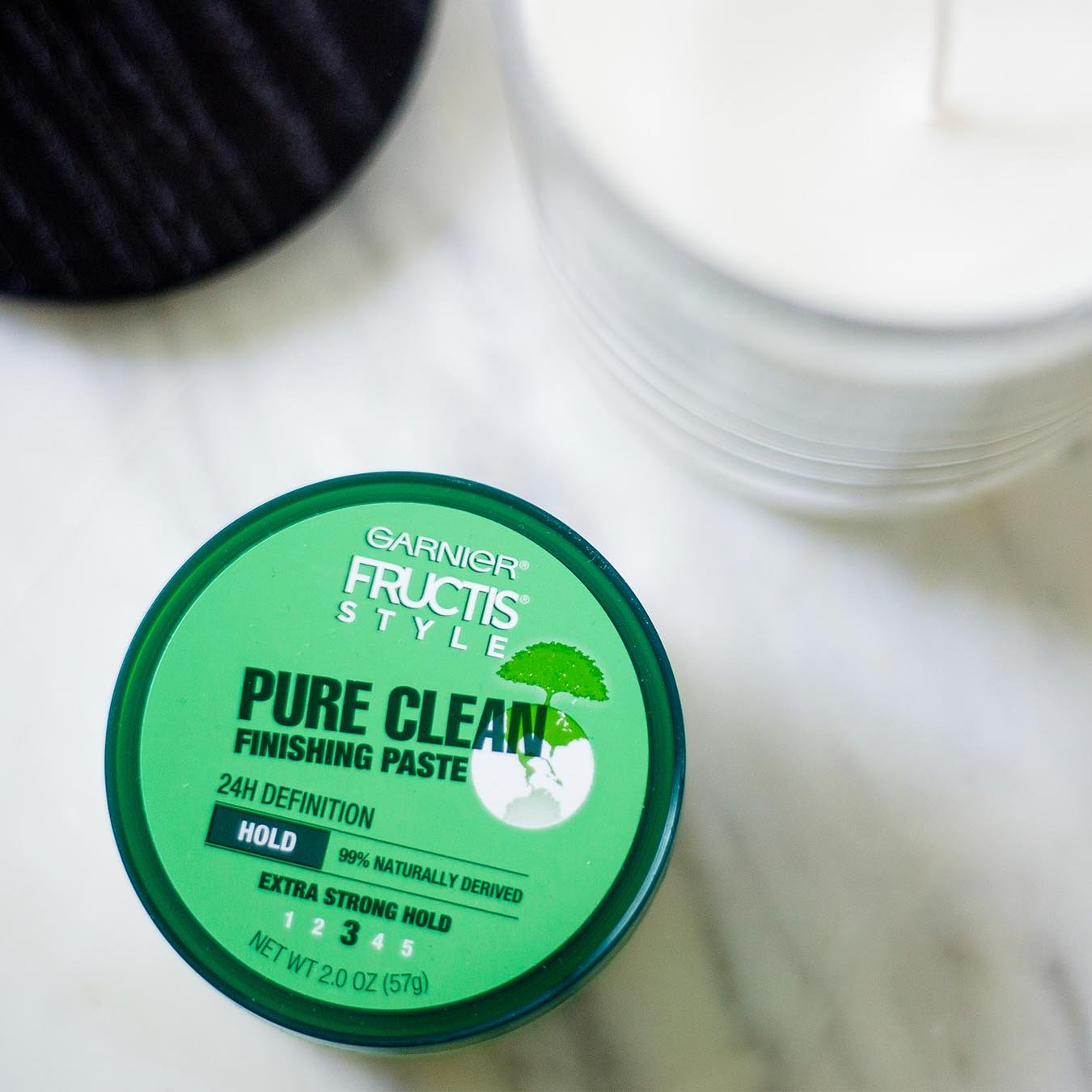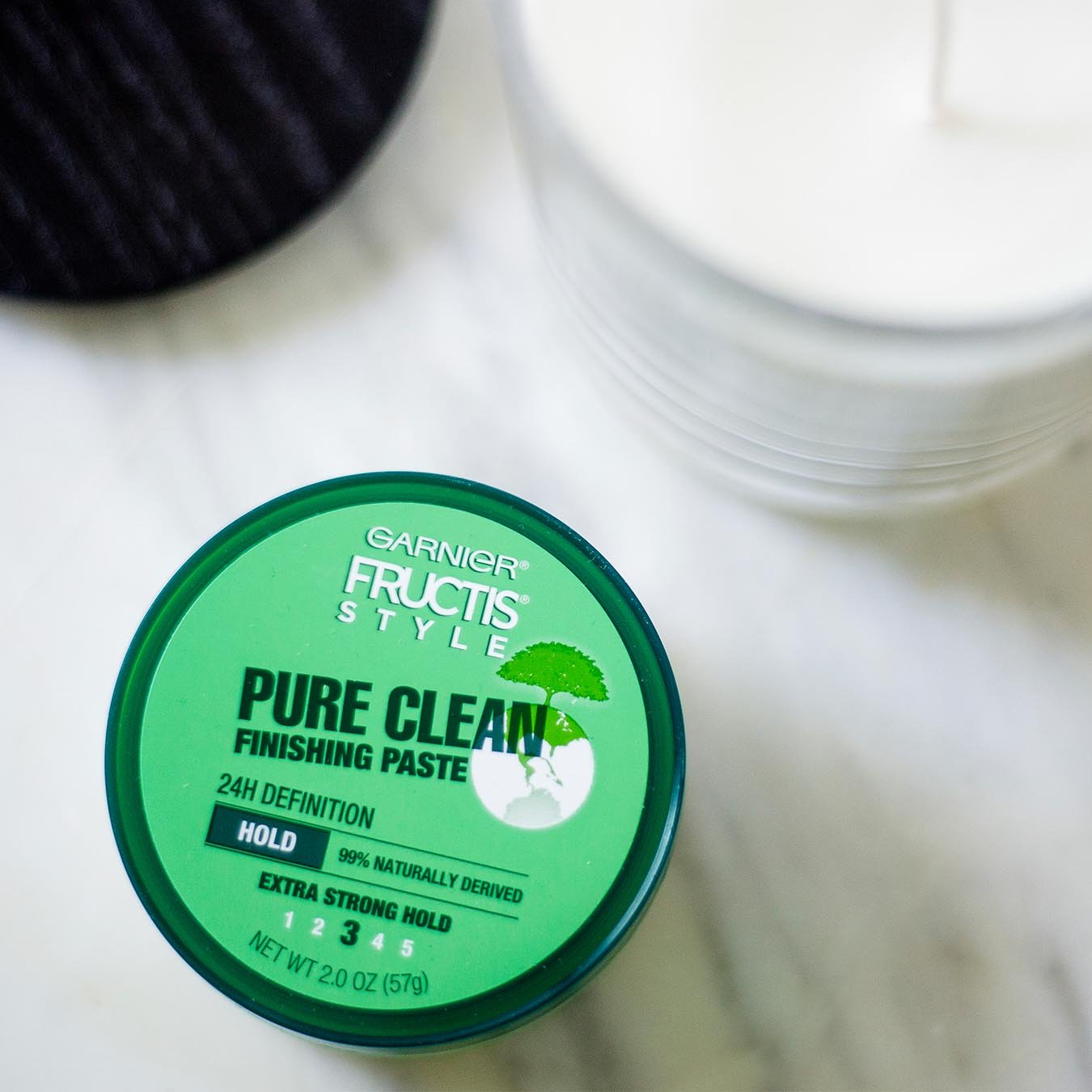 Pure Clean Finishing Paste
Garnier Fructis
$4.29 MSRP
Offers extra strong hold all day.
24 Hour Definition and Clean Hold.
99% Naturally-Derived
PRODUCT INFORMATION:
24 Hour Definition and Clean Hold. 99% Naturally-Derived. No Silicones. No Parabens. No Dyes.
Garnier® Fructis® Style Pure Clean is our first naturally-derived hair styling line with 24 hour clean hold + pure performance.
HOW DOES IT WORK?
Acacia Gum is used around the world for its natural holding properties. Garnier® Fructis® Style Pure Clean Finishing Paste is a 99% naturally-derived hair styling paste with Acacia Gum that gives 24 hour definition and shine to accentuate the layers of your haircut with no stickiness. This hair paste offers extra strong hold.
GET INSPIRED!
Create a "Clean Cut" look:
Comb product through towel-dried hair, smoothing hair against head, and air dry.
How to use:
Warm a small amount of paste between palms to activate and gently rake through ends with hands to accentuate layers.
Ingredients:
1082383 C AQUA/WATER/EAU, PROPANEDIOL, ISOPROPYL PALMITATE, CERA ALBA/BEESWAX/CIRE DABEILLE, CETYL ESTERS, STEARYL ALCOHOL, GLYCERIN, DICAPRYLYL CARBONATE, CETYL ALCOHOL, ARACHIDYL ALCOHOL, BEHENYL ALCOHOL, CAPRYLYL GLYCOL, ARACHIDYL GLUCOSIDE, GELLAN GUM, PARFUM/FRAGRANCE, POTASSIUM SORBATE, TOCOPHEROL, GLYCINE SOJA OIL/SOYBEAN OIL, LIMONENE, XANTHAN GUM, CITRONELLOL, LINALOOL, ACACIA SENEGAL/ACACIA SENEGAL GUM, CITRAL. F.I.L. D44846/5.
Wash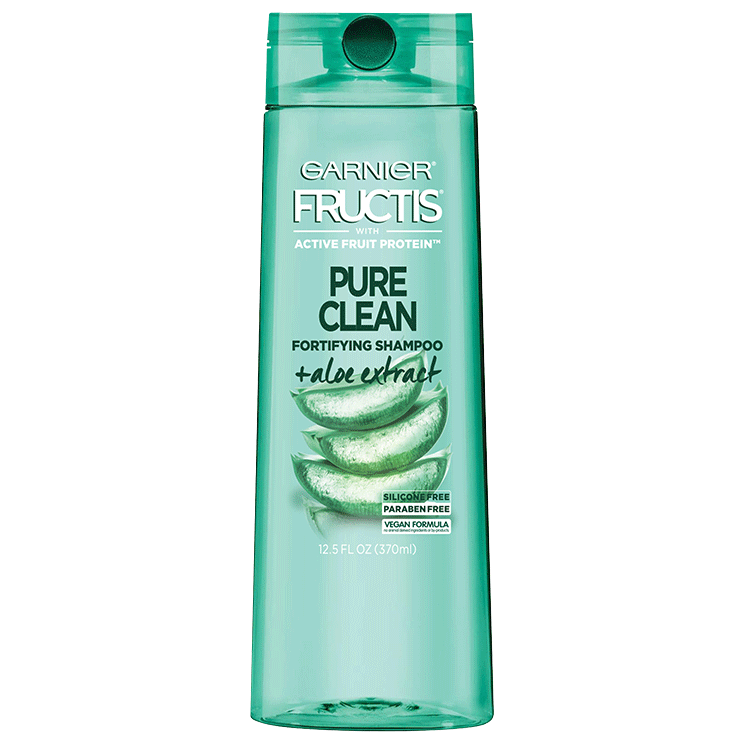 Garnier Fructis
Pure Clean Shampoo
Shampoo for normal to oily hair
Condition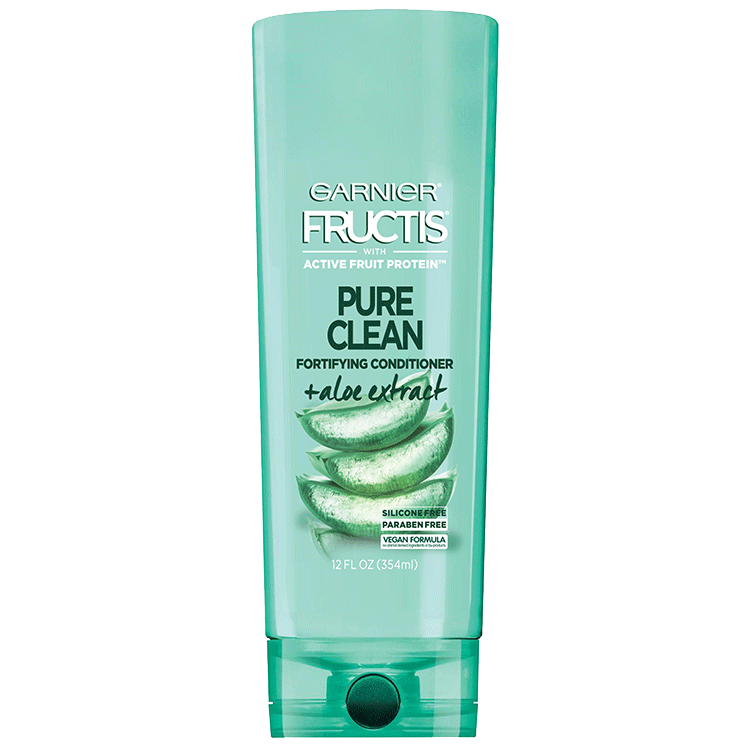 Garnier Fructis
Pure Clean Conditioner
Conditioner for normal to oily hair
Treatment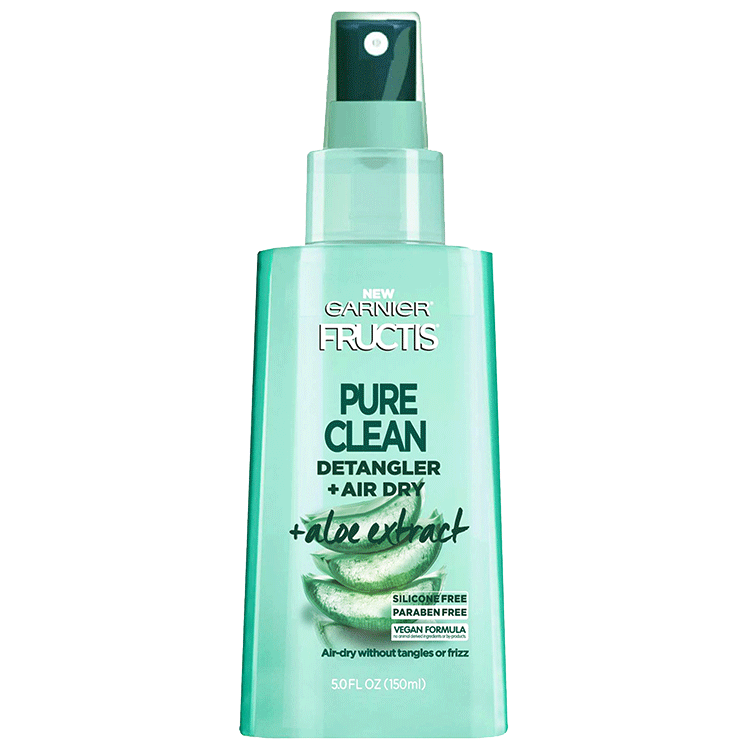 Garnier Fructis
Pure Clean Detangler + Air Dry
Controls frizz and gently unties knots
Style
Garnier Fructis
Pure Clean Finishing Paste
99% naturally-derived & 24H definition with clean, extra strong hold
Rated

5

out of

5
by
Breadlady
from
This works for me!!
My granddaughter gave this to me to try, because I complained about all the other products I have used in the past that say they will add volume to my hair & keep the hair in place. So, I tried this, & I love it! It is not thick and pasty like other products like "Sexy Hair" Hard Up Gel & Powder Play, also " Tresemme Max Root Lifting cream". Sometimes, I have to rewash my hair because they make my hair look dirty,, But Fructis Finishing Paste is not thick when you warm it in your hands & apply it.. - feels like a lotion, & it also allows my hair to Shine!
Date published: 2018-11-07
Rated

4

out of

5
by
Crowned Queen
from
Dreadlocks approved!
I have had several bad experiences with gel. I am African - Caribbean - American! I wear my locked hair with pride. I like a tame look to my mane at times for professional appearances. I have my hair maintenaned by Loctician's and they use a palm rolled and they use gel. Usually by the second or third day of stying I am ready to wash my hair because of the irritation caused by other gels. This is a gem! I'm keeping my fingers crossed and will comment again with an update. It works for us too!
Date published: 2018-09-14
Rated

1

out of

5
by
Wcgxxx
from
Bring back brilliantine shine water based wax
Compared to the brilliantine wax this is horrible . Leaves hair horribly stiff !
Date published: 2018-09-13
Rated

5

out of

5
by
beattycat
from
Love this stuff!!
I love this!! Tried it on a whim, and this has replaced a much more expensive product. Great holding power and texture
Date published: 2018-08-12
Rated

5

out of

5
by
oakman
from
Excellant
Been using this for quite a long time. I am a male and wear my hair military "hight and tight" and this product holds all day long without any greasy feeling.
Date published: 2018-07-21
Rated

1

out of

5
by
Anonymous
from
90s grungy Wet look nebody? Lol
It made my hair look wet/greasy as tho I hadn't washed it 4 a week! Lol
Date published: 2018-04-02
Rated

2

out of

5
by
TheBrettFamily3
from
Not good for thin male hair
I'm a guy with thin hair, and I tried this product expecting a degree of hold like pomade or styling cream. I found the hold to be to weak for this purpose, but it had a nice shine and neutral smell. May work well for other purposes
Date published: 2018-02-17
Rated

5

out of

5
by
tom3620
from
A wonderful natural hair paste
I love the Garnier Fructis style paste. I like the fact that it is made natural without the harsh ingredients. I believe it works just as good as other hair pastes or sprays I have used but more healthier to use. I like how it is not sticky and keeps my hair in place all day long.
Date published: 2018-02-16
Rated

5

out of

5
by
jerryvogel89
from
Great Hair Paste
I like a very natural styled look for my hair. So I was a bit skeptical in using a Paste. I normally use a light mousse so my hair can still move. My hair is about two to three inches long on top, short in the back. I was pleasantly surprised with Garnier's paste. First and foremost, it is not greasy on your fingertips or hair. It runs through your hair easily and dries up fairly quickly. It left my hair style and in position without the greasy wetness of hair gel. It held all day at school and I didn't even have an issue with the back of my hair after driving home and my head being position on the head rest. Normally I would have redo my hair afterwards but it held wonderfully.
Date published: 2018-02-15
Rated

5

out of

5
by
delaneyc1
from
Holds well, isn't greasy
I'm a male with thick, 3-4 inch hair. This has become my go-to pomade for a handful of reasons. Unlike several others I've used in the past, this product doesn't give a greasy look or have a greasy feel. It's easy to apply, it holds well, and the smell very subtle and pleasing. One application in the morning is plenty to last the whole day. I use it regularly and it has never caused any skin or scalp irritations. I would recommend this to others without hesitation.
Date published: 2018-02-15
Rated

5

out of

5
by
slmporkman
from
Hold Without Smell, Flake, or Stick
I have been using a grade 10 extreme hold sport styling gel in the past to hold my hair in place. A lot of the gel products I've used have a strong smell that is not the most pleasant. They dry and hold your hair together in clumps. Towards the end of the day, they flake off from your scalp. After using this finishing paste for the few weeks, I'm switching to this natural hair glue for good. The Garnier 99% natural Pure clean paste completes your look without all of the negatives. Only positive descriptions can come from a product such as this one. While it keeps your hair in place, it leaves it looking with a natural finish. The defining 24 hour hold doesn't leave you worrying about a mess from the top of your head. While some similar hair glue products might stay in your hair feeling sticky, this product keeps your hair smooth and soft. Plus, it doesn't take very much for it to get the job done. An all around great product for your hair styling needs.
Date published: 2018-02-15
Rated

5

out of

5
by
Alammers
from
Great product for great style
I gave this product a try for three weeks and used pretty much all of it before reviewing so I think I can give it the full review. I very much enjoyed using this hair styling paste. It holds hair very well and has some serious staying power. It is a bit greasier than other pastes I have used but the major benefit vs other ones is that it stays much better in weather like rain. I had it in during a strong rainstorm and where most other pastes would have washed out, this one stayed strong. Definitely would recommend for those that want a paste with serious staying power.
Date published: 2018-02-14
Rated

5

out of

5
by
dynobrelala
from
Curly hair approved
This product was very surprising! Looks like marshmallow fluff but dries clear. I have thick coarse , and curly hair and this gave my puff buns lots of hold! It also worked nicely on my baby hairs for a light hold. It's nice and small so it fits in my handbag for quick touch ups. Also, it's fun to poke at lol
Date published: 2018-02-14
Rated

5

out of

5
by
frogger554
from
Good Hold, Great Product
Garnier Fructis Style Pure Clean Finishing Paste is a fantastic hair product, which holds hair naturally for the entirety of your busy day. Fantastic product that makes me feel good about putting it in my hair, and comes out when I need it to. Definitely recommend.
Date published: 2018-02-14
Rated

5

out of

5
by
Shellbeetay
from
Great product
The Garnier Finishing Paste is awesome! It gives good texture that holds to my hair. I use it to keep my bangs styled where I want, to poof up the back a little, and give lift to the sides. My hair is short and this paste does everything I need! Love it!
Date published: 2018-02-14
Rated

1

out of

5
by
Connorsmommy2014
from
Hoped it would work but..
I love Garnier products but this one just didn't work out for me. It smells great and holds well, but it made our hair look dirty and had a visible texture to it I didn't like. I think I will just stick with their gels. It's very sticky
Date published: 2018-02-13
Rated

4

out of

5
by
bulldog4life13
from
Matte Finish With a Strong Hold
When I opened the container the smell was the first thing that turned me onto this finishing paste. It didn't smell like chemicals or like paste it was actually a pleasant smell. Once you dip your fingers in it's also surprising how silky it feels instead of being sticky and hard to distribute on your hands to get an even application. I usually use a blow dryer first to get volume and using this paste helps lock that volume in place while still being light but it has a hold that will alst all day. I would definitely recommend this ot anyone who wants to achieve style while maintaining a natural look.
Date published: 2018-02-13
Rated

4

out of

5
by
mrsraymonds4
from
Everyone likes it
My husband loves the way this product works. Easy to use, great scent and cleans easily from his hands. His hair looks great all day long! I'm glad that I can pick up more at my local Walmart when he's finished this tub. I believe I also seen it at Walgreen's. My daughter has played with it a bit to "train" her new hairstyle as well. It's a bit more work for her, but she seems to like it as well.
Date published: 2018-02-13
Rated

5

out of

5
by
eanderso
from
Works like a charm!
I've been using Garnier Fructis Style Pure Clean Finishing Paste for about 3 weeks, and I love he feel of it. It holds my hair well, even with my daily bike commute that requires strapping a helmet to my newly combed hair each morning. A quick re-comb after I get to work, and my hair stays nice and put for the rest of the day. My previous hair product was a gel, and I love that this paste leaves my hair both feeling and looking more natural. I'll be sticking with this new product!
Date published: 2018-02-13
Rated

3

out of

5
by
dspillman
from
Middle of the road product
This product is one of those that is just ok. It isn't great, but will do in a pinch. I have relatively short hair and expected it to have more hold than what it did. It just wouldn't hold my hair in place. If you are looking for a budget friendly paste, than this would work for you. Otherwise, spend a few more dollars and get a more superior product.
Date published: 2018-02-13
Rated

4

out of

5
by
Stephengillon
from
Great product from a trusted brand.
I have used Garnier products in the past and have been satisfied with them. I began using this product to determine if it would be a good alternative to products I already use. My hair is very thick and after a few weeks of use I can say that it has its ups and downs. The issue that I have with this product may be entirely my fault. The one that I got has a 3 out of 5 for hold. My hair is pretty thick and when it gets a little longer this product is not able to hold it very well. That could be my fault as I have not tried the strong version yet. I likely will though because it doesn't make my hair feel gross and it also smells amazing. My wife loves both of those things about it as well. I cannot give a 5 out of 5 until I try the stronger version myself. No matter what even if it doesnt hold it does make my hair look considerably better than if I do not put anything in it at all. The product label states 24 hour definition and I will attest to that statement.
Date published: 2018-02-13
Rated

3

out of

5
by
cjshackleford18
from
Not for me....
I think this was an okay product. If I was in a store purchasing products, this is something that I'd more likely overlook. This product doesn't exactly say what it's for. Upon getting the product I thought it was edge control mainly based off the size of the container. So i put some on, yup definitely not what that's for. So on my wash day I decide to use it as a curl creme. I gave some of my hair some definition and it did hold for the entire day with some raw shea butter as my oil. Maybe this product would work on a different type. I am not sure, but for what it's worth i'll probably use it again but it will not be my first choice.
Date published: 2018-02-12
Rated

4

out of

5
by
abk1126
from
Pure ckean finishing paste
I think this worked very good initially. But after a while my hair became very frizzy. I do not believe this is due to the product itself but most likely just my hair. It applied very smoothly, I did not find it to be sticky at all. I only use a little at a time about a nickel size amount. It did last me all day with no flaking or stiffness, and I did like that it was remoldable throughout the day. Overall I liked it very much. My only downside was how it made my hair frizzy after a while of application.
Date published: 2018-02-12
Rated

4

out of

5
by
Lulubee08
from
Garnier Fructis Finishing Paste
This product is great for accentuating layers in your hair and holding hairstyles in place. I used it with both straight hair and curls and it worked wonders for me! I found that it was easier to rub it between my palms for a few seconds and then apply it to my hair and opposed to just rubbing it on my hair immediately. The only thing that was an issue for me is that it's kind of thick and weighed my hair down so I would have to wash my hair after every use, which is not ideal for me. Overall, the product was great and I definitely would recommend this to others
Date published: 2018-02-10
Rated

4

out of

5
by
SocWrk10
from
Smooth Natural Hold
Garnier Fructis has done it again. This Natural, Pure Clean, Finishing Paste is a great product providing a light, non-stiff/sticky hold and washes out easily. Although it leaves a great hold, if your play with your hair, throughout the day, you can tell product is in your hair to the touch. I have used this product on various lengths of hair and it works great regardless. This Natural Finishing Paste doesn't leave your hair feeling greasy or weighed down and provides a dry natural finish. I use this product as a "primer" and follow it up with a second product to achieve a natural shine, as I prefer that look, although this is not necessary and is only a personal preference. Way to go Garnier; another success to your product line!!!!
Date published: 2018-02-10
Rated

5

out of

5
by
jiffyjon54
from
Very Happy!
I've been using Garnier Fructis Pure Clean Finishing Paste for almost two weeks and have been happy with the results. I love how it's still moldable even hours after applying. My hair seems to have a mind of its own and can be hard to style depending on the day. I have not had a bad hair day since using this and it's made styling my hair quick and easy, leaving me happy and confident throughout the whole day! Note: one picture is beginning of the work day and one 12+ hours after. Can you tell which is which?
Date published: 2018-02-08
Rated

5

out of

5
by
kimmel6409
from
Hold without the shine
I absolutely love this product. I've been looking for something for my sons hair that has a gentle hold without the hardened he'll look. He loves it!
Date published: 2018-02-08
Rated

5

out of

5
by
SaraMay
from
12 hours of guilt-free, perfect hair!
Wow! I am a nurse so I work 12 hour shifts, which can do crazy things to a person's hair. I typically don't wear a lot of products in my hair when I work because it would take a lot to hold up against those busy 12 hours and I don't want to put all of those chemicals down the drain. I now have the perfect solution! The Garnier Fructis Pure Clean Finishing paste held my layers perfectly for my whole shift. One of the next shift nurses actually thought I had just arrived to work! It didn't leave my hair feeling stiff or sticky either! I will definitely be using this product on a daily basis from now on, all while feeling no guilt for increasing chemical levels in our water systems.
Date published: 2018-02-06
Rated

5

out of

5
by
hundlj
from
Great hair product
This is a great hair product that holds all day and works with many hairstyles. It isn't greasy or sticky and it's a light hold that doesn't clump a lot hair together. I really like that it's 99% naturally-derived and that the hold is the same as other Garnier Fructis hair products I've used. It's best if applied to damp hair and even works with curly hair.
Date published: 2018-02-06
Rated

5

out of

5
by
jwest05
from
Best Hair Product on the Market
Wow, where do I start? This is an outstanding hair product that gives my hair an all day hold. I'm a 31 year old male that likes the look of a "finished" hair. I don't like that dry, frumpy look after you get out of the shower. I would prefer this product over a pomade, because you don't get that greasy hair look. It holds great even after playing basketball for an hour 3 days a week. I also like how the hair product washes right off with soap and water when I'm done styling. If you are looking for a hair product with the hold of pomade without the greasy look, then this is the product for you!
Date published: 2018-02-04