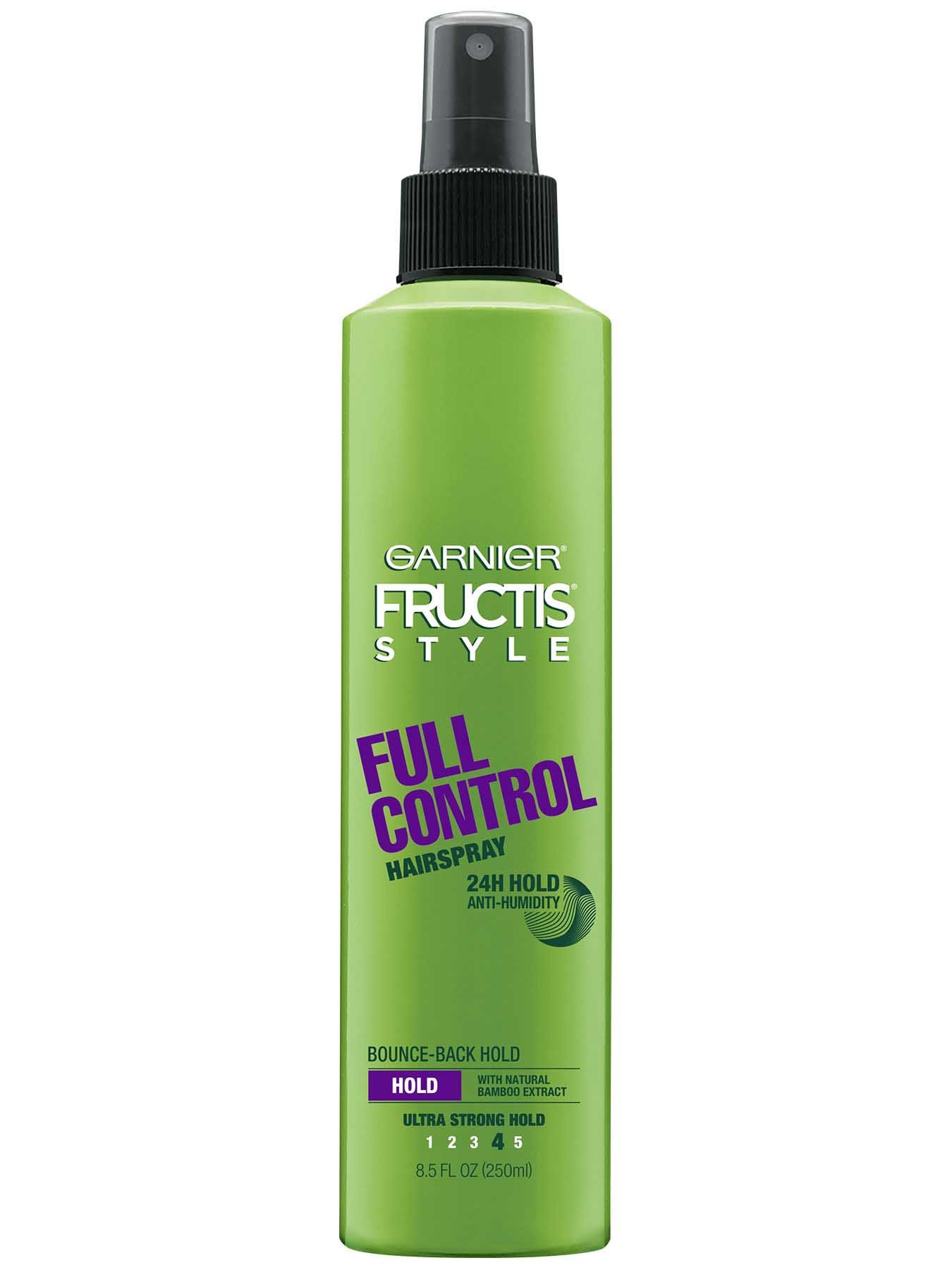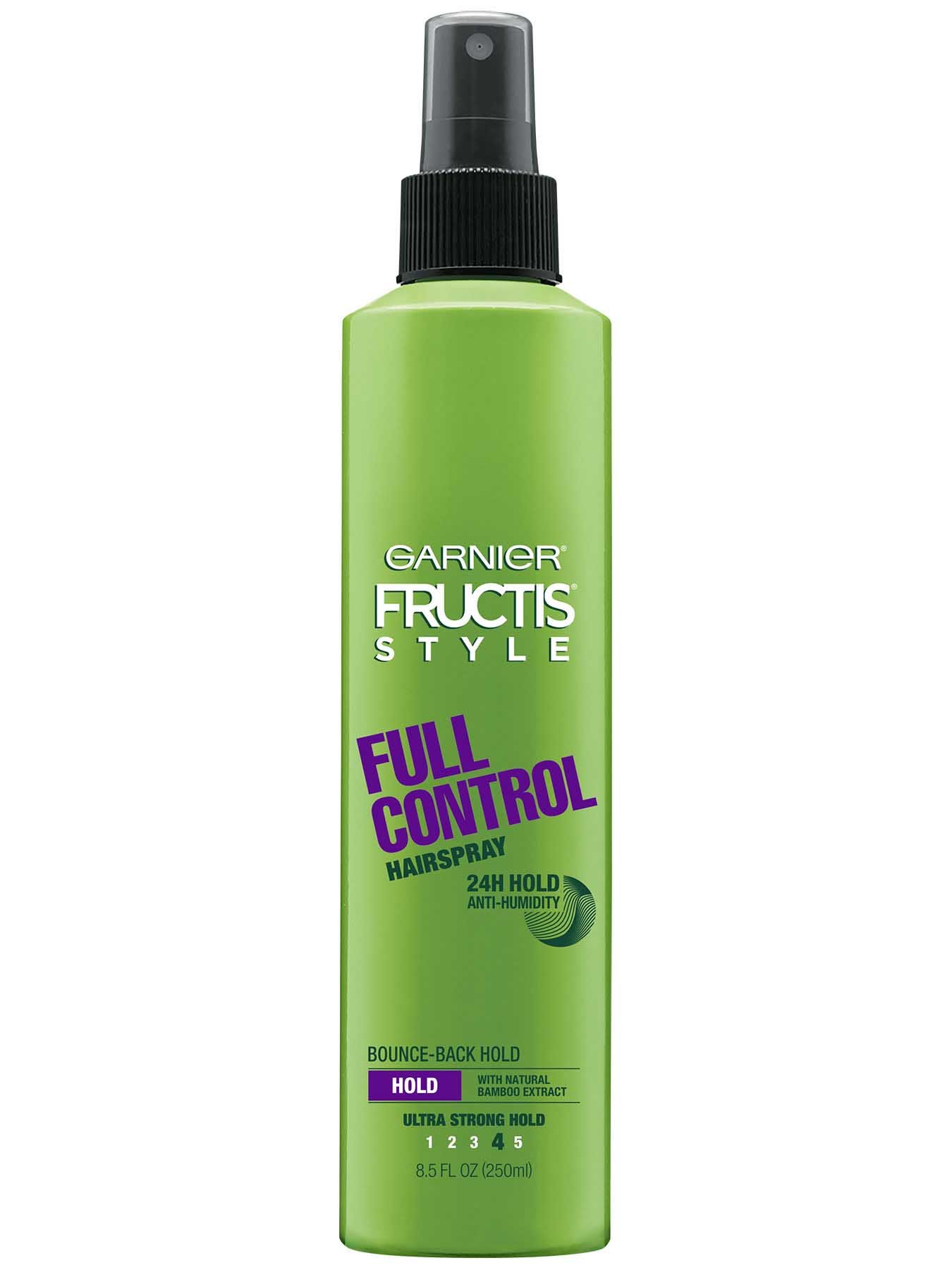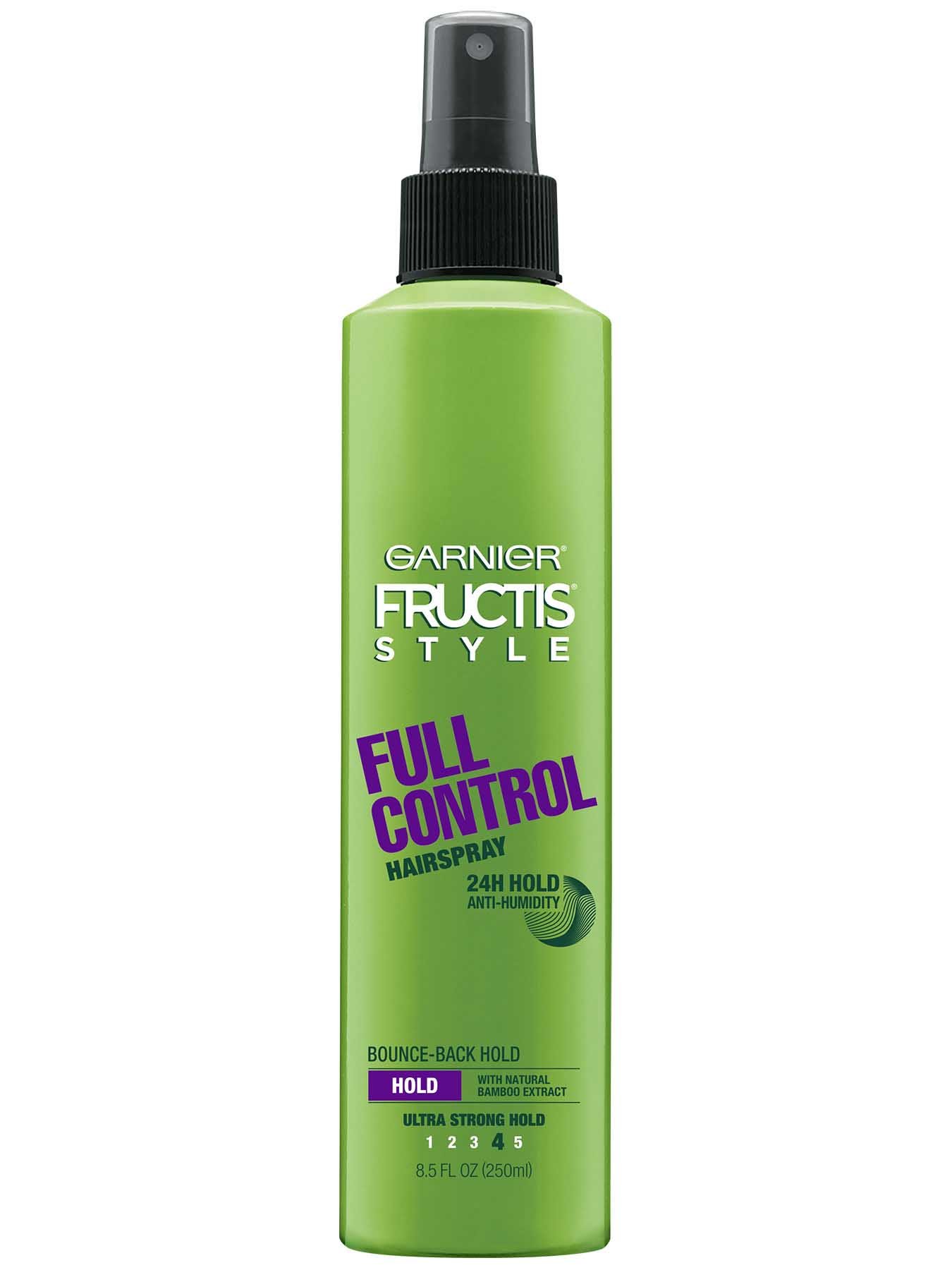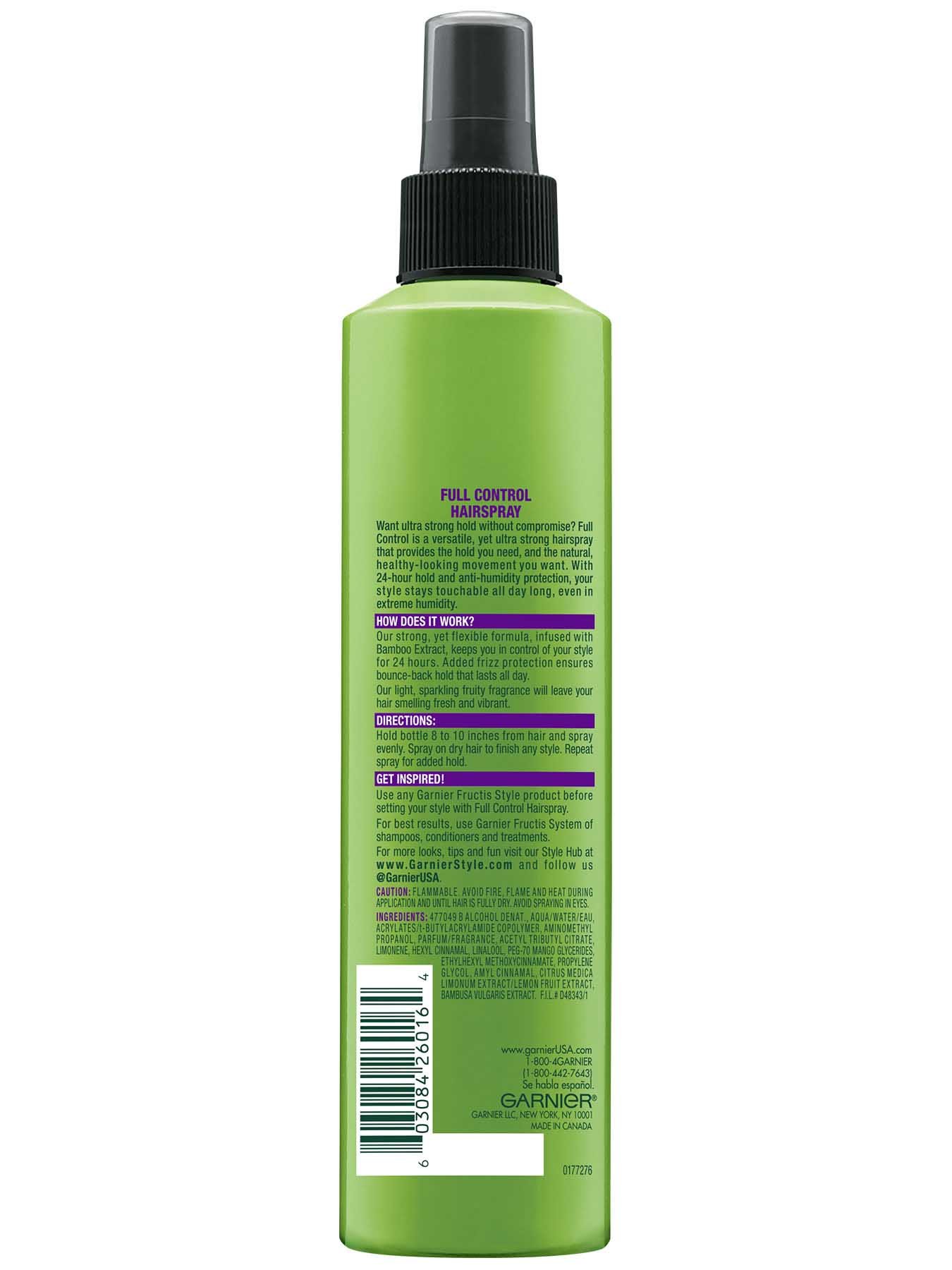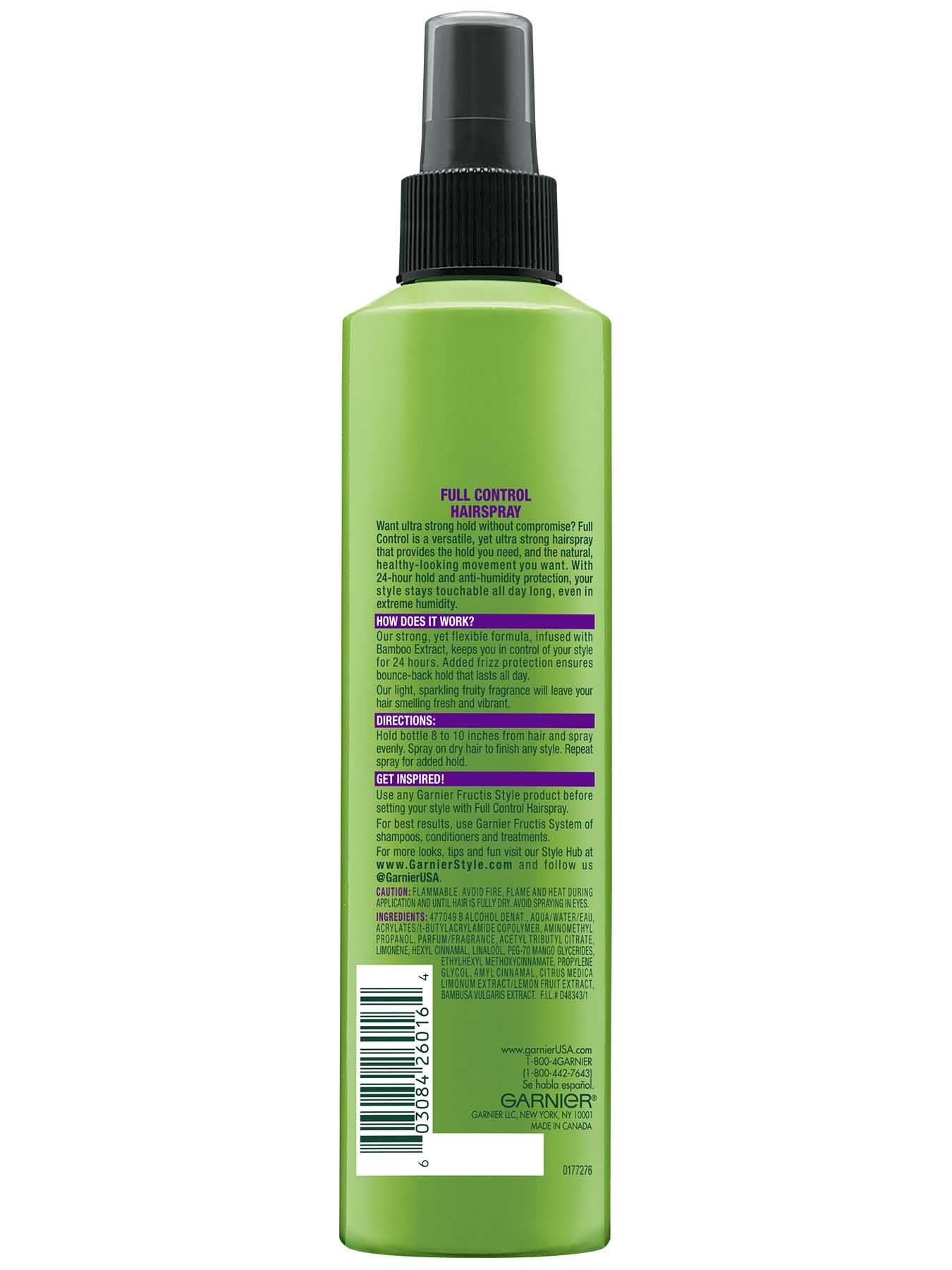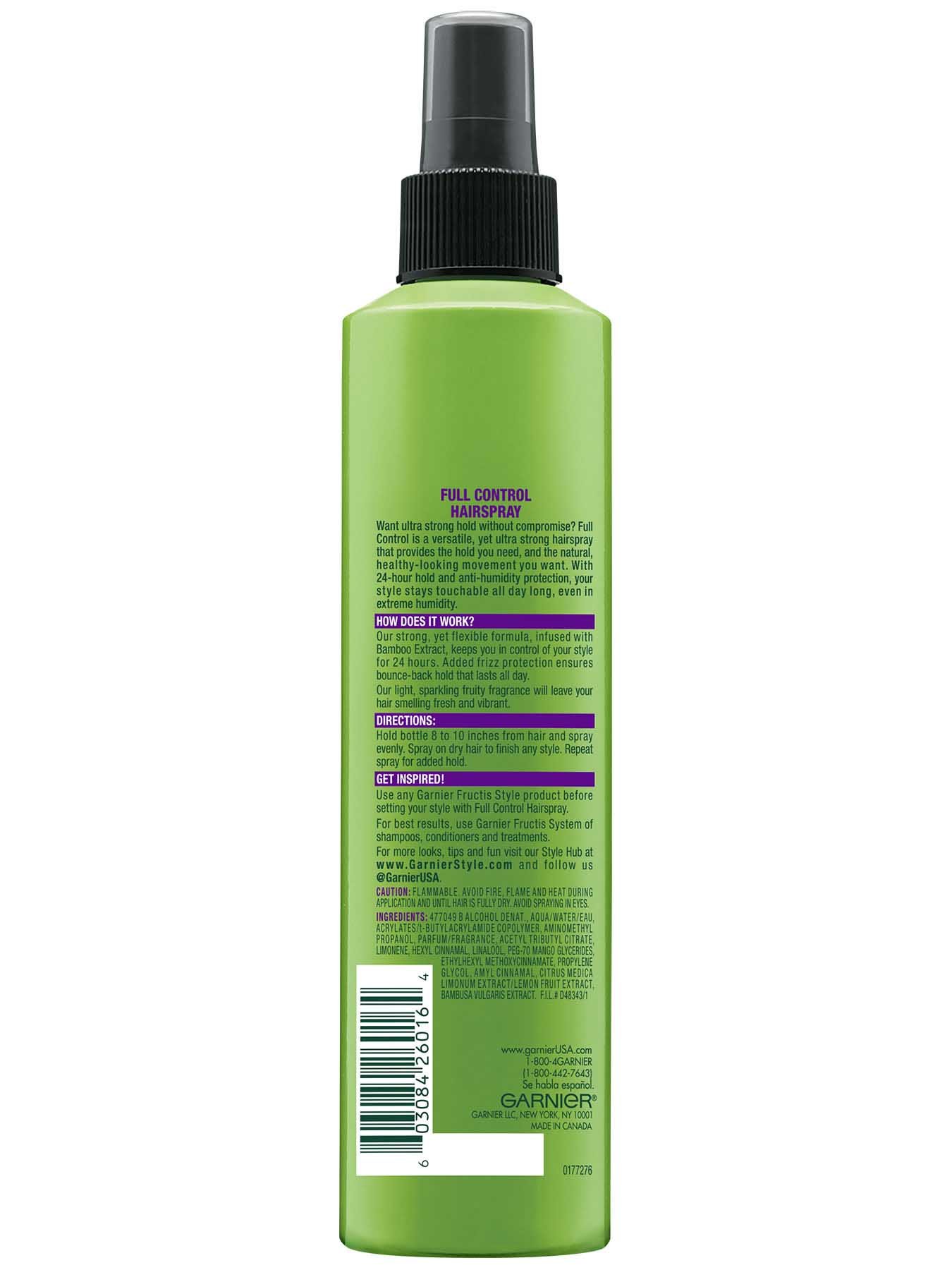 Full Control Anti-Humidity Non Aerosol Hairspray
Garnier Fructis
$4.29 MSRP
Ultra-strong hold over any style
PRODUCT INFORMATION:
Ultra-strong hold over any style
Want ultra strong hold without compromise? Garnier Fructis Style Full Control is a versatile, yet ultra strong hairspray that provides the hold you need, and the natural, healthy-looking movement you want. With 24-hour hold and anti-humidity protection, your style stays touchable all day long, even in extreme humidity.
HOW DOES IT WORK?
Our strong, yet flexible hold formula, infused with bamboo extract, keeps you in control of you style for 24 hours. Added frizz control ensures bounce-back hold that lasts all day. Our light, sparkling fruity fragrance will leave your hair smelling fresh and vibrant.
How to use:
Hold can 10-12 inches from hair and spray in an even, all-around motion. Spray on dry hair to finish any style. Repeat spray for added hold.
Ingredients:
477049 B Alcohol Denat., Aqua/Water, Acrylates/T-Butylacrylamide Copolymer, Cyclopentasiloxane, Acetyl Tributyl Citrate, Peg-192 Apricot Kernel Glycerides, Peg-70 Mango Glycerides, Aminomethyl Propanol, Limonene, Linalool, Propylene Glycol, Bis-Peg/Ppg-14/14 Dimethicone, Citrus Limonum/Lemon Extract, Hexyl Cinnamal, Amyl Cinnamal, Parfum/Fragrance. F.I.L. C223329/1
Related Products
Garnier Fructis
Full Control Anti-Humidity Aerosol Hairspray
All day hold, even in 90-percent humidity
Rated

2

out of

5
by
Vemariconda
from
Not a fan of this product
Not much of a hair spray lover in the first place, I can never find one to keep the mess on my head tame. This hairspray has an awful hold and smells like alcohol, very. Wry strongly. I don't like it and wouldn't buy it.
Date published: 2018-02-04
Rated

5

out of

5
by
mayrama
from
Freeze no more
I like the Garnier fructís style full control hair spray because It holds my hair for hour and smells good also.
Date published: 2018-02-04
Rated

5

out of

5
by
JessWilk
from
Garnier Fructis Style
I think this hairspray is all around amazing. It does exactly what the product says it is going to do. I have very thick and frizzy hair. This product tames my flyaways, reduces frizz, and doesn't make my hair feel crunchy.
Date published: 2018-02-03
Rated

5

out of

5
by
Mamax3in2017
from
Hair Spray Love
I think that the hold was amazing. I have very fine short hair and it held it all day in the cold and damp air. Loved using this hair spray!! Definitely will be buying more of the Garnier Fructis Style Full Coverage hair spray!! It didn't leave my hair greasy or so hard you could break an egg with it either.
Date published: 2018-02-03
Rated

5

out of

5
by
katmeowmixx
from
i lovvvvee this product!
i think i would want to know about this product id that is aerosol free gives a strong hold while i=your hair moves naturally. this product is fantastic! I love that its non aerosol and it doesnt make my hair hard and stringy like other products do. it isnt so heavy that my hair goes flat and fizzy at the ends best of all the natural movement my hair makes!!! I LOVE LOVE LOVE this stuff!!!
Date published: 2018-02-03
Rated

4

out of

5
by
JoUmphrey
from
Awesome product!
I love that this product locks all of my hairs into place. I subtracted one star because it lacked a scent. It would be nice if the product has a pretty scent to it.
Date published: 2018-02-03
Rated

4

out of

5
by
eleblanc
from
Great product
I have intensely curly hair so I was skeptical about using a spray like this, I typically stick to mousse. But I sprayed this in wet and my hair looked great and not as poofy as usual ALL DAY! Impressed!! You so have to use a decent amount if you have a lot of hair but it doesn't make your hair crunchy, it's still manageable.
Date published: 2018-02-02
Rated

5

out of

5
by
Kymber7
from
Amazing!!!
I haven't use holding spray in forever and even when i did it wasn't to great. My hair would still be frizzy, hard, flaky, and sticky when your first apply. The garnier style full control anti frizz worked wonderful in my hair. My hair was soft and majority frizz free. My hair is thick and curly so i need all the anti frizz i can get and this delivered!!! Great product
Date published: 2018-02-02
Rated

5

out of

5
by
Cheryl252005
from
Loved it and holds great
This product is amazing! It holds great, it's not sticky and it doesn't make your hair hard as a rock!!! Will definitely continue to use this product!!
Date published: 2018-01-31
Rated

3

out of

5
by
Misscatiedee92
from
Smells really good
It smells good. Too sticky for me. Holds nicely. But that's about it. Not bad but not good. Kinda meh. But it smells really good.
Date published: 2018-01-31
Rated

3

out of

5
by
singer10398
from
I like it BUT
And of course there is a BIG "but" I enjoyed this product, for a low cost and the simple but yet nice packaging, it works. It works well in the fact of it does what it is supposed to do, it keeps most of my hair tamed down and little to no flyaways. My only real complaint is that it's almost impossible to brush out. I don't want to have to wash my hair after every use. If I would have known that it would make my hair hard to manage, I most likely wouldn't have gotten it. If your looking for a days wear of hair and then to wash it that night, it would be fine. Otherwise if your looking for everyday holding spray I wouldn't.
Date published: 2018-01-31
Rated

5

out of

5
by
Suselgonzalez
from
I love the product
use the product and I am fascinated with its result. the hair is silky and soft. I held my hairstyle all day. I liked it a lot and I will definitely recommend it to my friends and I will buy it in the future
Date published: 2018-01-31
Rated

5

out of

5
by
Jessabelle92
from
FINALLY! A product that works!
I have extremely thick, curly, coarse unruly hair. I've had trouble finding shampoo and conditioner that work for me, let alone hairspray. FINALLY!! A product that actually works for me! This actually tames my frizz and holds my curl all in one go! I tried this product on a rainy day and didn't see any frizz the whole day. I also love how this doesn't leave my hair crunchy or stiff.
Date published: 2018-01-31
Rated

4

out of

5
by
chassymarie89
from
Garnier Fructis Style Control Hairspray
I loved Garnier Fructis Style Full Control Hairspray 24 hour hold anti- Humidity made with natural bamboo extracts. I don't use aerosol hairspray so its hard for me to find a brand that actually takes my hair. Especially when I use a hairdryer. I have naturally curly hair that likes to frizz up and is hard to control. I used this product strait out of the shower and I used my blow dryer and my hair stayed in place and was smooth. It last about all day and I would also like to add that it doesn't have an over powering smell once its in your hair like some brands do. Its great for naturally curly, frizzy hair. You won't go wrong giving this product a try!
Date published: 2018-01-31
Rated

5

out of

5
by
Jonidoll
from
Curly hair don't care
I think the full control spray is just that, full control! I have natural curly hair and it kept the fly always down the the curls locked all day durning my 8 hours shift at work! It smells great too. I love love love it!
Date published: 2018-01-31
Rated

5

out of

5
by
CPOSTIN
from
Great hairspray
I really liked this hairspray. It tamed my hair without making it hard or stiff. There was a very natural feel to it. Coincidentally enough, my first time using it was on a rainy day. I spent the day running in and out of stores without my hair frizzing!
Date published: 2018-01-30
Rated

5

out of

5
by
kkeilman
from
Love this product!
I have super thin and fine hair, it always seems to frizz up. I used this product and no more frizz!
Date published: 2018-01-30
Rated

4

out of

5
by
littlewiseowl
from
Mostly good!
I have extremely curly hair so I was a bit skeptical about how much frizz and curl this product could actually maintain. I was pleasantly shocked though as it held my curls together pretty well for a short while. After around four hours, however, my hair began to frizz up and I had to reapply some of the spray to keep my curls in tact. Otherwise, the product smells nice and works well even with difficult hair like mine. All in all, I think this was a good product!
Date published: 2018-01-25
Rated

5

out of

5
by
silbook
from
Great holding
My hair is very fine, limp, thin, and flat. This hairspray holds my hairstyle even in our humid summer climate.
Date published: 2017-11-04
Rated

5

out of

5
by
CharliesAngel
from
Awesomeness!!
I absolutely love this hair spray! PLEASEE do not discontinue it. I have tried them all and either the scents are so horrid or they don't hold. This doesn't bother my allergies or make my head itch. It's a barely there scent that dissipates quickly. The hair spray holds really well and I have very long unmanageable hair. I couldn't be more pleased with it. It tames the flyaway, split ends and holds everything in place better than anything I've tried and I've been using hairspray for 30+ years. :)
Date published: 2016-09-07
Rated

1

out of

5
by
DOUGIELLE
from
DESTROYED MY HAIR!!!
For as long as I can remember(at least 10 years) I have used Garnier Super Stiff Gel until it was discontinued. I have tried a variety of different Garnier products and what I notices was a "Nair" like smell when I dried it and locks of my thick coily hair falling out. I had long thick resilient curls and now I have dry sad brittle hair that I will have to go to a salon to fix. I stopped using ALL Garnier products and while its still destroyed and falls out I no longer have locks of hair in the bottom of my tub. DONT PUT THIS PRODUCT or IN YOUR HAIR!!!!!
Date published: 2016-06-23
Rated

2

out of

5
by
lisa27
from
Changed formula
This has been my favorite hairspray for years. Left my fine hair shiny and soft but full of volume that held all day...even in high humidity. Now it leaves my hair dry and flat...no better than any other cheap hairspray.
Date published: 2013-03-21
Rated

5

out of

5
by
JJesse
from
Great frizz control!
This stuff is the best anti humidity hairspray ive ever used! It completly locks out humidity and is very lightweight.
Date published: 2012-10-24
Rated

5

out of

5
by
CTHusky
from
Great Hold for fine/fly away/curly Hair
Great product for control of fine, curly, frizzy fly away hair. Use while wet and comb through and let air dry for better control. If you comb too much you lose hold!! Will dry out hair so use Garnier moisture creme on occasion.
Date published: 2012-02-14
Rated

5

out of

5
by
Sunny
from
This product rocks!
I absolutely love,love, this non aerosol hair spray! It held my hair the best of any non aerosol products that I have ever tried! I didnt weigh my hair down, smelled awesome and worked great!
Date published: 2012-02-14
Rated

5

out of

5
by
JUDY316
from
Love this hairspray
I've been using this product for a while now and wouldn't dream of using anything else!! My hair is fine and loses it's body quickly. This spray helps it last and that's not easy to do! I always use unscented products when I can and this has a very light scent and doesn't affect my allergies at all.
Date published: 2012-02-14
Rated

5

out of

5
by
charliecat31
from
great hold w/o being stiff & crunchy
I've tried many hairspray brands and was never really happy until I found Garnier Full Control Non Aeresol. I wanted to stay away from aeresol types but all the non aeresol sprays lacked the hold I wanted and were difficult.to apply evenly. But Garier gives me a long lasting hold w/o being too stiff and crunchy. An added plus is that my husband loves it too so we don't have to have two different types/brands cluttering up the cabinet.
Date published: 2012-02-14