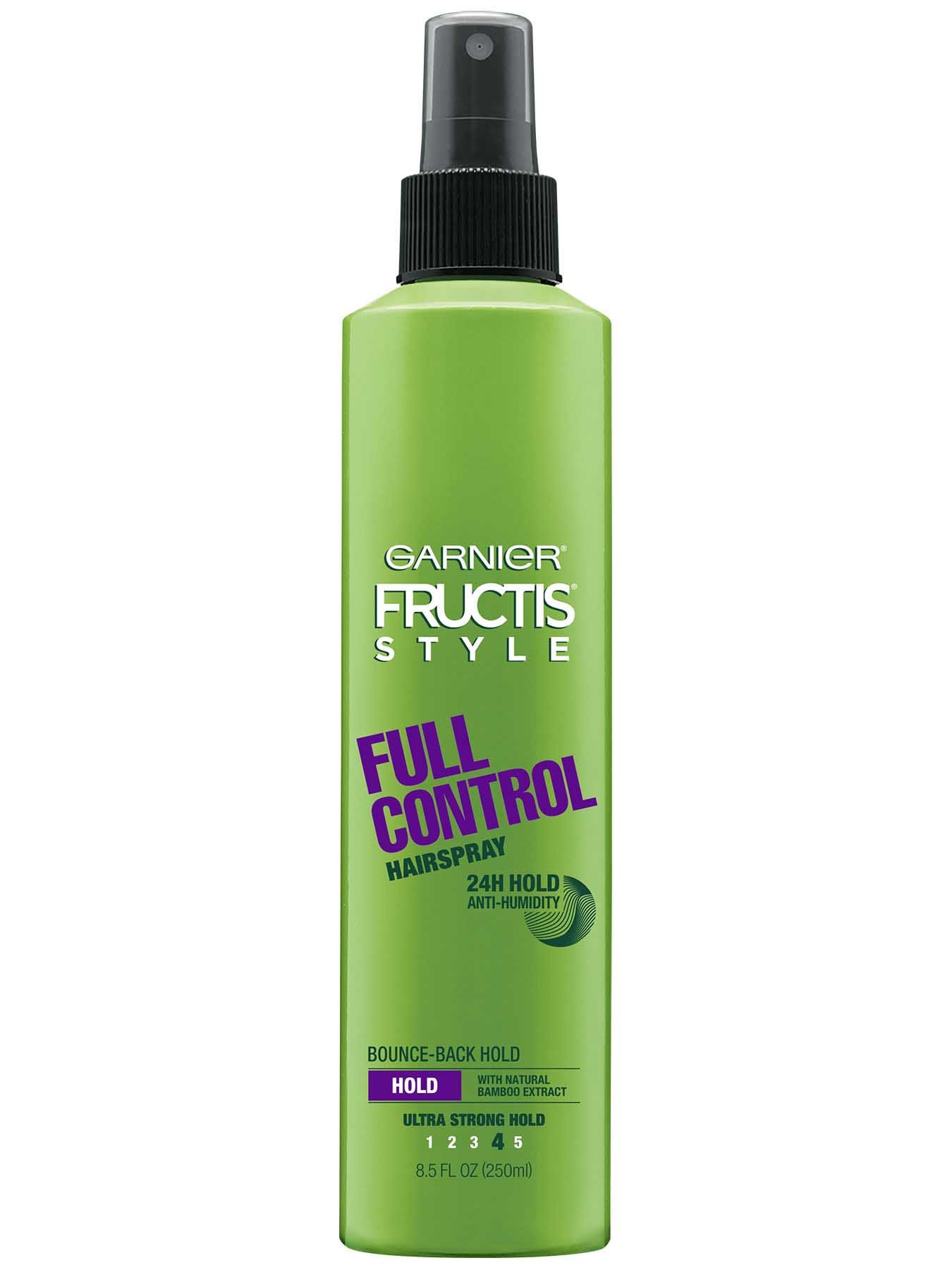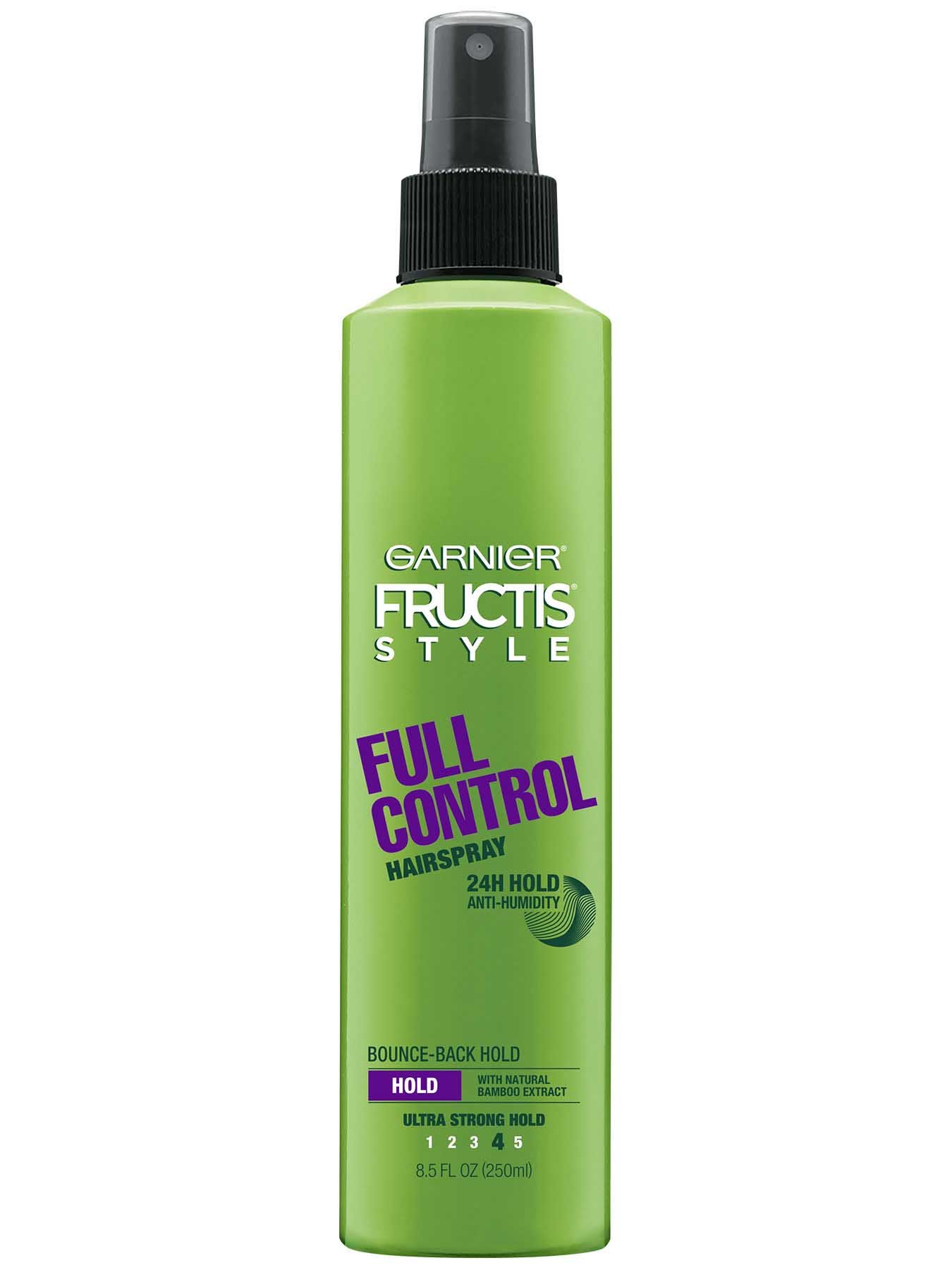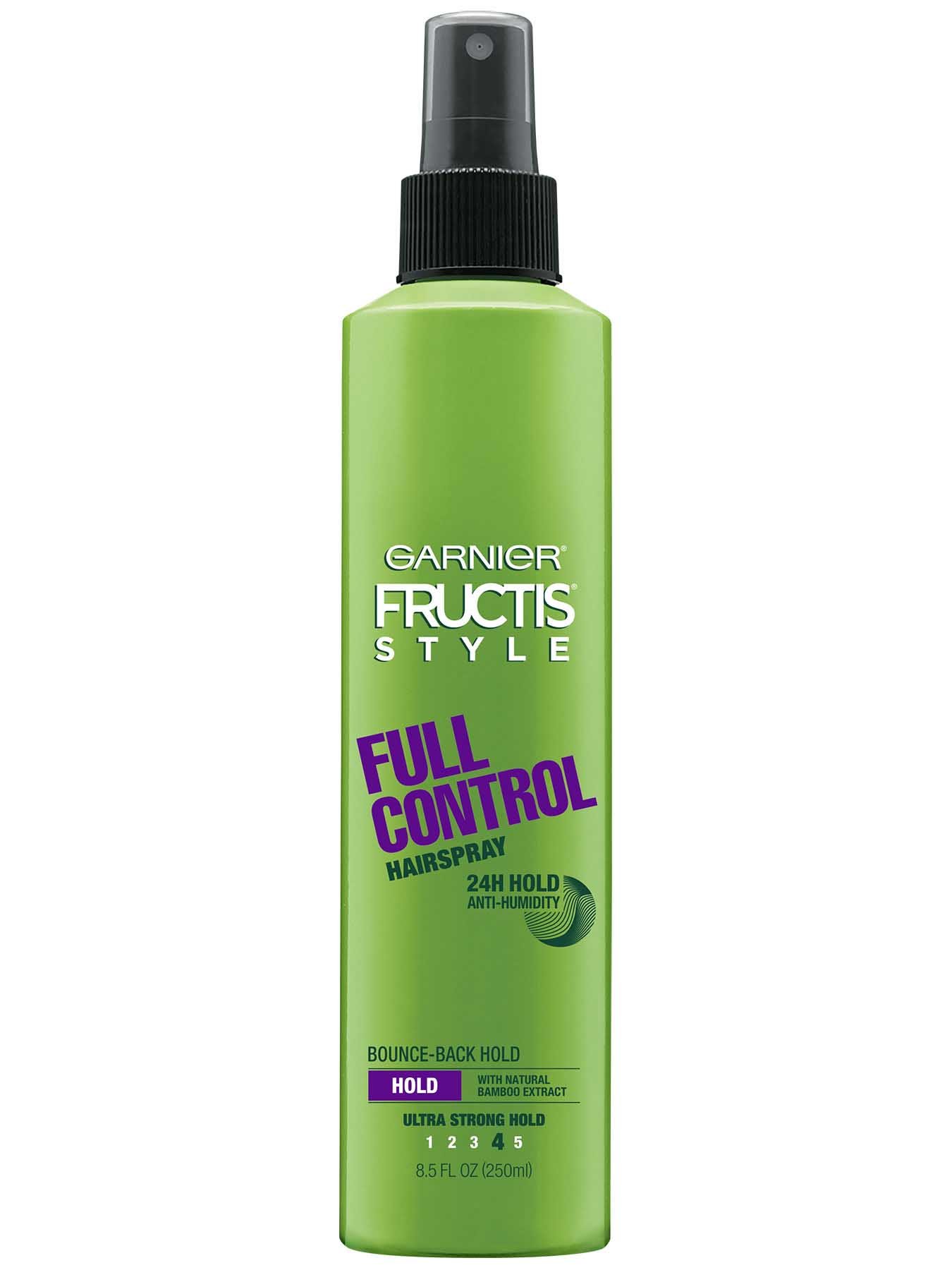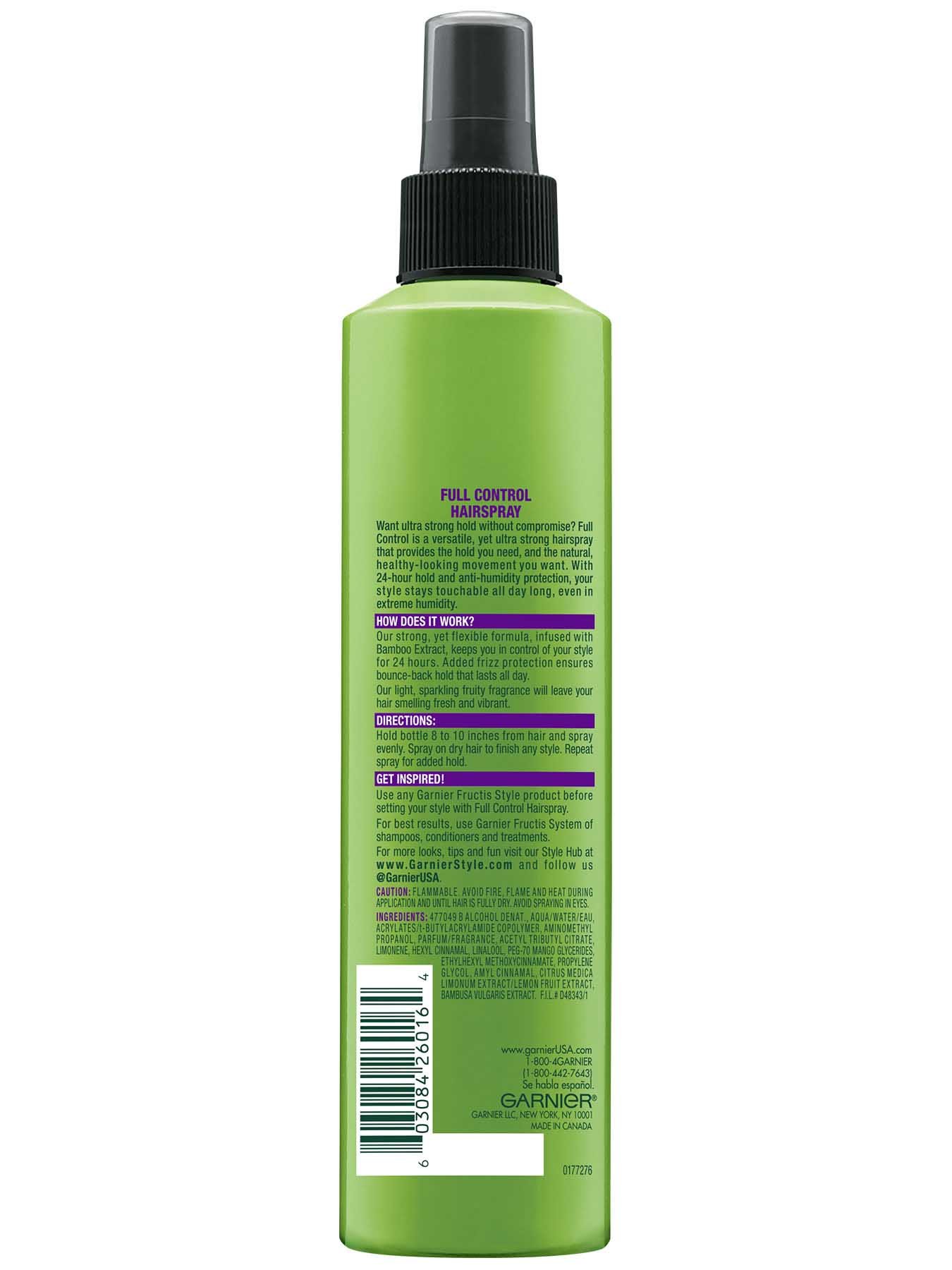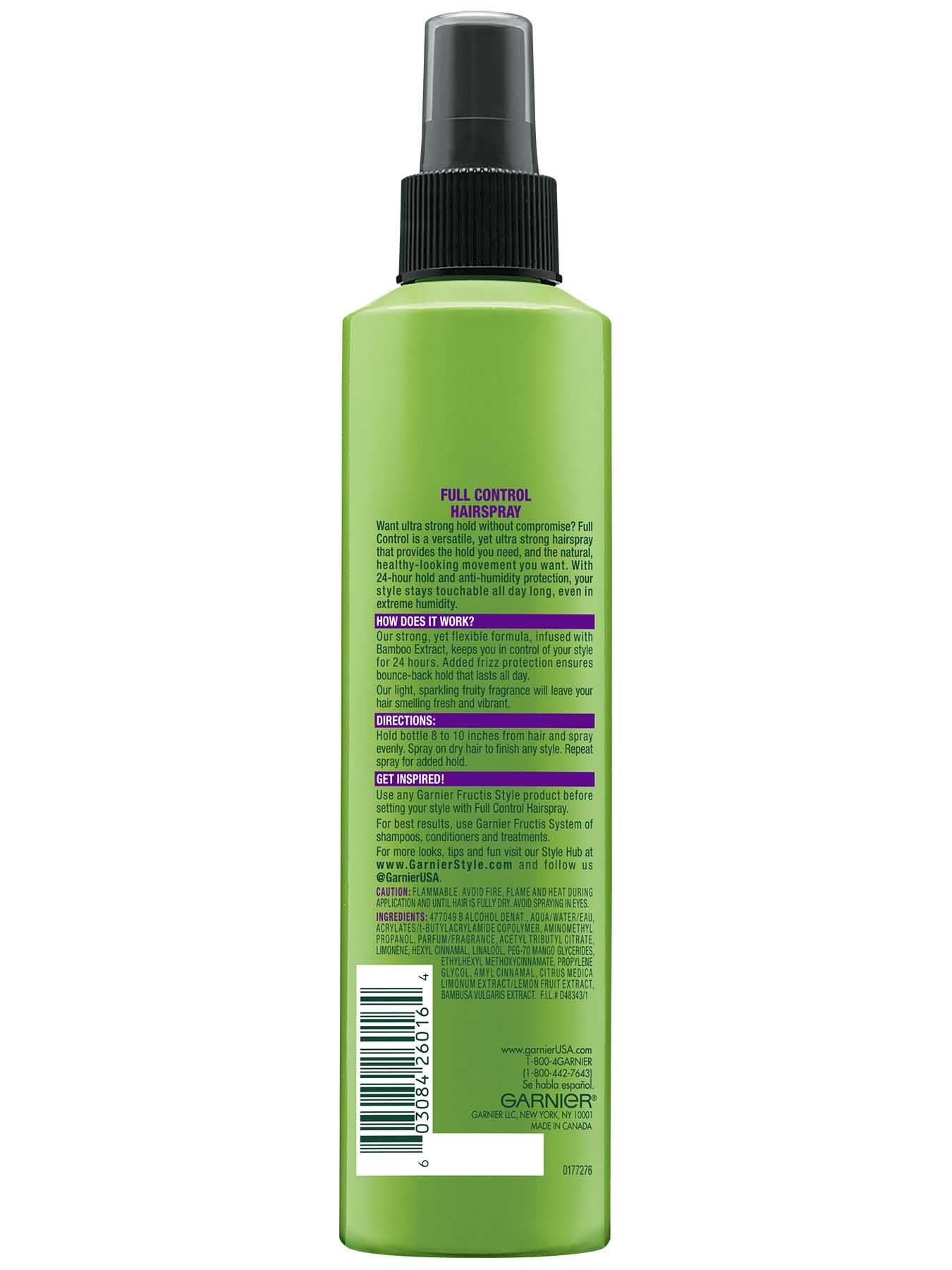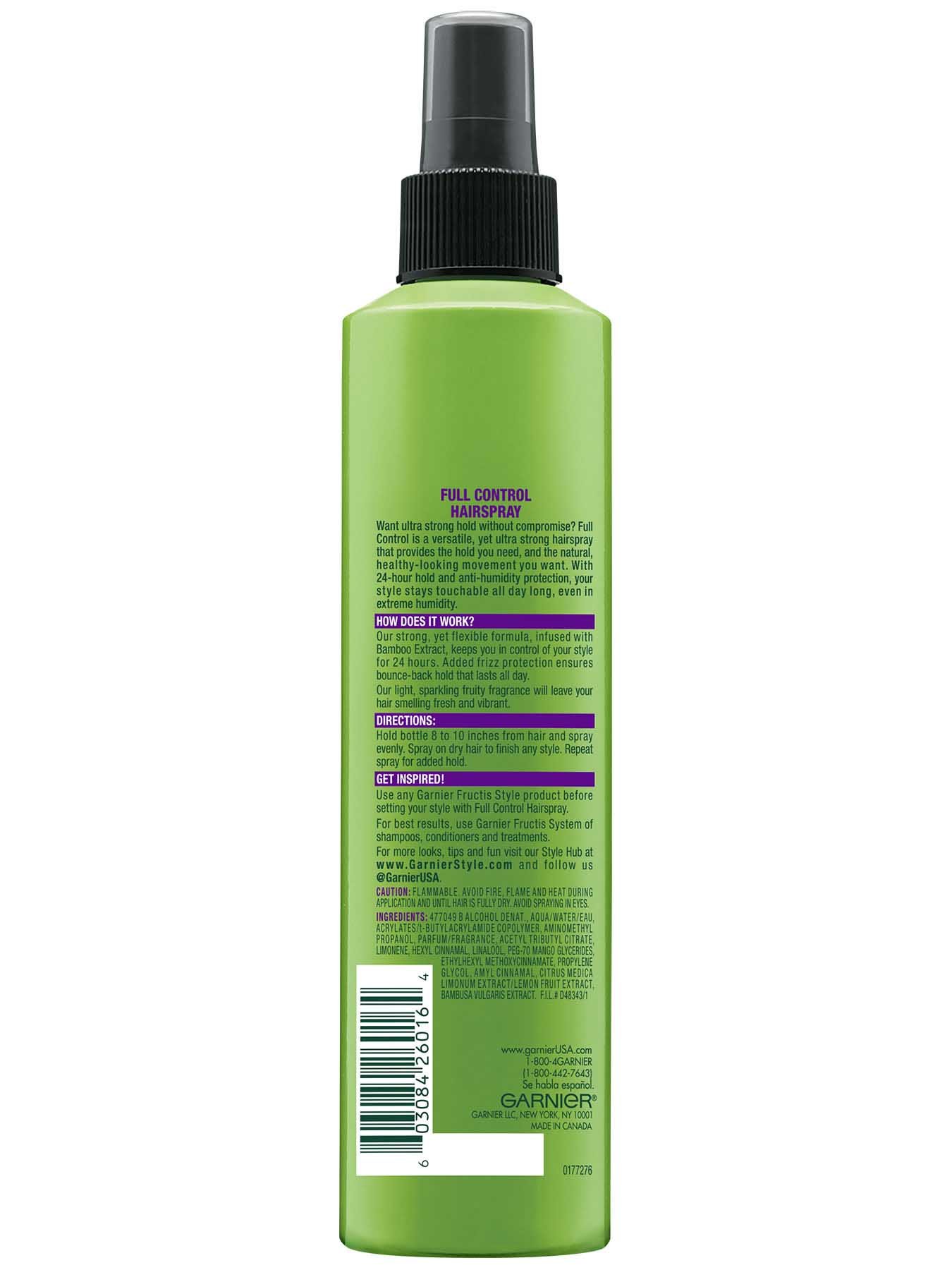 Full Control Anti-Humidity Non Aerosol Hairspray
Garnier Fructis
$4.29 MSRP
Ultra-strong hold over any style
PRODUCT INFORMATION:
Ultra-strong hold over any style
Want ultra strong hold without compromise? Garnier Fructis Style Full Control is a versatile, yet ultra strong hairspray that provides the hold you need, and the natural, healthy-looking movement you want. With 24-hour hold and anti-humidity protection, your style stays touchable all day long, even in extreme humidity.
HOW DOES IT WORK?
Our strong, yet flexible hold formula, infused with bamboo extract, keeps you in control of you style for 24 hours. Added frizz control ensures bounce-back hold that lasts all day. Our light, sparkling fruity fragrance will leave your hair smelling fresh and vibrant.
How to use:
Hold can 10-12 inches from hair and spray in an even, all-around motion. Spray on dry hair to finish any style. Repeat spray for added hold.
Ingredients:
477049 B Alcohol Denat., Aqua/Water, Acrylates/T-Butylacrylamide Copolymer, Cyclopentasiloxane, Acetyl Tributyl Citrate, Peg-192 Apricot Kernel Glycerides, Peg-70 Mango Glycerides, Aminomethyl Propanol, Limonene, Linalool, Propylene Glycol, Bis-Peg/Ppg-14/14 Dimethicone, Citrus Limonum/Lemon Extract, Hexyl Cinnamal, Amyl Cinnamal, Parfum/Fragrance. F.I.L. C223329/1
Related Products
Garnier Fructis
Full Control Anti-Humidity Aerosol Hairspray
All day hold, even in 90-percent humidity
Rated

2

out of

5
by
SillyDingo
from
Garnier hairspray
I was given this to review and was super excited because it said it was anti humidity. Living in Florida I experience humidity day after day. There is no use curling or straightening your hair because the moment you went outside it turned into a mess. Personally the humidity made my hair poof out. I was hoping this was the answer to my problems, however it didn't seem to be as anti humidity as it claims. The frizz came back after maybe 2 hours. The hairspray also didn't smell fruity, more like a container of rubbing alcohol. It left a crunchy feeling in my hair as well. The only plus side was it was easy to get out.
Date published: 2018-02-16
Rated

4

out of

5
by
BeenaH
from
No crunch!
I really liked this product for the most part. When it comes to hairspray, I absolutely have to have a product that doesn't make my hair super crunchy after using it. That is not a good look! I wanted to use it for a little while before reviewing and I can definitely say that this spray holds my curls without the crunch and smells amazing! On the downside, I did find that it dries my hair out if I use it too often. I would use a leave in conditioner if using this product a lot. All in all, it's a good product that does what it's inteded to do.
Date published: 2018-02-16
Rated

5

out of

5
by
Nainers
from
Great hold!
This is a great hairspray! It works great to tame my flyaways when I wear a ponytail and when I wear my hair down and want a more sleek look. It smells nice and really works all day. A little goes a long way and doesn't leave tote hair too crunchy either, and washes out easily with sulfate free shampoo.
Date published: 2018-02-16
Rated

4

out of

5
by
kacielou
from
Different than the test
I wasn't sure I liked the wet feel of this hair spray but It's like a cross between hair spray and spray jell. It doesn't come out making I hard to breathe like the traditional hair spray. It leaves my hair feeling soft go the touch but keeps my curls in. I love it after a few uses.
Date published: 2018-02-16
Rated

5

out of

5
by
Vash2004
from
Hold without the crunchies!
When I think of non-aerosol hair spray, I think of the times when I was a kid that my mom would drench my hair unevenly and it would be clumpy and crunchy. Then in walks Garnier Fructis Full Control non-aerosol, and I love everything else Garnier... So I give it a try. And it's amazing! This sprays evenly and it doesn't leave hair feeling all gross and crunchy. You can brush it out and run your fingers through your hair. And it holds! I was about to curl my hair on a Thursday and still wake up to curly hair on Friday morning. It holds even the heaviest, thickest hair. It doesn't leave hair feeling gross and full of product... What more can I say? Garnier Fructis wins, yet again.
Date published: 2018-02-15
Rated

1

out of

5
by
MamaNixon
from
Bad Product
It didn't work like it said it would. My hair became hard and crispy. But I also still had issues with frizz. I'll just keep looking for a product that actually works. I won't be recommending this product.
Date published: 2018-02-15
Rated

4

out of

5
by
luvashh
from
Love their products
I enjoy a majority of their products. This hairspray works well, and doesn't leave your hair hard or crunchy like most do. I didn't have any frizz and I straighten my hair and it was raining yesterday as well. I would deff purchase this!
Date published: 2018-02-15
Rated

3

out of

5
by
Jsgreer2
from
Great hold...terrible feeling
The Garnier Fructis Style Full Control Anti-Humidity Non-Aerosol Hairspray did a WONDERFUL job keeping my curls in place! I would simply spray it in after a shower, scrunch some, and then walk out of the door. I received several compliments on my hair, even after we went to San Antonio where the humidity hit hard! My only compliant was the residue left behind. This isn't a product that can be used and have exceptions of it looking nice the next day. you MUST was your hair after once days use.
Date published: 2018-02-15
Rated

5

out of

5
by
MalissaCurschmann91
from
Best hairspray
So I was kind of skeptical about this at first because I really like higher and brands when it comes to my hair, but this is pretty great! It's Lightweight, smells good, doesn't make your hair crunchy, and lasts all day! I was really surprised! I really enjoyed using this product and I will definitely purchase it!
Date published: 2018-02-13
Rated

3

out of

5
by
Ashuc315
from
Garnier Fructis Full Control Hairspray
I tried Garnier Fructis Full Control Anti-Humidity Non-Aerosol Hairspray. I have very thick wavy hair and was able to keep my hair frizz free which is great. Although it was frizz free it left my hair feeling crunchy once it dried which made my hair tangle. I would use this product again when I want my hair to stay put or take fly aways when my hair is straight. Overall I am happy with the product but wouldn't use it on my every day wavy hair.
Date published: 2018-02-13
Rated

5

out of

5
by
Francisco101
from
BYE, BYE TO MY BIGGEST INSECURITY!
So my mother has been using Garnier Fructus product for a long time and she loves them. I tried the Garnier Fructis Style Full Control Anti-Humidity Non-Aerosol Hairspray and wow I am impressed. I am a male and it is hard to find products for my curly hair that don't make it look dry and dead. The hairspray did magic, my hair looked healthy and alive while holding my curls. I am going to start buying this product because I been using it every single day and it works and smells good. When I went to school I was receiving compliments in the hallways about how good my hair looked and it made me feel more confident since my curly hair has been my biggest insecurity. I also wanted to test if it would flake like many other products I have used before so I went to bed and woke up the next morning with my hair still looking good without flakes and with a little bit of water it went back to looking like was before I went to bed. I totally recommend it and I am definitely buying it from now on. Thank you Garnie!
Date published: 2018-02-11
Rated

3

out of

5
by
mossyoak430
from
Not quite full control
On a good hair day, or for a quick spritz right before leaving the house, this hair spray works great! It doesnt make your hair look plastered down and it keeps everything in its place. It even hold up on a windy day! However, on a rainy day or when my hair is in a mood, there's not much hold with it. For the most part this is a good product that holds up to its description.
Date published: 2018-02-10
Rated

5

out of

5
by
Fdz1007
from
Beautiful curls!
I really loved this spray! I have curls and have had difficulty finding something that holds my curl without making it crunchy. It did not leave any buildup. But Garnier Fructis full control hairspray did it! It even looked decent and without flaking the next day after I slept in it. I just sprayed with a little water to retouch. I will definitely purchase in the future.
Date published: 2018-02-10
Rated

3

out of

5
by
sportytaco
from
Slightly Disappointed
This is the hair spray for women who don't like hair spray- It gives soft, touchable hold and tames frizz but this softie doesn't do much for up dos or complicated styles.
Date published: 2018-02-09
Rated

5

out of

5
by
BuffyMarie
from
Great hair spary
I love it doesn't leave hair stiff and sticky! Leave hair soft not crunchy like other products! It's does not leave a build up on hair
Date published: 2018-02-09
Rated

4

out of

5
by
gunnykiley
from
No frizzies!
Today I tried non-aerosol Garnier Fructis hairspray instead of my usual moose, gel, and extra strength hold hairspray. Hands down, I will trade in my usual trio for this one product! It smells great and with just a few quick pumps my frizzies were controlled all day. It didnt make my hair sticky or hard, however, it was a little flaky towards the end of the day. Little flakes and all, I would still recommend this product over the countless others hair products I have tried!
Date published: 2018-02-08
Rated

5

out of

5
by
Addiehoffman
from
Garnier Fructis
The Garnier Fructis Style Full Control Anti- humidity Non-aerosol hairspray smells great. The hold is true to ultra hold! Doesn't make hair hard, feels natural but stays in place. I would purchase this product and recommend it to a friend. I would choose this hairsprays over others I've tried in the past.
Date published: 2018-02-07
Rated

4

out of

5
by
lowkeylady
from
Garnier Fructis Hairspray
I have never tried a non-aerosol hairspray before and I actually liked it. I love the smell. It works great for my hair type which is curly thick hair. It holds my curls when it's curly but the downside to it is when I straightened and curled my hair it didn't hold my big curls for so long, it weighed it down and my curls became straight throughout the day. But in the end I love that it helps my flyaways stay in place. There is no flaking off like other hairsprays do. I let my siblings try it out and they love it. I highly recommend it and would purchase again. Also what I would want to know if I get this product if it actually does what it says on the packaging.
Date published: 2018-02-07
Rated

4

out of

5
by
Nialee
from
Good for fine hair
Although I am not big fan of Garnier brand but certainly I was quite impressed by it. Firstly it doesn't produce aerosols so good to apply. Secondly it has good smell. It works great for people like me who has fine medium length hair . I mainly use it keep fly sways away. I totally recommend it.
Date published: 2018-02-07
Rated

4

out of

5
by
kennacompton
from
Garnish Fructis Full Control Hairspray
I liked this product. Good drug store hairspray. Would buy again if they were out of my normal hairspray.
Date published: 2018-02-06
Rated

5

out of

5
by
Ninaraoo
from
Excellent, lightweight hold
Excellent hairspray for doing what it advertises. This lightweight, non-sticky spray (pump spray bottle, non-aerosol) has a lightly fruity scent, which I enjoyed. I wear my hair blown out straight with curled ends, so I used this after blow drying but before setting my hair in rollers, as well as at the roots. There is no crunchy mess after drying, and hair is left feeling soft and with volume. My curls lasted so much longer! There's not much humidity when I live, but the overall hold was excellent.
Date published: 2018-02-06
Rated

4

out of

5
by
MommaMeggy
from
Great, soft Hold!
I love Garnier products and was excited to try their non-aerosol hairspray. It boasts anti-humidity frizz protection which I definitely need, and a light fruity fragrance. I did not notice a fruity fragrance. It just smells like hairsprays: chemically. But it's hairspray, so ok. It delivered what it promises. My hair was soft and touchable all day. It isn't stick like other sprays. My hair wasn't frizzy at all. Though it isn't the season for humidity now, I do think it would do well in the summer. I really like it and will definitely get it again.
Date published: 2018-02-05
Rated

5

out of

5
by
HaleyRae91
from
Love the smell and great hold!!
I am often trying to find a hairspray that can hold up my thick hair without the stiff feel. This is perfect and I will certainly be purchasing in the future! I also highly recommend for use in childrens hair, my daughters hair has alot of fly aways and she is always so rough running and playing, it held her hair up all day and night!!
Date published: 2018-02-05
Rated

5

out of

5
by
sshaylie
from
Full Control Hair Spray
I love this spray so much! It helps keep my frizz stay down and it smells awesome! I recommend getting it 100%!
Date published: 2018-02-05
Rated

5

out of

5
by
Yessy33
from
Great Product
This product is not heavy at all! I curled my hair and sprayed some of this hairspray and my hair did hold for a couple of hours and it was movable. I also loved that it does not have a strong odor like other hairsprays. It did not leave my hair smelling all nasty. However, if you do comb your hair after applying it and letting it dry, it will cause a bit of those white flakes. Yet, overall great product!
Date published: 2018-02-05
Rated

5

out of

5
by
vm6722
from
Love this!!!
My daughter had a cheerleading event to go to. She's also pretty picky about what goes in her hair. If it doesn't smell right or feel right, she will have a fit. She has really thick hair so it's hard to find something that will work in her hair. However, we used this for her event and it held perfectly. It also smells amazing and refreshing which is a plus. She was so tired after her event that when we got home, she fell asleep. She woke up with her hair still looking great. I thought it was going to be yucky when I pulled her hair down but there was nothing. No flakes and no goo. This is exactly what we've been looking for and something we will continue using.
Date published: 2018-02-05
Rated

4

out of

5
by
Brittk123
from
Absolutely What it Says
I have short hair, and it's finicky. I tried this as an extra boost plus keep it in order and it did just that. It went roughly 6 hours before I started to lose a little bit of body, but all in all it does what it says!
Date published: 2018-02-04
Rated

5

out of

5
by
GarnettSky
from
Tamed My Mane...
I have a TON of flyaways when I wear pony tails or anything slicked back. I've tried a few 24 hour hair sprays that promised to keep it all in place, and they fail and also stink. I used this Garnier Fructis Style Full Control Anti-Humidity Non-Aerosol Hairspray a few times now and I'm impressed. My hair stayed in place even with the window down in the car. It smells amazing! I love that it's a pump over a continuous spray, because I'm not using to much and making my hair crunchier than potato chips.
Date published: 2018-02-04
Rated

5

out of

5
by
Cindy5K
from
Goodbye Flyaways!
Completely shooketh with this product! I mostly use aerosol hairspray but this works just as good or even better. I have a lot of baby hairs and this keeps them at bay. My hair is cut into layers which causes fly aways when I go for a slick ponytail or some cute Dutch braids. But using this hairspray removes the headache I haven't had any issues since. It is flexible hold but I recommend not using too much unless you like that crunchy look. Keep em coming ganier <3
Date published: 2018-02-04
Rated

5

out of

5
by
Jessarae86
from
Does the trick
I have unruly hair, and hairspray generally isnt my thing because i hate the "crispy" feeling it leave your hair..so i was a bit hesitant using this...at first. BUT I loved this product! I have to wear my hair up for work and by the end of a 10 hour shift, it usually becomes frizzy and stray hairs everywhere...but this hairspray had every single strand in place. Not to mention the smell is amazing as well. Downside is the next day it does leave your hair a little greasy. And I'm a person who washes every other day. So i would use this product only when necessary. Of course this is fantastic for special occasions in my opinion, it worked great for work and my night out on the town.
Date published: 2018-02-04